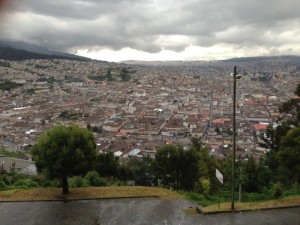 An overcast sky was ever-present during our stay in Quito, but in many ways the weather just enhanced the scene.  Instead of dulling the colors, the dark rolling clouds seemed to transform the landscape into a dark and rich painting palette.
While headed to Quito's historic Old Town, I took this shot of a typical street scene, framed by clouds and mountains.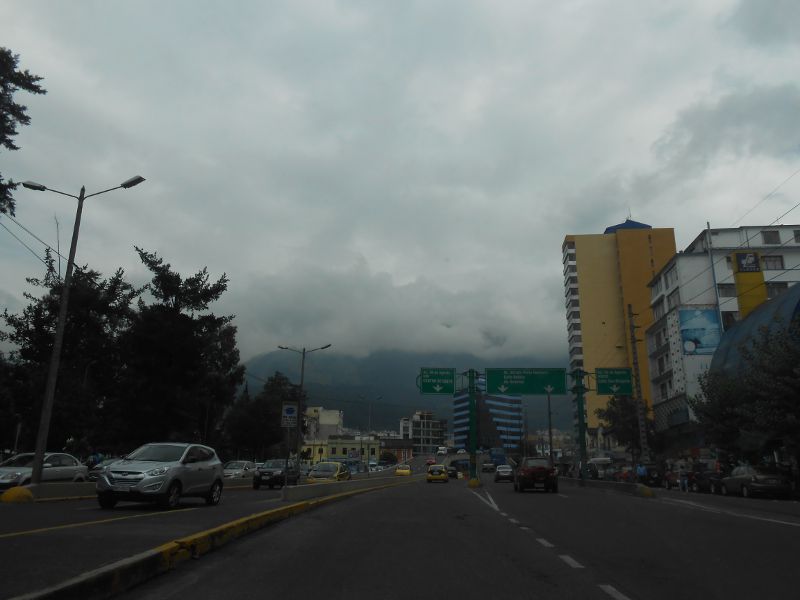 Our first stop in the historic center of Old Quito was the Plaza de la Independencia, or Plaza Grande.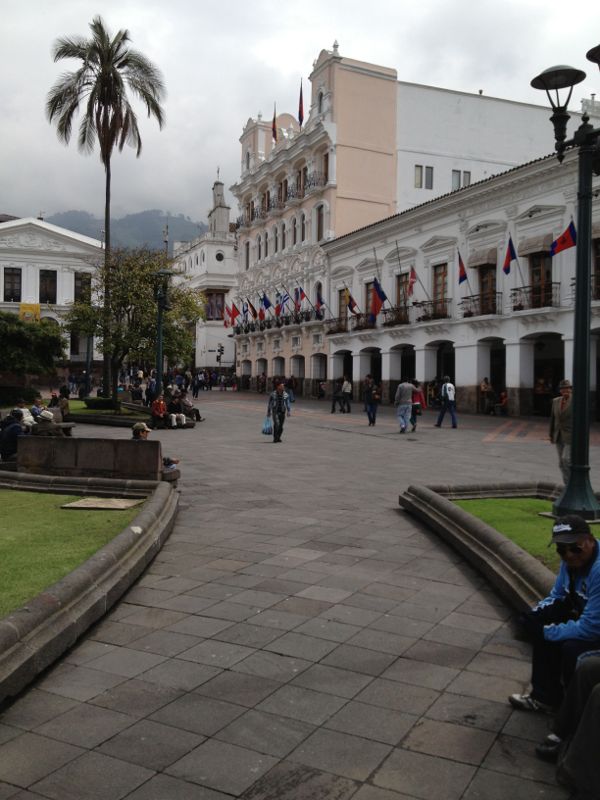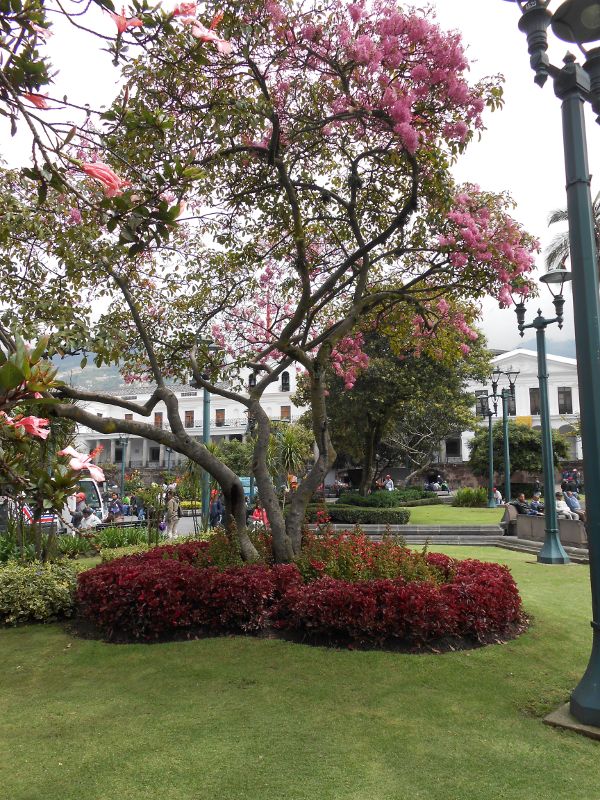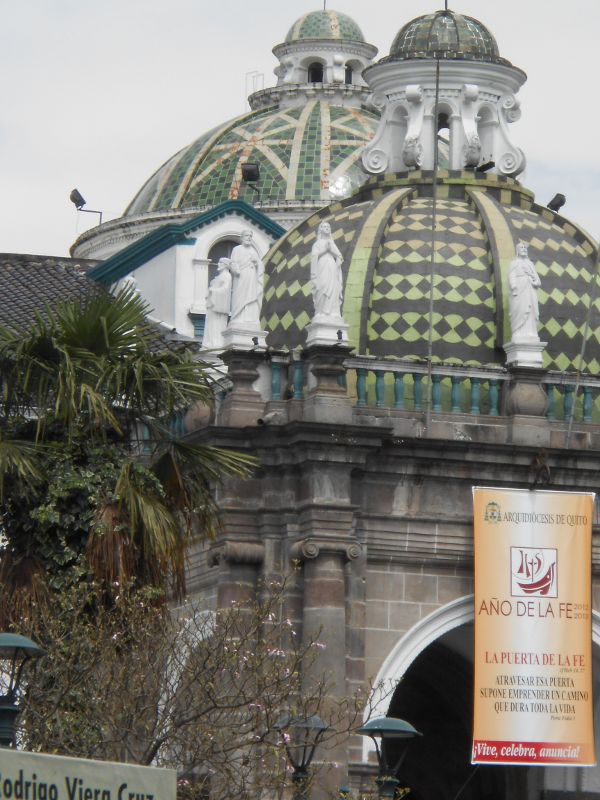 Two blocks from the Plaza stands the Church of the Society of Jesus, known as la Compañía.  While the exterior ornamentation is intricate, the interior of this Jesuit church is wildly extravagant.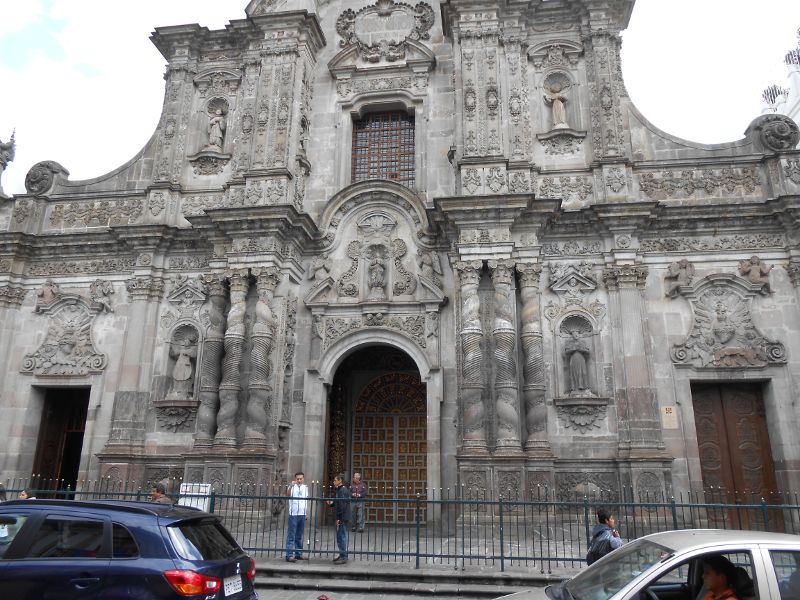 Photography was prohibited inside, so I'll have to rely on a Wikipedia Commons photo.  If a little gold leaf is a good thing, then a lot must be better, right?
We found the double-decker tour bus to be a good value in several cities during the trip.  For $5 to $10 per person, you get a two or three hour tour and can quickly decide on which areas are worth exploring further.  In Quito, the tour's highlight is atop El Panecillo (Little Breadloaf) overlooking the city from the location of El Virgen de Quito.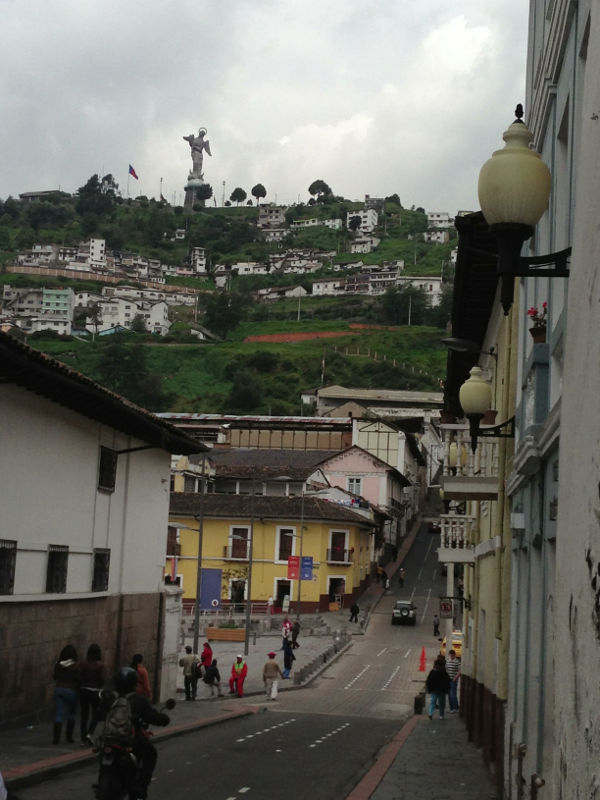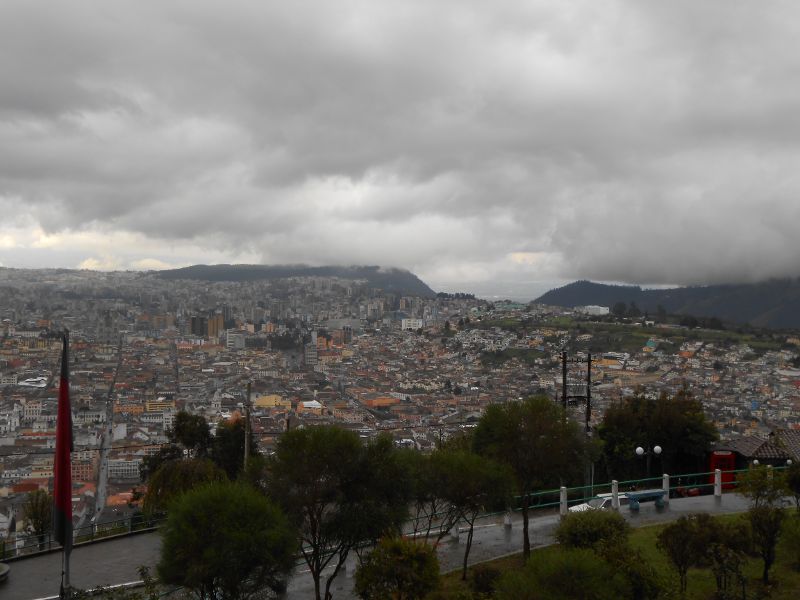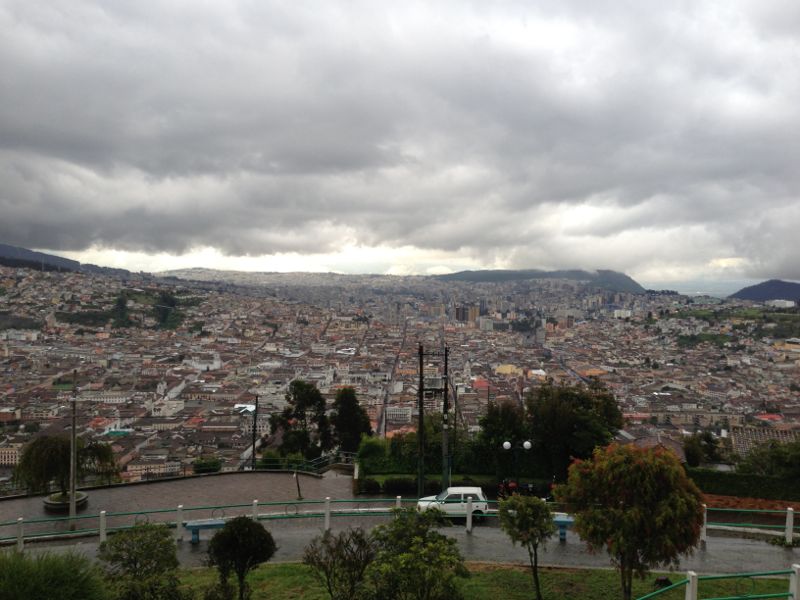 Riding high atop the bus also lets you notice the many attractive second-floor balconies on Quito streets.  You just have to be careful of the low-hanging power lines in some places.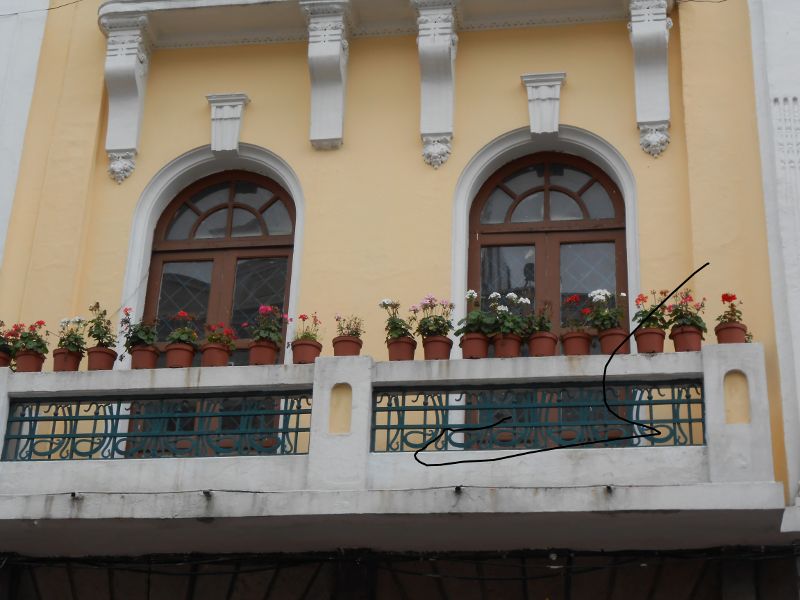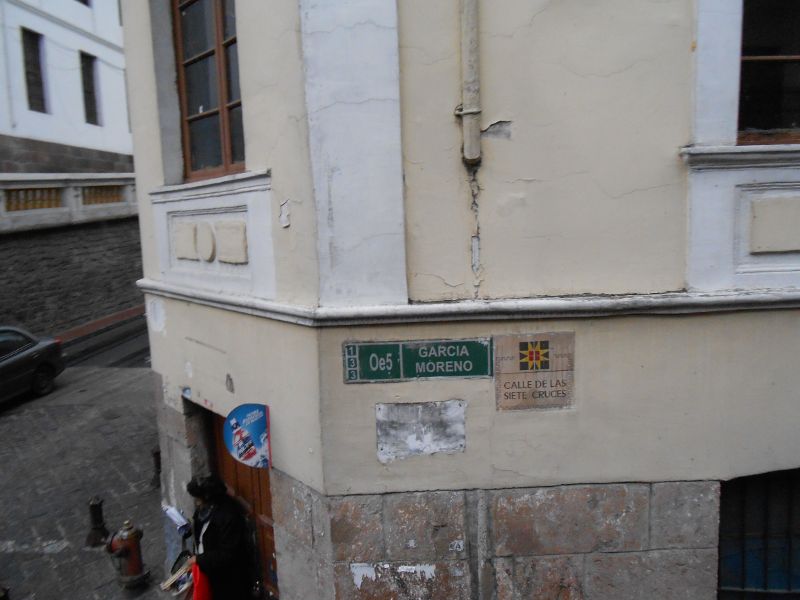 The Spanish loved to build cathedrals, and Quito has a few that are notable.  The most impressive though is this Gothic monstrosity called La Basilica.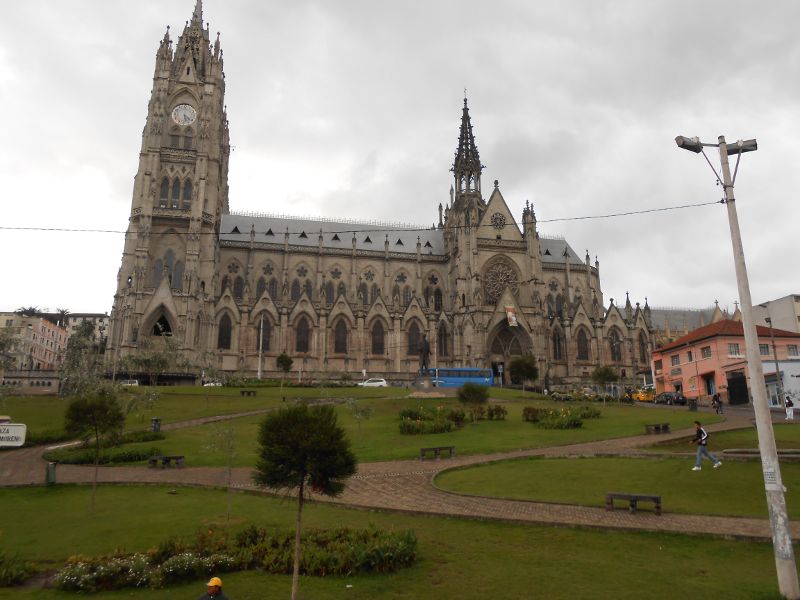 A closer look at one of the spires reveals something of the scale.  Look closely at the buttress just below the spire and you will notice there are people there, descending a staircase from what had to be a great viewpoint for the cityscape.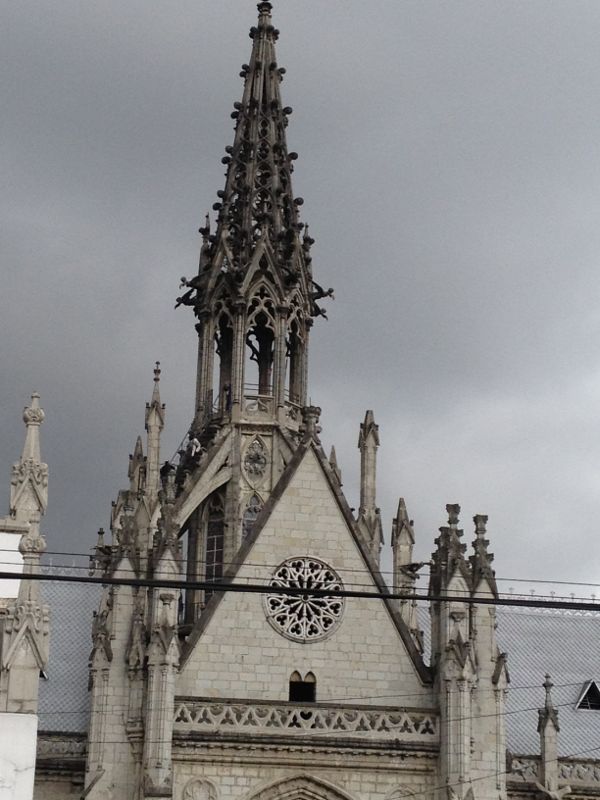 Because Quito is almost completely surrounded by higher mountains, the view down a typical street is amazing.  This view might be the volcano Pichincha.  An eruption in 1999 dumped several inches of ash on the city.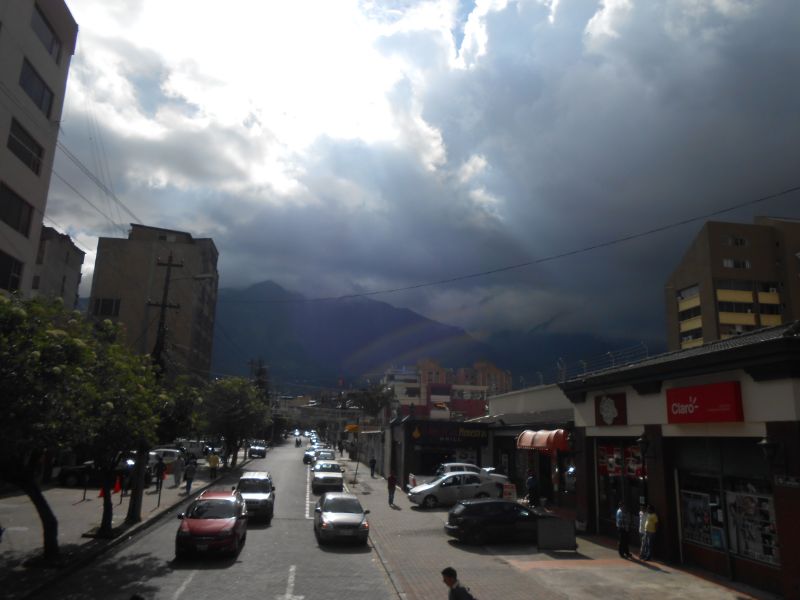 Sure, it's a gritty city, with lots of security issues.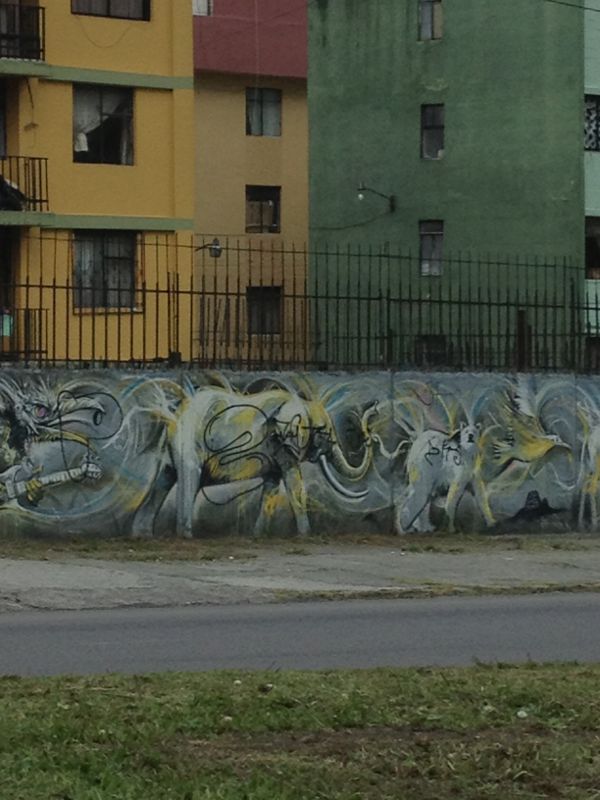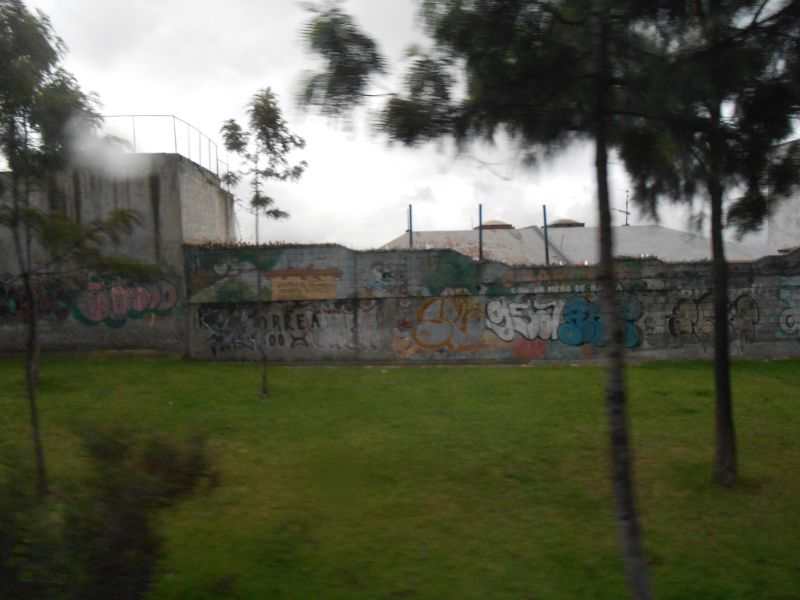 And here is a reminder that this is a very active seismic zone.  This is a sign indicating that a nearby park is a safe place to head in case of an earthquake.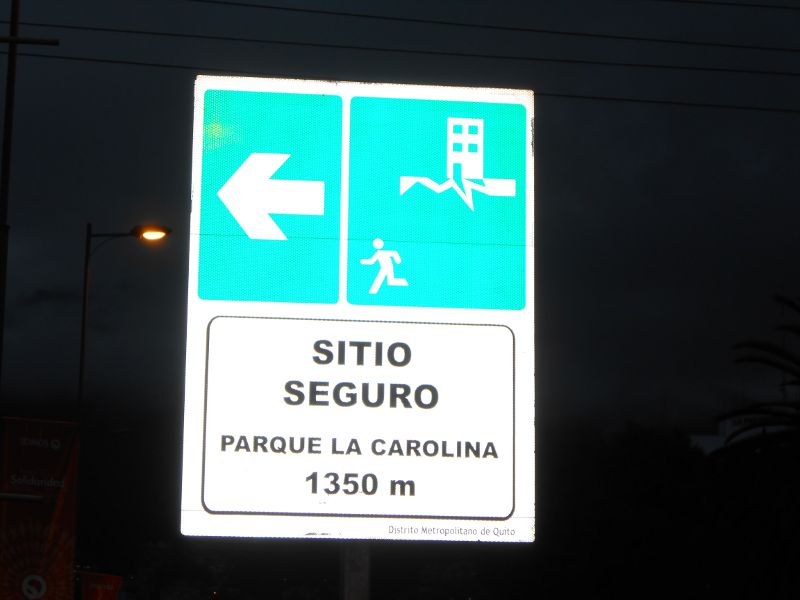 But I absolutely loved Quito.  I would like to return and stay for a few months to really absorb the unique feel of the place.
But for this trip, after a much too short three nights in Quito, it was time to move on.
Next: Part 4: Cuenca, Ecuador: A Luxury Stay in an Idyllic Setting
---
This is a chronicle of the Smith family's South America travels in May and June of 2013.