With a two-minute boat ride across the Usumacinta, I had crossed the border from Mexico into Guatemala. My lancha pulled up to the dock in what is hardly more than a one-street town.
La Técnica, Guatemala isn't even labeled on Google Maps, and it serves only as a jumping off point for cargo and people crossing this frontera, legally or not. My ride for the morning was on a mini-bus or colectivo. It looked the part.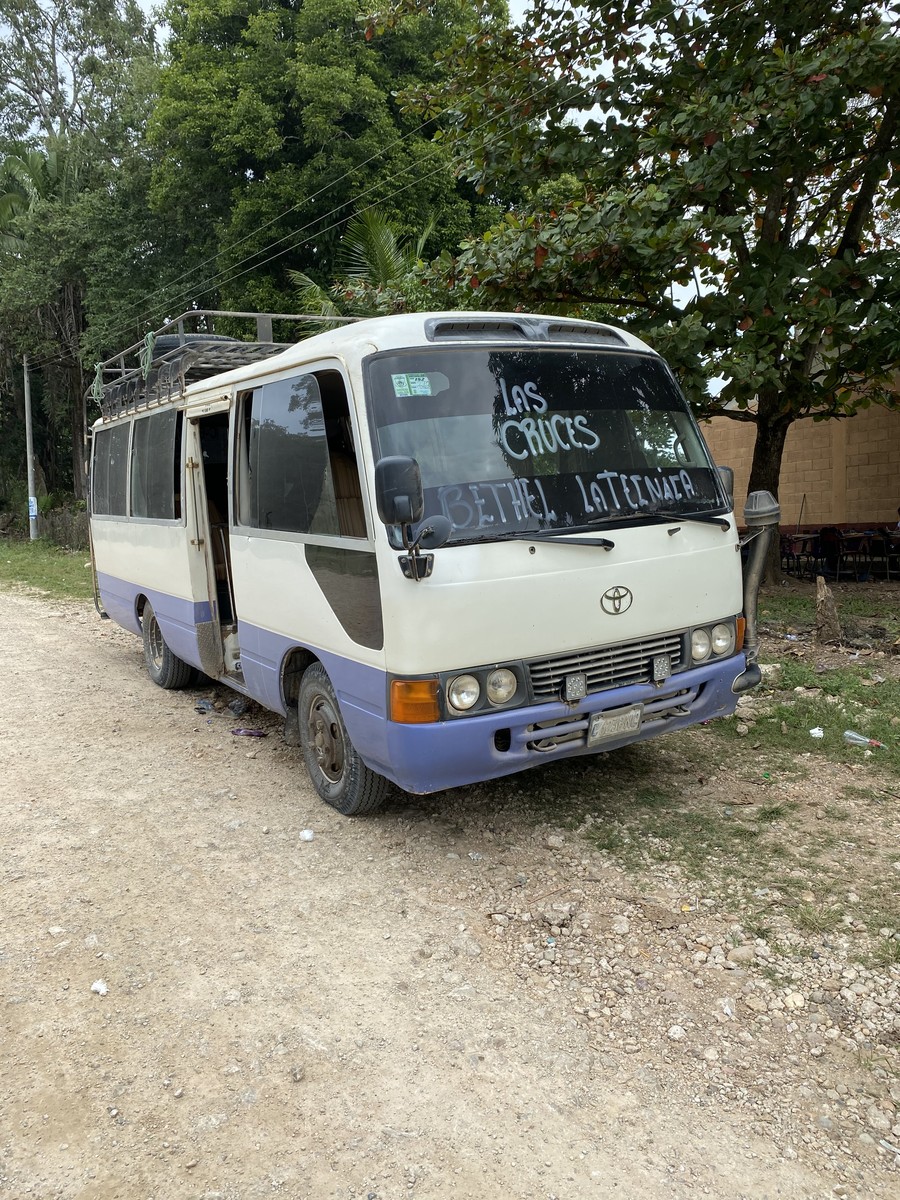 A colectivo is a local bus that stops anywhere along the road as needed to pick up or drop off passengers. In addition to the driver, there is an assistant on board. He collects fares from passengers as they get on or off, and often stands in the open doorway of the van as we pass through towns, shouting out our destination to drum up business.
Rescued from a mistake
While waiting to board the bus I was sitting on a bench in the tiny station, switching out the Mexican pesos in my wallet for my small supply of Guatemalan quetzales. I had about $80 USD in quetzales in a small plastic bag, which I dug out of the depths of my pack.
Just as I was zipping up my pack, I was distracted by the cashier who was collecting tickets for the bus. After that conversation, I heard the assistant outside calling for us to board the bus. In the quick series of distractions, I forgot that I had placed my plastic bag of Guatemalan currency on top of my pack. I picked up my pack, and headed outside to board the bus.
It was several minutes later when the colectivo assistant hopped onto the bus and handed me my little plastic bag. I hadn't even realized that I no longer had it with me. I thanked him, shaking my head at my error, and discreetly tucked a small bill into his hand.
I was instantly reminded of a similar scenario two years ago in Hong Kong, where I left my wallet in a taxi. There too, I was rescued by an honest local. In that case, the cab driver drove all the way back to the hotel where he had picked me up, and gave the wallet and all of its considerable cash to the front desk. The world really is full of good people.
Back roads in Guatemala
From La Técnica, we started with only four people aboard. But the bus began to fill up as we stopped frequently to pick up passengers who were standing alongside the road. Most were on board for only a short distance, but a few settled in for the duration. Some carried large boxes and baskets of goods destined for market. Each time we stopped, the assistant would rearrange whatever was necessary to fit the new cargo.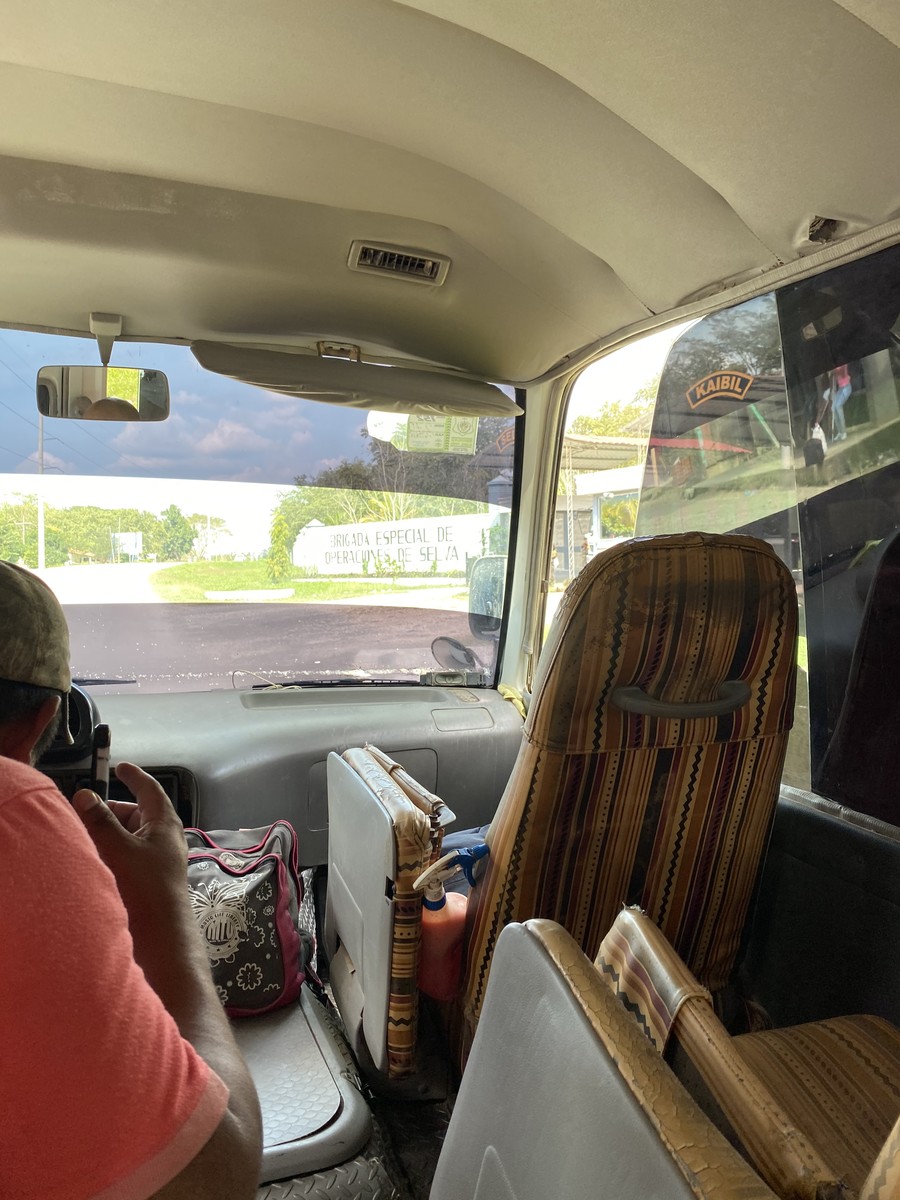 We ambled along for three hours on dirt roads, until finally we reached a paved highway and our speed increased. Two hours more and we had arrived in the city of Santa Elena, where I pulled on my pack and hopped into the street.
I had a couple of items to address in Santa Elena. The first was a stop at Banrural, a Guatemalan bank. All entrance tickets for the Tikal archaeological area must be purchased at a branch of Banrural. This can usually be done at a branch at the entrance of Tikal, but after hearing some reports of difficulties there I wanted to take no chances.
Having secured my tickets, I stopped at a nearby ATM to replenish my cash. With my errands complete, I was ready to head into nearby Flores for the night.
Flores, Guatemala
Santa Elena and Flores are neighboring towns but their appearance could not be more different, although separated by only a few hundred yards. Santa Elena is a chaotic workhorse of a town on the shore of lake Petén Itza, while its neighbor Flores more closely resembles an Italian village on the Amalfi coast.
Flores is an island, linked to Santa Elena by a short bridge.
I hopped in a tuk-tuk for the brief ride across the bridge to Flores and my hotel, the Casa Amelia.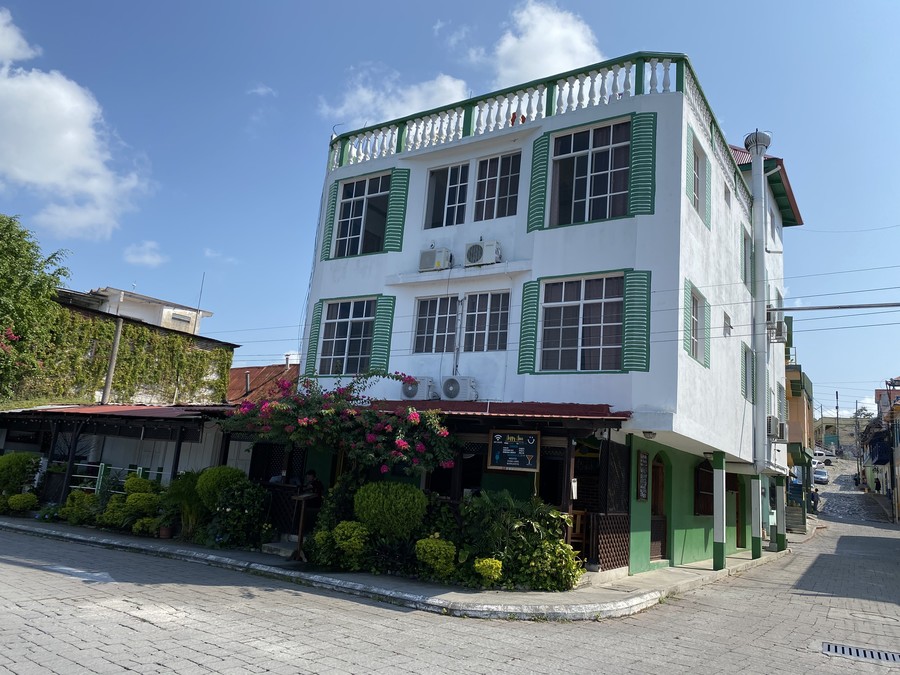 I checked in and climbed the stairs to room 302, located on the terrace.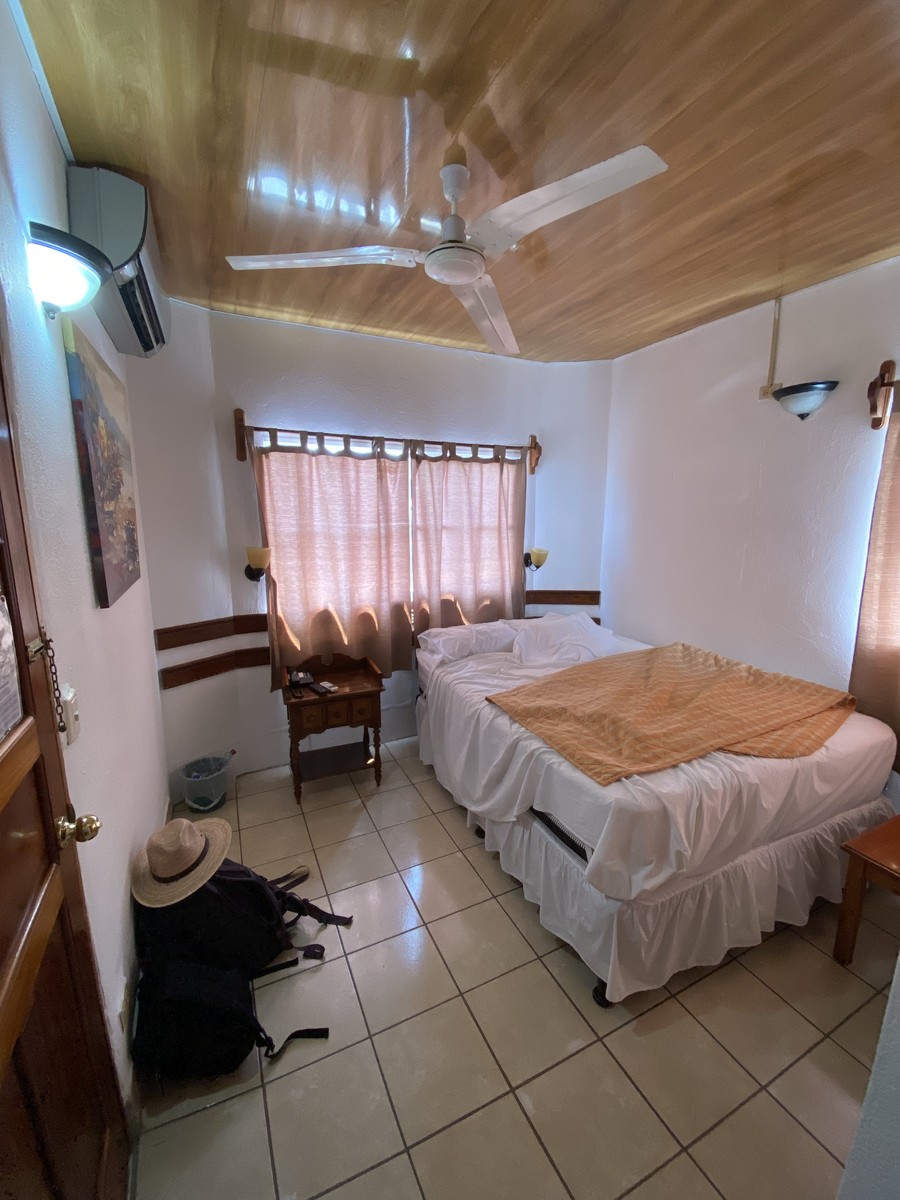 The room was simple and clean. But what a view from the terrace just outside!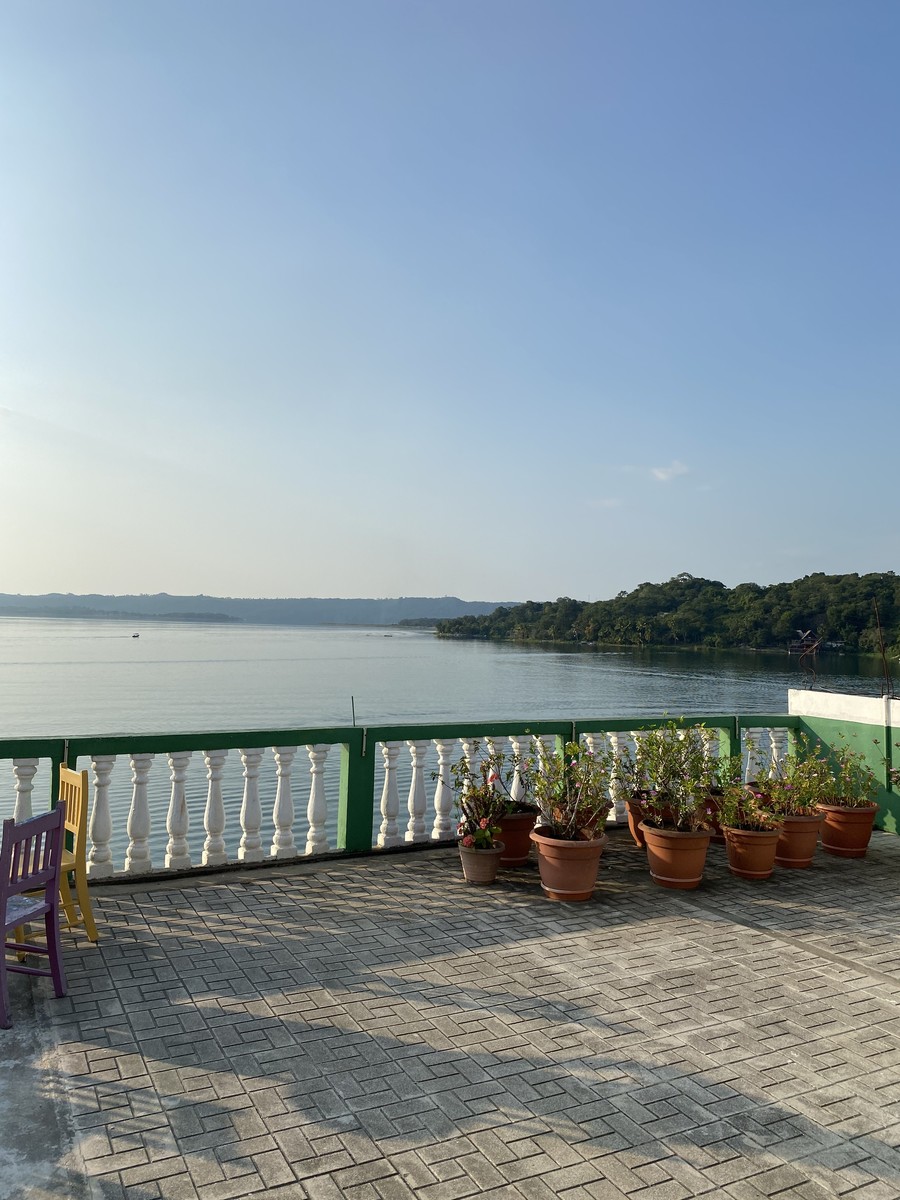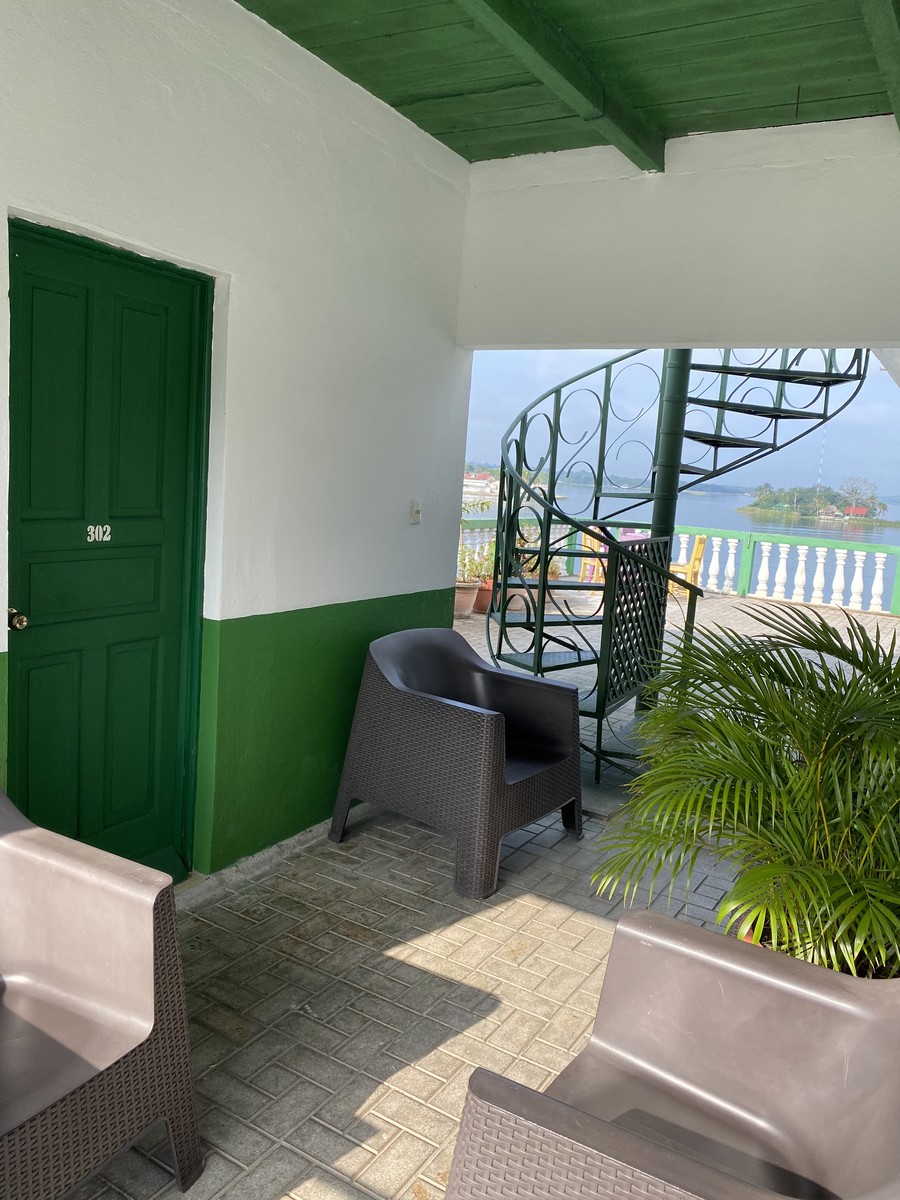 Flores is small. You can walk from one end of the island to the other in five minutes, ambling between the pastel buildings along cobblestone streets.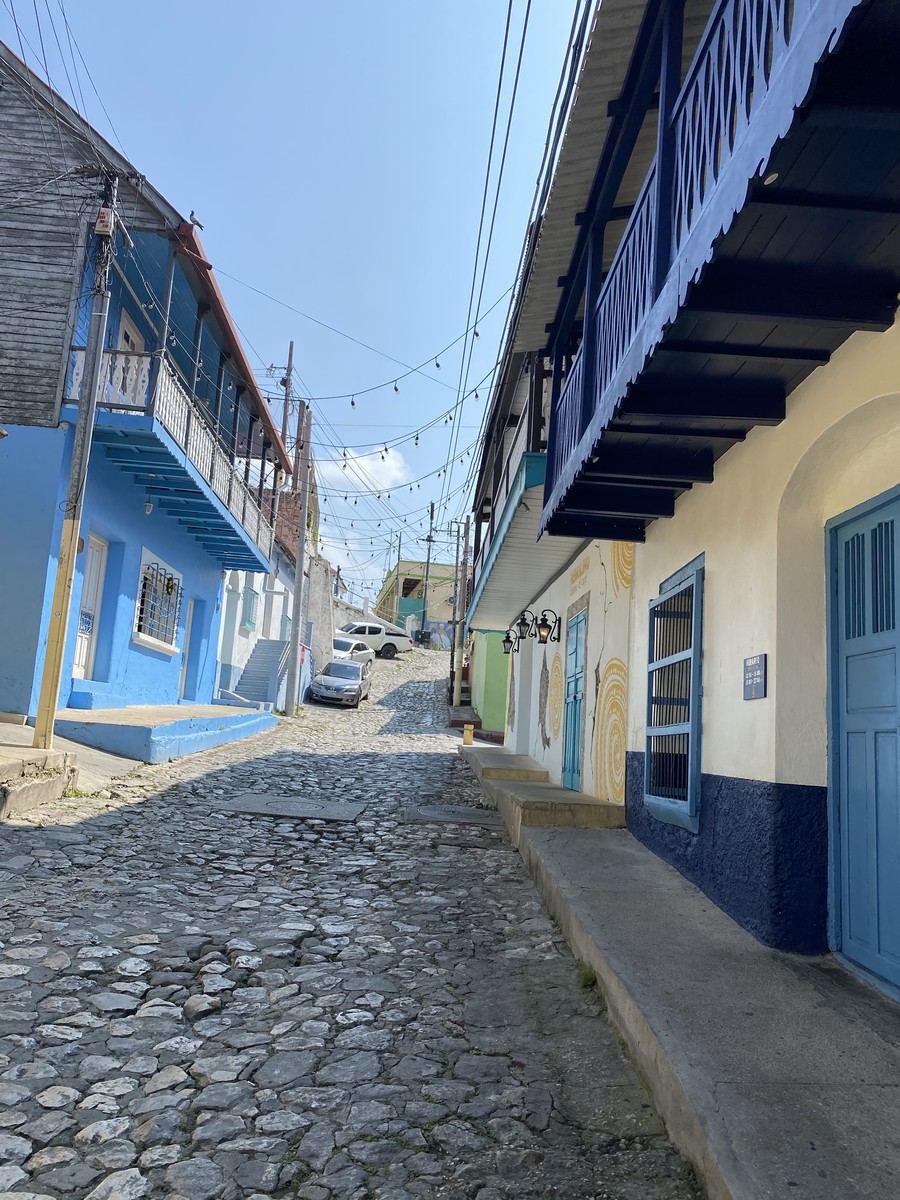 It was late afternoon, and I aimlessly wandered the streets enjoying the views. Even in late January, with the humidity coming off the lake I was glad to have a good air conditioner in my room when I returned.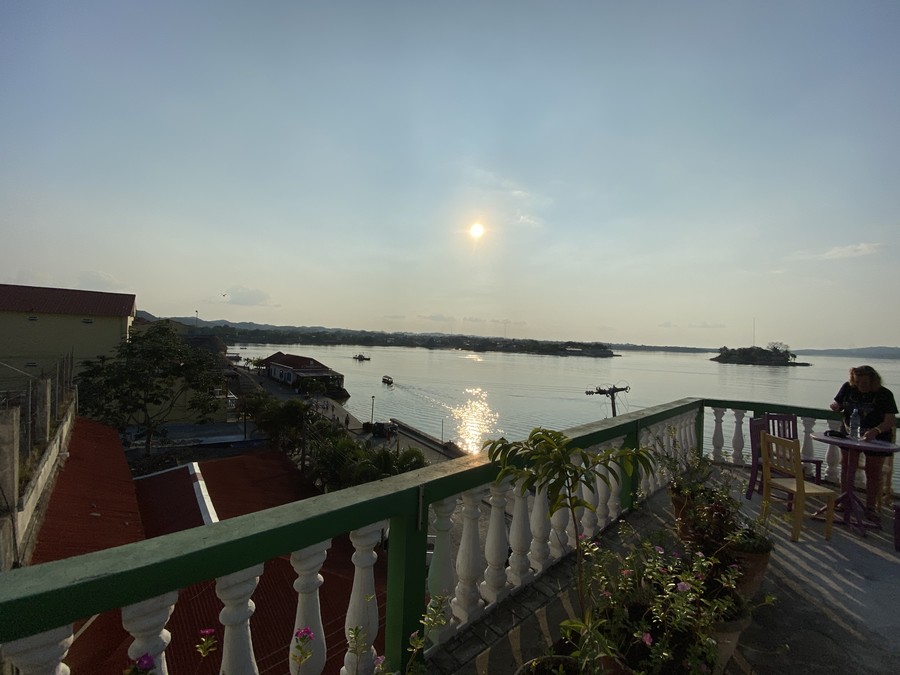 When the sun begins to sink toward the horizon, it seems as if the whole town pours onto the streets and terraces for a daily ritual. All faces turn to the sunset, and consume every moment of the glow which turns the whole lake golden.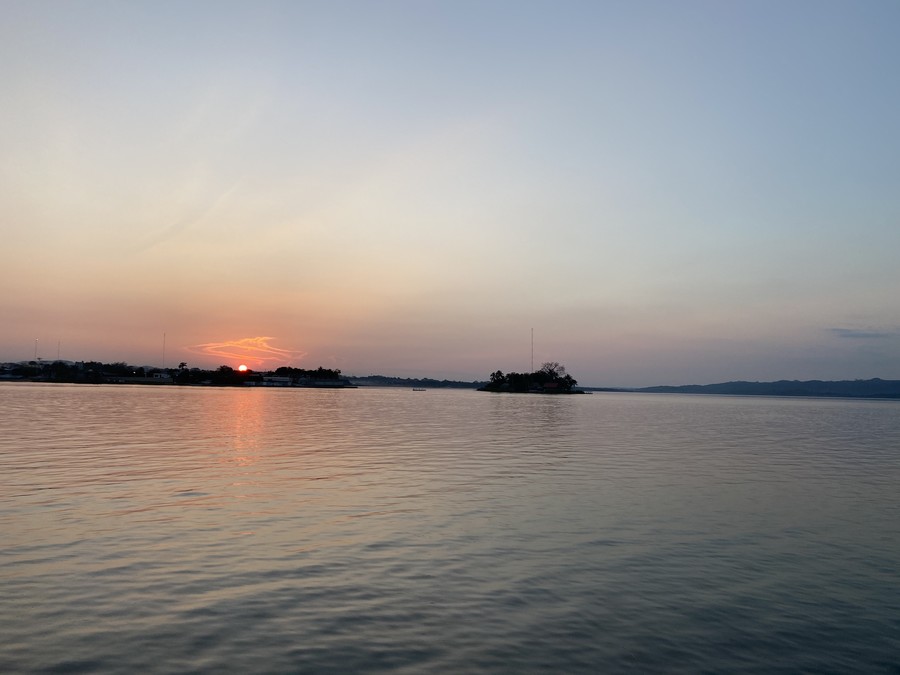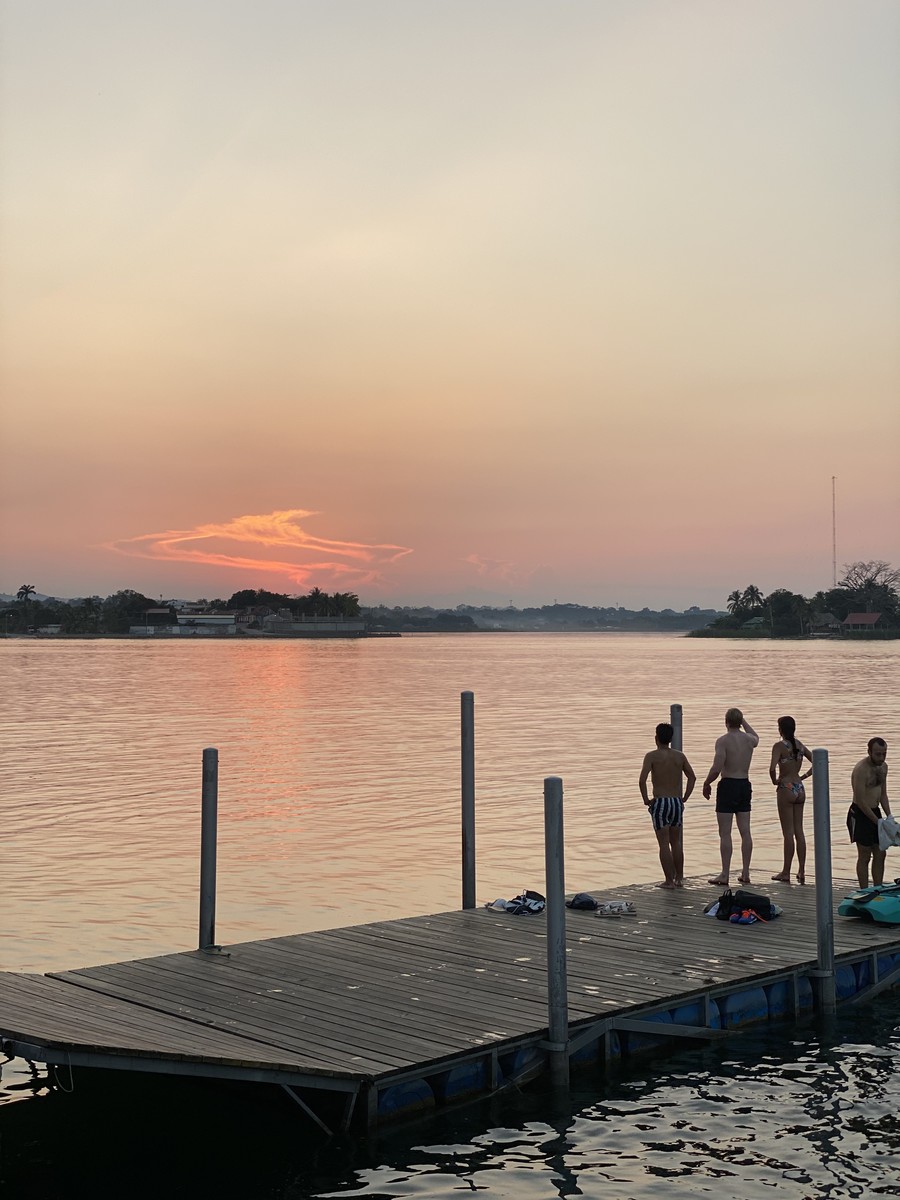 The last rays of the sun now hidden, I watched as motion returned to the town, framed by a restaurant terrace, a cold beer, and a worthy pizza.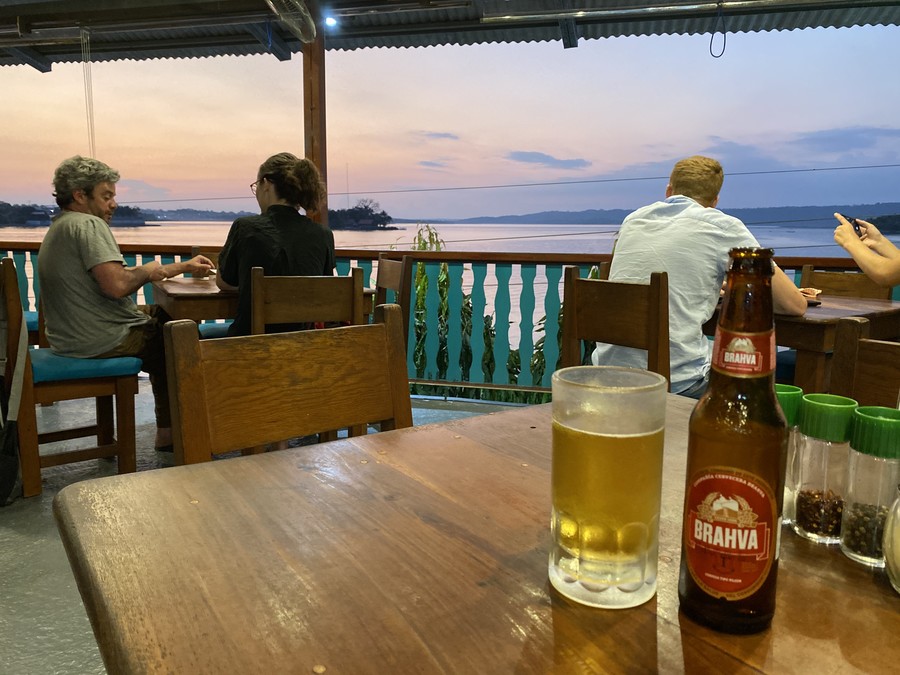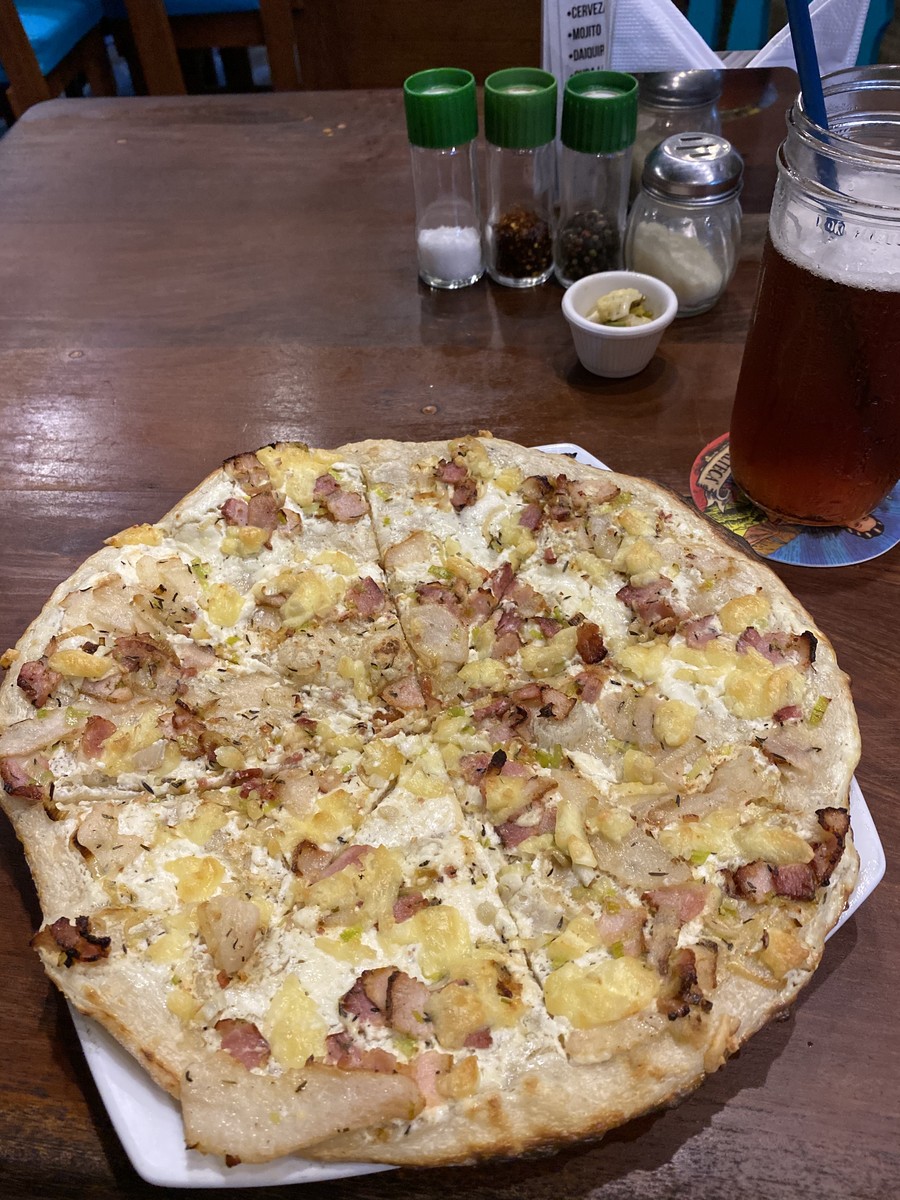 Tomorrow, I would be at Tikal.