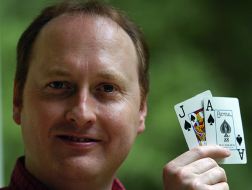 I am Kenneth R Smith, designated staff for the best two cats in the world.
After years in Mississippi you can now find me in Dallas TX, at least when my wife and I are not traveling. Some of our favorite trips in the last few years include a week in Istanbul, and three weeks in Ecuador and Peru. My goal is to make nomadic travel a full-time lifestyle, living in interesting places briefly instead of just visiting them. Hopefully you will find some photos and insights from our travels here at Sweet Tea, No Lemon.
Many of you know me from my history in the blackjack world, especially in blackjack tournaments. I began playing serious blackjack in the early 1990s when casino gambling arrived in my home state of Mississippi. In 1994, I participated in a blackjack tournament for the first time. After that, I spent a couple of decades on the tournament trail, competing all over the US and in Canada and the Caribbean as well.
Tournament blackjack appeared briefly on television for a few years starting in 2004, and I was a participant on most of the shows. On GSN's
World Series of Blackjack
I made the final table in the premiere season finishing in sixth place. I went on to appear in WSOB II, III, and IV over the next few years, as one of only three players who appeared in every broadcast season of the show's run on GSN. After four seasons, the series was cancelled, and at this time there is no longer a World Series of Blackjack competition.
I also appeared on the Travel Channel in 2004, competing in the Las Vegas Hilton's Million Dollar Blackjack Tournament II. In the semifinal round, I needed one last winning hand to advance to the final table of seven players where the winner received one million in cash. My luck ran out with one hand to go and I missed making the final table.
In September 2006, the Ultimate Blackjack Tour was broadcast on CBS. In that show's premiere episode, I won the event with a first place finish worth $50,000. I also competed in the "Legends of Blackjack" special event for UBT, though my sixth place finish at a table of seven players was far from legendary!
Televised blackjack was an absolute blast for me, especially the events that were filmed in Aruba and St Kitts.
After gaining a reputation as a leading tournament strategy expert, I wrote monthly magazine columns in both Blackjack Confidential and All In Blackjack magazines during the run of those publications.



I authored two books on blackjack tournament strategy: "How to Win More Blackjack Tournaments" and "How to Win Even More Blackjack Tournaments – Volume II". Both are available only as e-books. They are packed with strategy tips for players of any skill level from newbie to pro, including several groundbreaking ideas that have never before appeared in print. Click here for a special package deal that includes both books.
I also created one of the most popular websites about blackjack at BlackjackInfo.com, and a sister site about tournaments at BlackjackTournaments.com. In 2016, I sold those sites to a new owner and I am no longer affiliated with them.
Strategy Cards
You can find my popular wallet-sized blackjack strategy cards at Amazon. You can get the entire Set of Six Blackjack Strategy Cards, or just get the most popular card for the 6-deck H17 game.
I also published an Advanced Strategy card set that adds card counting index number details to the usual strategy cards. That product is also at Amazon: Blackjack Advanced Strategy Cards.
Contact Details
You can contact me via email at ken@bh3.net, or follow me on Twitter at @KenLovesTravel.
Or connect on Google+:
Follow Me:
---
I continue to write about the casino gambling world, especially the legal and regulated US online gambling market at my site about
NJ online casinos
. You can follow that site on Twitter as well:
@PlayInJersey
.
---