If you have a pet, they are an important part of your family. So when we decided to make long-term travel a part of our lives, we had to figure out how to bring along our four-pawed friends.
Meet Lexie and Mia
Lexie is the fluffy gray and white Norwegian Forest cat, and Mia is the tuxedo. We're lucky, as they also happen to be the best cats in the world. 🙂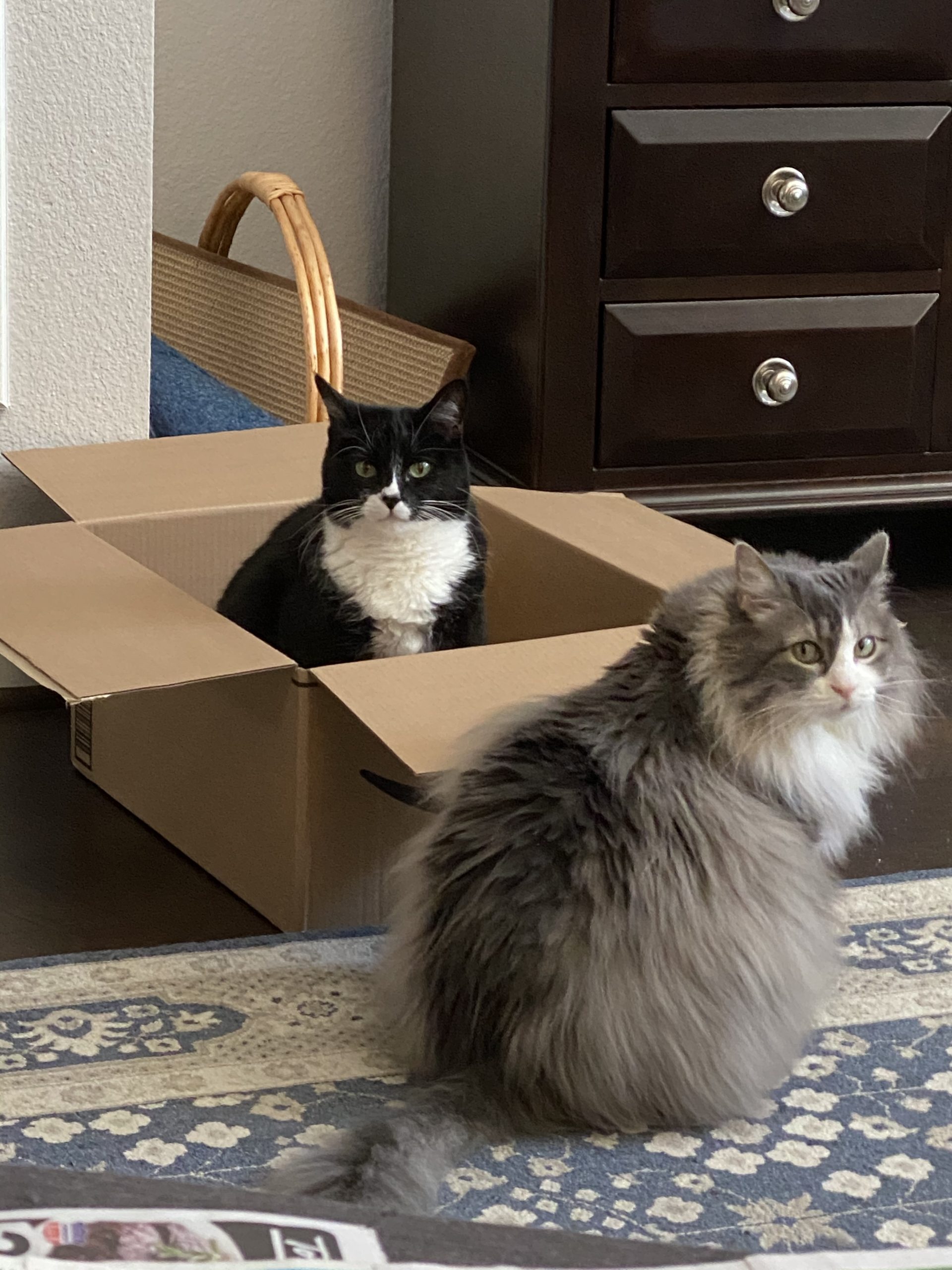 They look a little apprehensive in this photo, as if I caught them having too much fun with this Amazon box.
When people learn that we are slow-traveling the world with our cats, there are always a lot of questions. In some of the Facebook groups I frequent, I see a lot of people wondering about doing the same. So I wanted to share our experiences and pass along what we have learned.
If you're mostly interested in the tips, you can scroll to the end to see a short list of advice and recommendations for traveling with cats.
Planning our First Trip with the Cats
Before we started our slow-travel plans, our kitties had been on only one long road trip when we moved from Mississippi to Texas. For that ride, we had the vet provide us with a sedative to administer before the drive. It went fine, but I really didn't like sedating them.
In 2021, we were heading to San Miguel de Allende in central Mexico for a six month stay, and there was no doubt that the cats were coming with us. But how? Drive or fly?
We didn't like the stressful idea of flying, but the prospect of long hours in the car for multiple days wasn't so appealing either. But hey, driving from Dallas to central Mexico would be an adventure and we could have our car available during our stay. It was decided. We would drive.
I won't go into the details here but I will note that if you plan to drive into Mexico, make sure that you understand the vehicle insurance and temporary import permit rules. The process is not difficult, but if you don't do your research you won't know what is required. No one at the border will remind you. You're expected to know your obligations.
For the requirements to import a pet into Mexico, you will find conflicting information online. In 2019, the requirement to have a vet health certificate to enter Mexico from the US was eliminated. (See https://www.aphis.usda.gov/aphis/pet-travel/by-country/pettravel-mexico) However, some sites still talk about the need for a health certificate. Note that if you are flying into the country, it is possible that the airline will still require a health certificate. Ask your airline about their specific requirements. When entering by land, no one at the border is likely to ask you any questions or require any paperwork for your pets. According to the rules, you are supposed to present your pet for an inspection at an OISA/SENASICA office.
But we're talking about Mexico. Your experience could be different. Do your own research. Make your own decision about how to handle this if you are crossing the land border.
Hitting the Road
When the date for our departure arrived, we packed our SUV full of luggage for both humans and cats.
This being effectively our first road trip with the cats, I packed some litter, the litter box, and a scoop where we could access it on the road.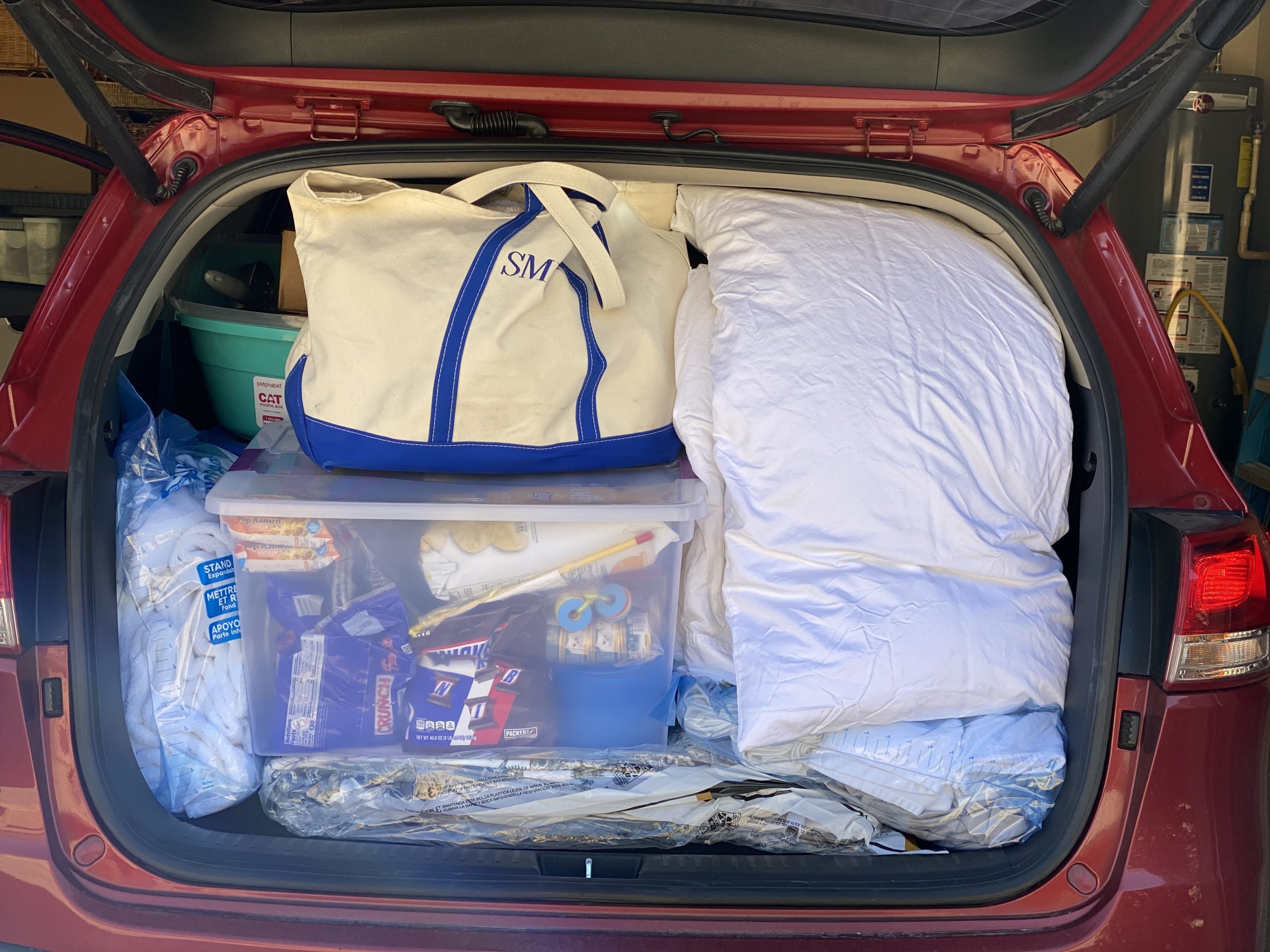 We preferred to cross the border into Mexico first thing in the morning, so we planned our first night's stay in Texas at the border. We made a reservation at the only pet-friendly hotel we could find in Eagle Pass TX, the TownePlace Suites. I used points for the room, but they also have a hefty non-refundable pet fee of $100.
For our overnight stop inside Mexico, we reserved a room at a hotel recommended by many expats who make the drive from Texas to San Miguel. The Las Palmas Inn in Matehuala is an old-style motor inn with little casitas and carports for each room. It's pet-friendly if you call ahead, and although rustic it is quite convenient.
And with those preparations handled, we were southbound.
Miles and Miles
The drive from Dallas to Eagle Pass is about 7 hours plus stops for gas and restrooms. Not unexpectedly, our trip started with an ongoing chorus of complaining meows from the cats in their carriers, buckled into the back seat of the car. After an hour or so, they finally settled down and were pretty calm for the remainder of the drive.
I knew that the chance of success was slim, but I wanted to give our cats a chance to use the litter box after we had been on the road for a few hours. I went through a difficult process of giving them access to the box in the back floorboard of the car, all while having the car doors closed so we wouldn't have an escapee on our hands!
Just as I expected, neither cat was having any part of that idea. I haven't tried again during any of our subsequent drives. Unfortunately, they just have to hold it until we get to our destination. We try to limit our hours on the road for that reason, but getting to San Miguel required some long days.
As you can imagine, settling in to a hotel is a process. Unloading the cats, their supplies and litter, and our luggage is quite a job. My priority is always to get the litter box set up quickly, though they never use it immediately after arrival. They're still too high strung for at least a short while. We often put the cats and the litter box into the bathroom where we can close the door while we unload everything else.
Checking for Trouble Spots
We learned another lesson for hotels early on…
Cats love hiding spots, and if there is a good one in your hotel room you can guarantee they'll find it. I like for them to find a good spot to feel safe, but if it also means I can't retrieve them when needed, that's a problem. So we make a quick search of the room for just such spots.
Two areas are the most common for trouble:
1) Under the bed. Some hotels mount the beds on a frame that reaches all the way to the floor. But they'll often have access holes up by the headboard. I don't know about you, but I don't want to have to disassemble the bed to get our cats when it is time to check out. So we look for that problem up front, and cover any access holes if that appears to be a potential problem.
2) Under the sink in the bathroom. We have often found that there can be holes in the wall under the sink area of the bathroom. Usually they just lead to a small cramped spot, but I also fear that they would lead further into the wall. This is another area we would choose to block off.
From Nervous Nellies to Seasoned Travelers
On that first trip, whenever we stopped at a new location the cats were very nervous. They would find the best hiding spot (among the ones we hadn't blocked up!), and they would stay there for a couple of hours before they cautiously came out and started sniffing around the room. And on that trip, we worried because they weren't eating anything, and hardly used the litter box either.
Fortunately, after that first experience, they have become a lot braver. They now trust that their humans are not taking them any place dangerous. Now, when we arrive at a new spot they are immediately checking out every corner, every nook and cranny. New places are full of new and interesting smells, and they really take it all in. And generally, they're both acclimated to a spot in under an hour, and checking the food bowls.
So if you choose to travel with your pets, don't let the first few nights dissuade you from the path. Hopefully your animals too will become seasoned travelers.
On to San Miguel de Allende
Our second day went smoothly although it was another 7 hour drive. And since it was our first experience driving in Mexico we were as nervous as the cats. But crossing the border could not have been easier. We were just waved through without any inspections. We stopped to handle the paperwork for us and the car about an hour inside Mexico. (This varies depending on where you cross.)
We were all glad to arrive in Matehuala at Las Palmas, but again it was a slow process of acclimatization for the girls.
Our third day was blissfully short by comparison. After just a four hour drive, we arrived to our rental in San Miguel. It was a great location just behind Cafe Monet in Barrio La Aldea, an easy walk to lots of restaurants and centro.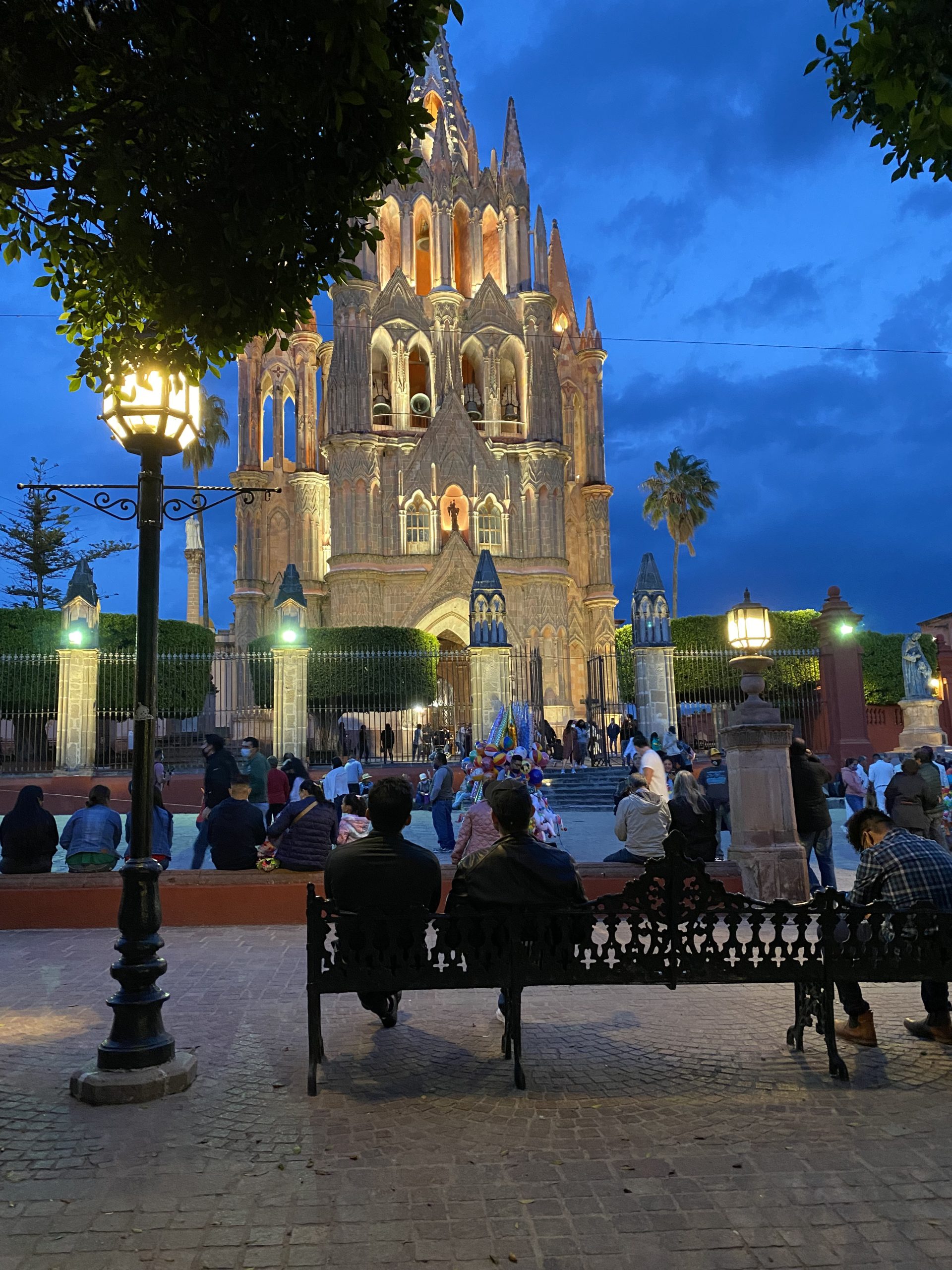 We had done it. We had arrived at the dream destination of San Miguel with our cats, and we'd be here enjoying this amazing spot for six whole months.
And we did exactly that. And just as importantly, they did too.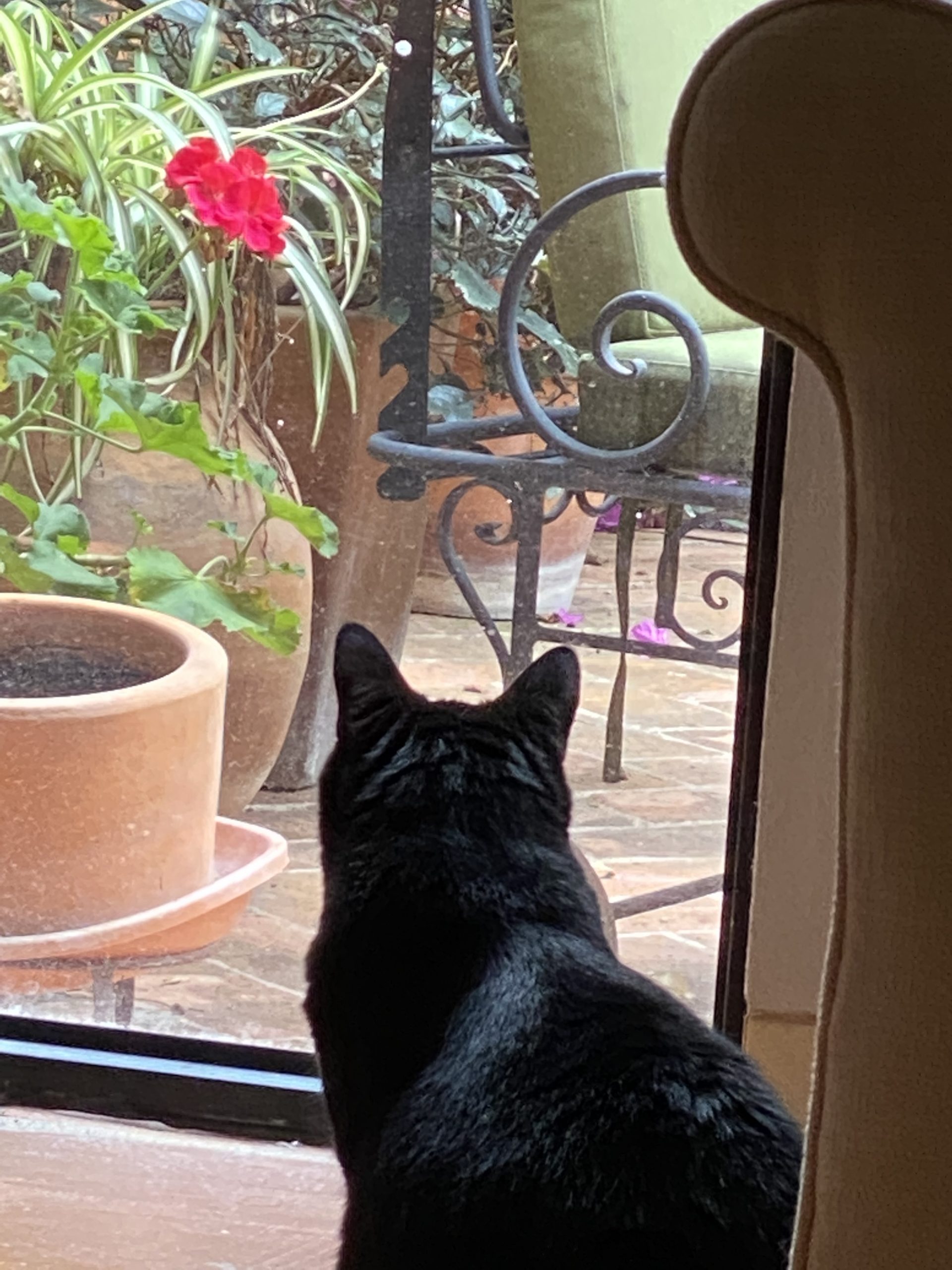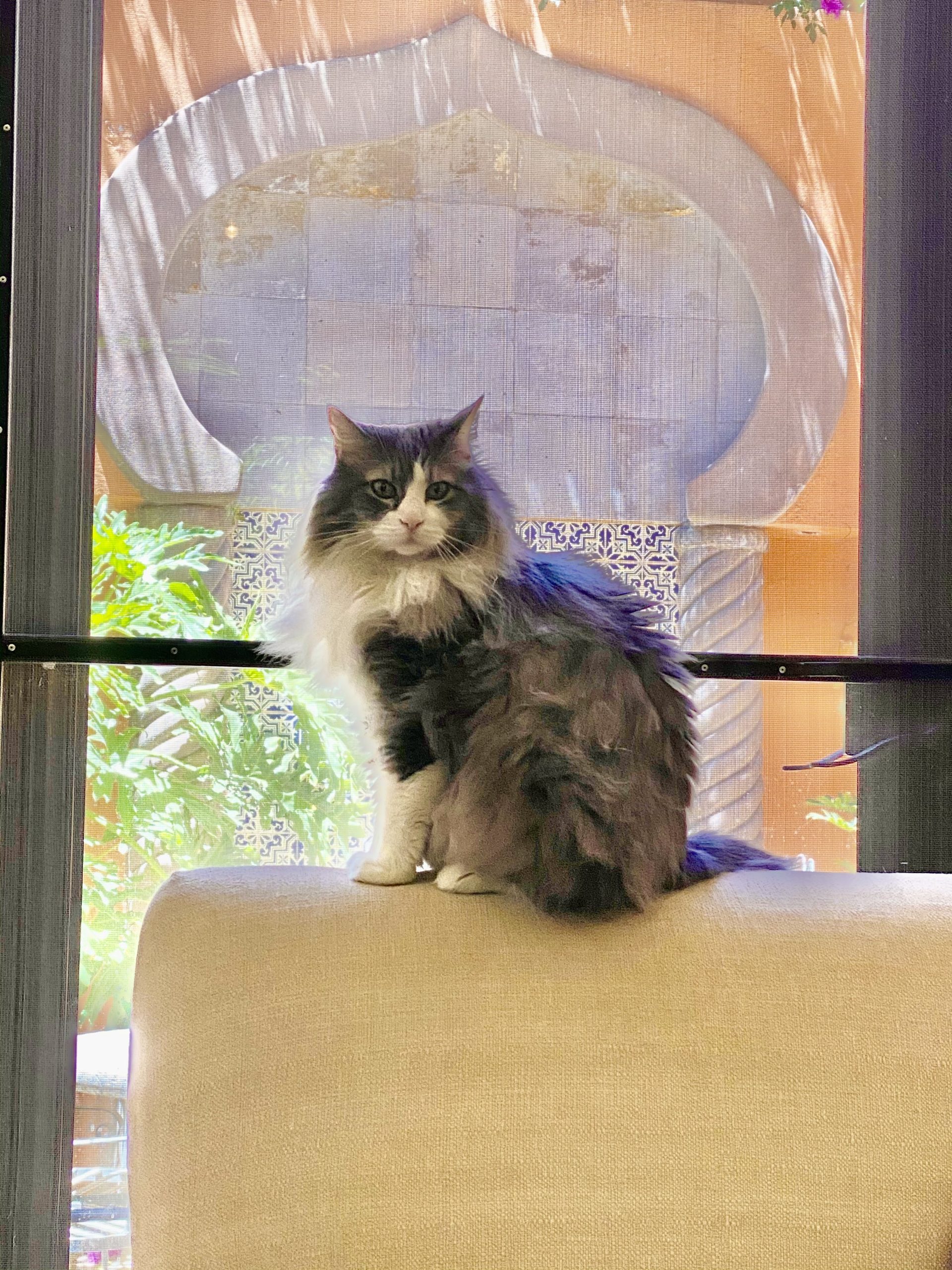 While there, we made one overnight trip to Bernal and Tequisquiapan, but other than that we stayed every night there in SMA. If you haven't been, we highly recommend it. It's an enchanting town.
The Road Back Home
We felt much more confident for our return journey after six months of immersion in Mexican culture and driving.
We changed up our stops a bit and chose to spend a night in Saltillo at the Four Points Sheraton. On that stay, I would describe it as OK but on a subsequent trip we ended up in a real dump of a room. I would instead recommend the downtown Staybridge Suites in Saltillo as a pet-friendly hotel. It's much nicer.
From Saltillo we drove to the border and continued to San Antonio, where I can heartily recommend the La Quinta Downtown as a fantastic pet-friendly stay.
That's a well-known trick for pet travelers. Almost all La Quinta hotels allow pets and they do not even charge a pet fee. (Update: This is no longer the case. Some now charge fees.) Check the reviews though, as the quality of their hotels is widely variable.
The next day we arrived back home in north Texas, and settled back in to normal for a few months.
We Did Mexico Again
Despite a somewhat stressful start, we considered our San Miguel trip quite a success with the cats, and in early 2022 we decided to hit the road again.
This time we were visiting a lot more places in Mexico. Our two-month itinerary was this:
Plano TX – San Antonio TX – cross at Eagle Pass TX – Saltillo – San Luis Potosí – Guadalajara – Pátzcuaro – Morelia – Chapala – Puerto Vallarta – Guadalajara – San Miguel de Allende – Saltillo – cross at Eagle Pass TX – San Antonio TX – Plano TX
One reason for the trip was to renew our Mexico temporary residence visas, and we wanted to do it in San Miguel. (Note: We actually failed to renew our visas, because we had limited time in SMA and the card printer at immigration was broken for a couple of weeks while we were there! We couldn't wait longer, so we abandoned the process.)
That's quite an itinerary for just two months, and although the cats were a lot more comfortable with traveling by now, it was still way too much moving around for both them and us. But hey, we wouldn't know that until we tried it. We'll be moving a lot more slowly in the future though.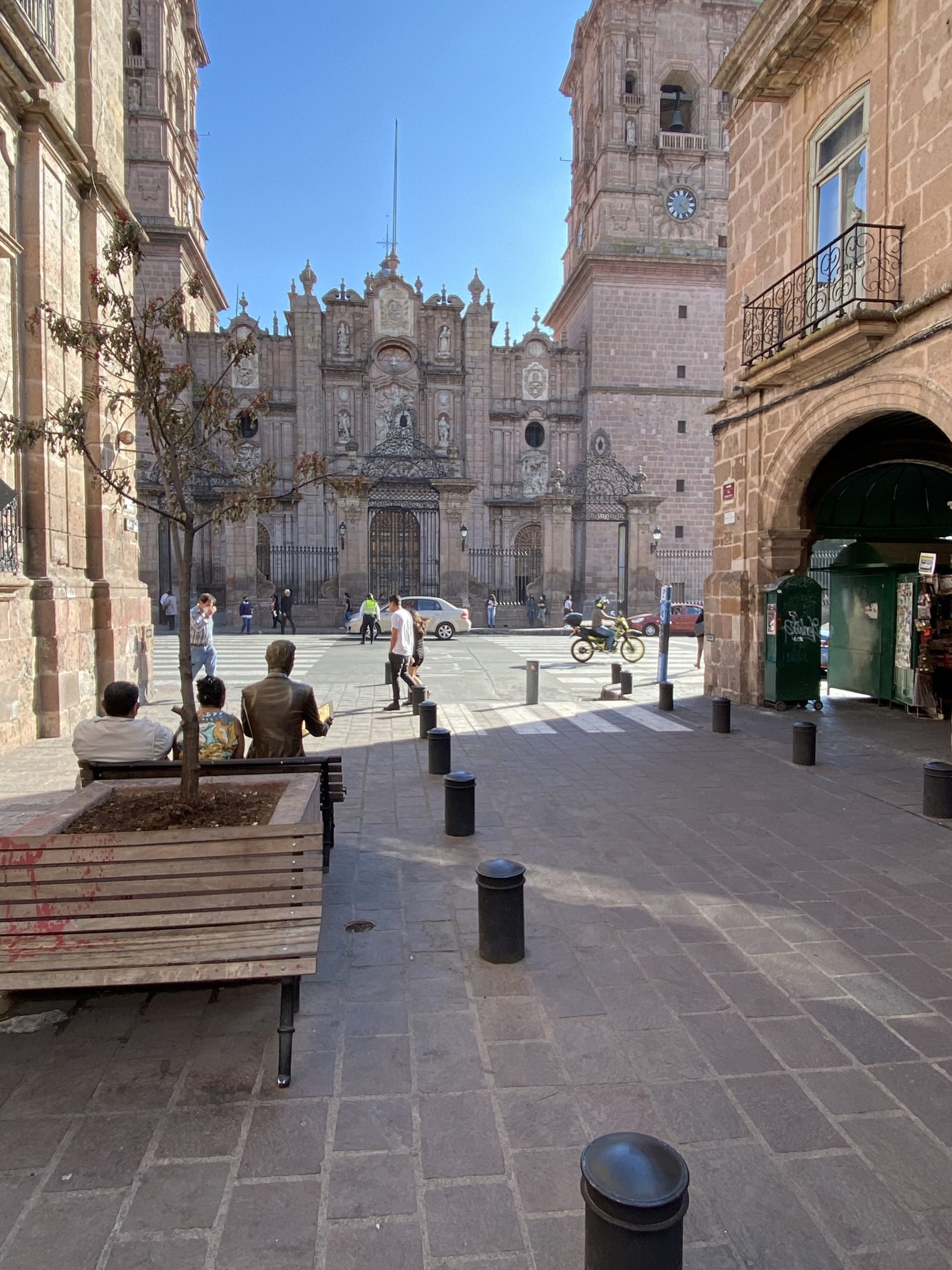 More of Mexico, Viaje Dos
In all, we drove over 2700 miles within Mexico, with our cats, and we had not a single issue of any kind. No banditos, no trouble with the policia, nada. At every checkpoint, we were quickly waved on through. That's the kind of story that you don't often hear about Mexico. It is truly a wonderful country. Yes, it has problems, but every place does. It's not nearly as dangerous as the news would lead you to believe.
Our favorites on this route were three places in particular: Guadalajara (the food is amazing!), Morelia (a beautiful cultural gem), and Puerto Vallarta (it's popular for good reason).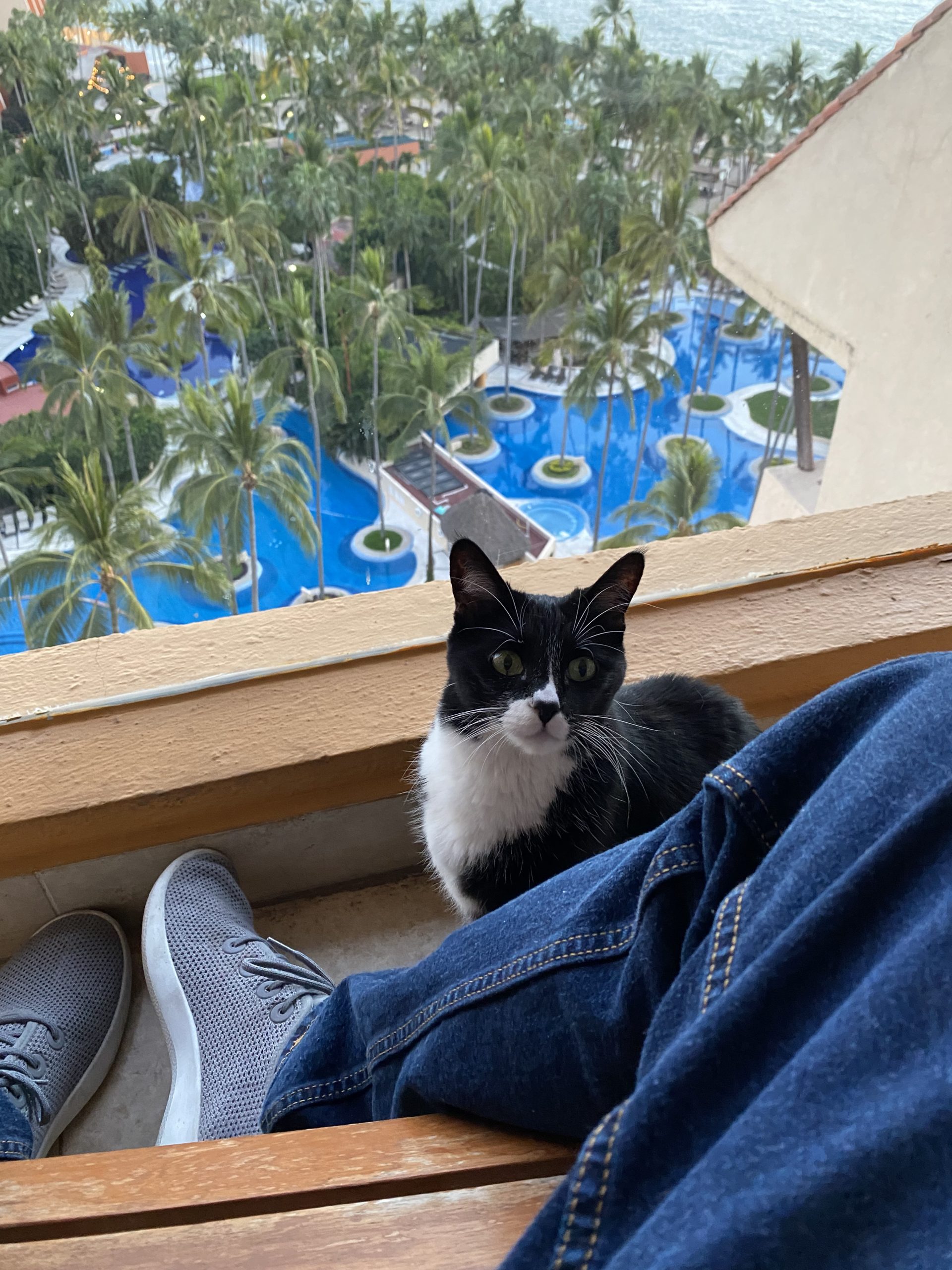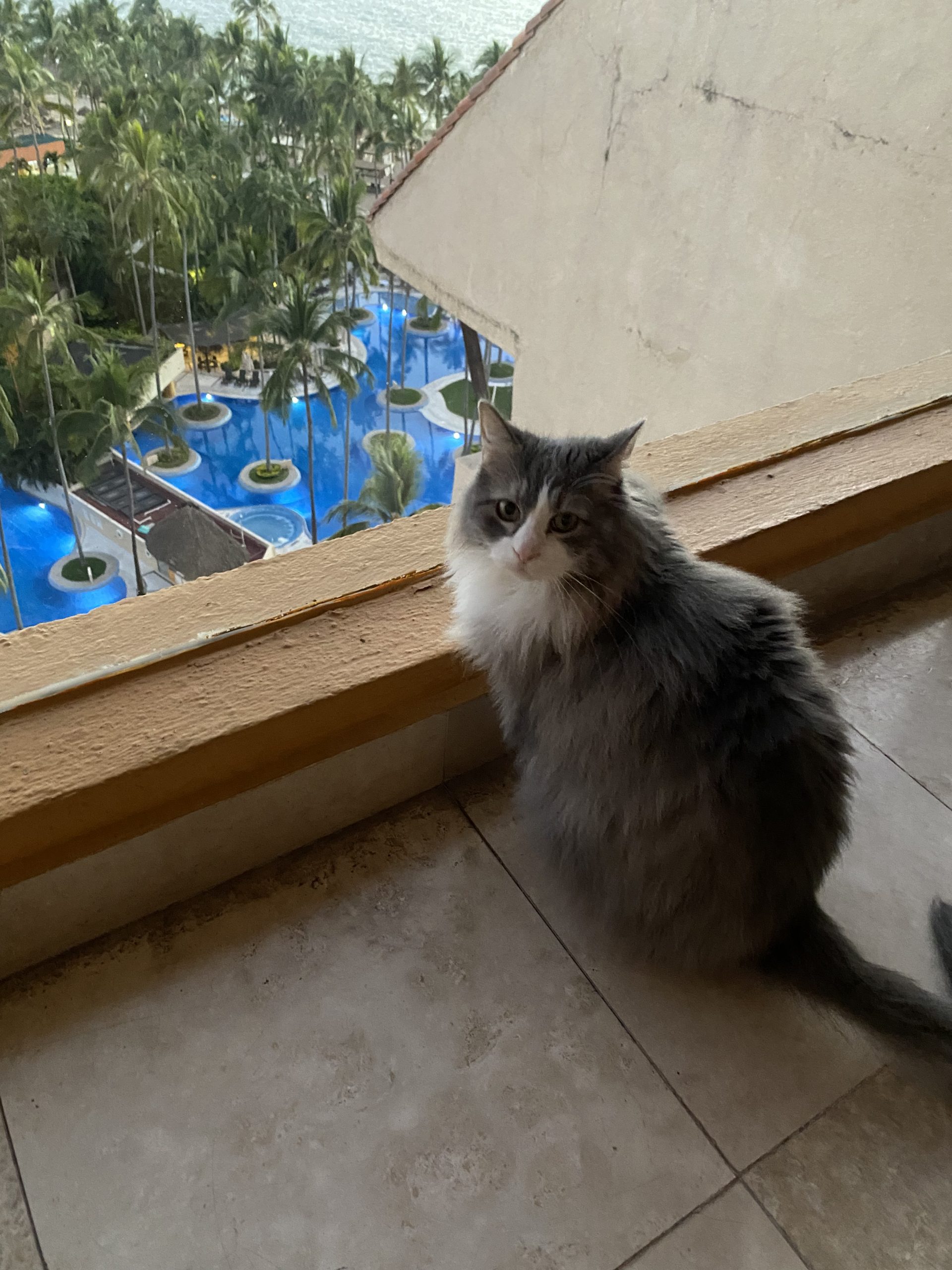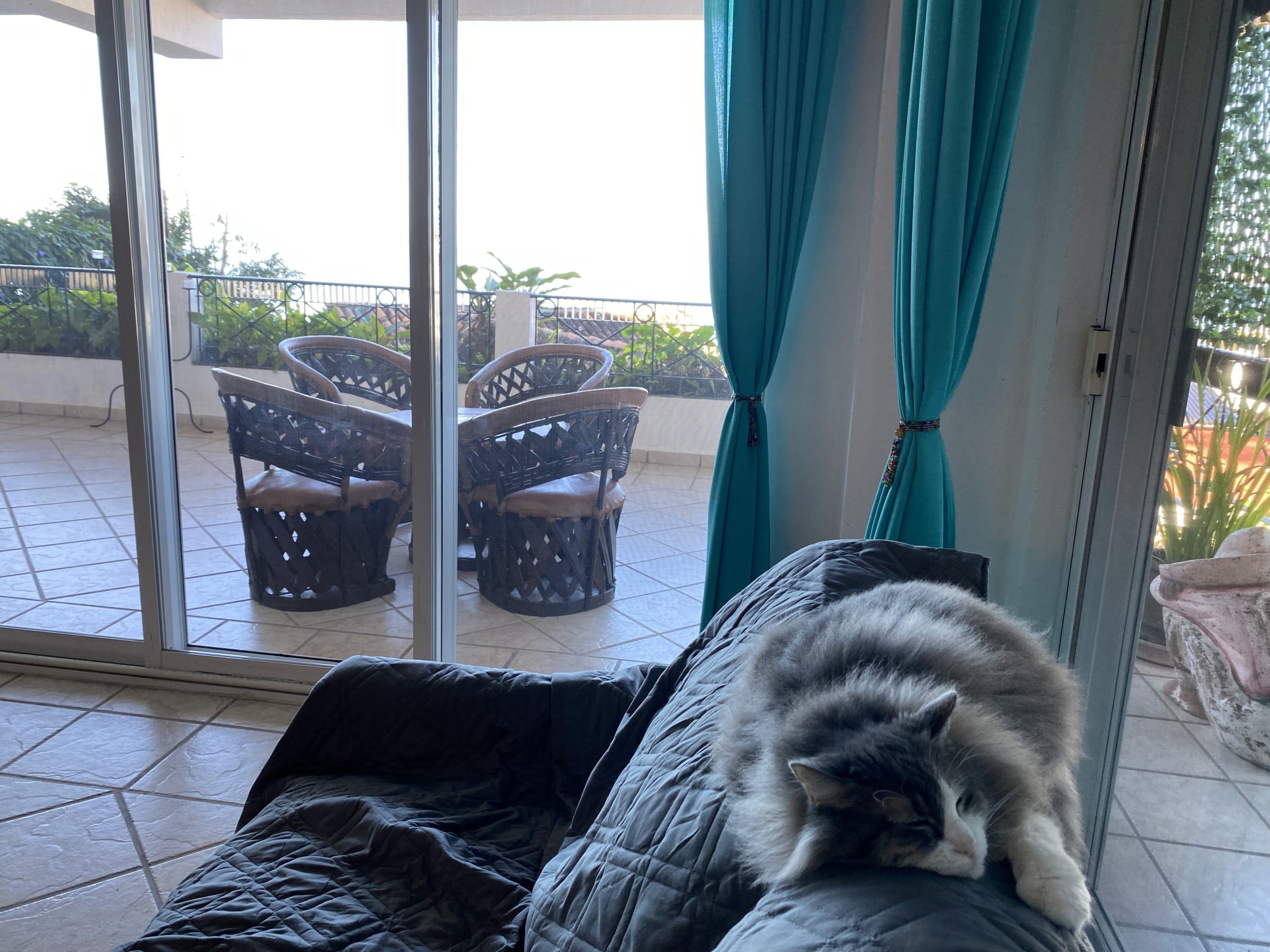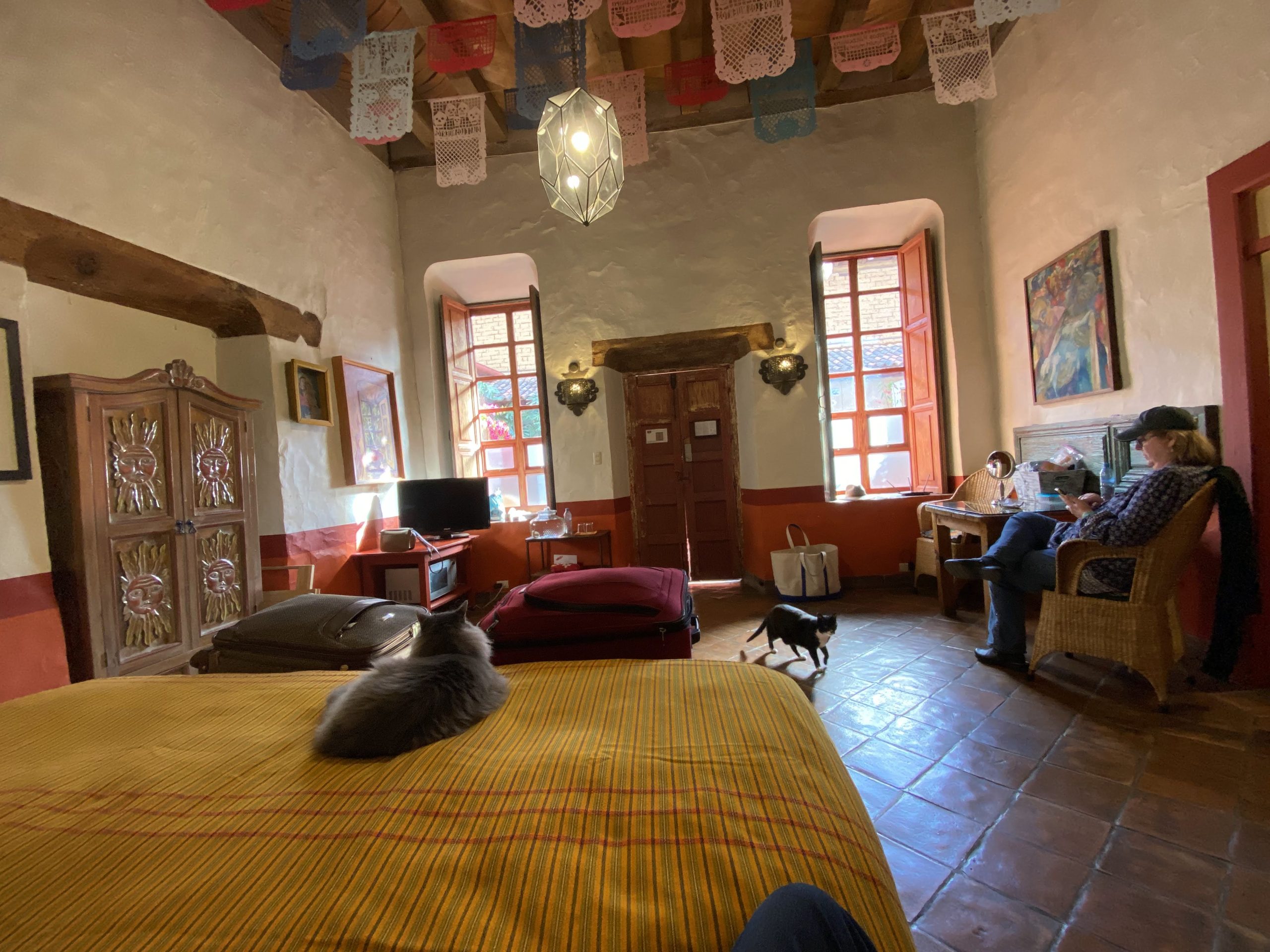 Although we had no problem with our cats clawing anything during our six month stay in San Miguel, we wanted to be extra cautious and brought along a couple of furniture covers we had purchased at Bed Bath & Beyond.
It seemed like overkill, but then on our very first night in Guadalajara one of the cats clawed the arm of a chair! Oh no! We hadn't put the covers on when we arrived. And alas, this was a real problem. We reported the damage to the host, and I paid to have the chair recovered. The damage wasn't that bad, but I wanted to leave it better than we found it. After all, it's very kind of some Airbnb hosts to allow pets. I want to go above and beyond to make sure they are happy.
The only other time we've had the cats claw anything was a rug in another rental. When we arrived, it was clear that this rug had already been damaged by prior guests. In that case, I used a felting needle to completely repair all the existing damage and the rug looked much better when we left than when we arrived.
We still haven't figured out why our usually well-behaved cats chose to claw at these two specific items. It's something particular about the fabric.
Regardless, we are now very careful, and we make sure they have a cardboard scratching pad as well.
And Now Europe, with Cats
We had only a brief stay back in Texas before we left again for a six-month adventure abroad, much further from home.
This time, we boarded a non-stop flight from Dallas to Paris, where we are staying for two months before moving to Rouen in the Normandy region for a month. After that we booked a flat in London for three months.
First I'll tempt you with a few shots from Paris, because, well, it's Paris. 🙂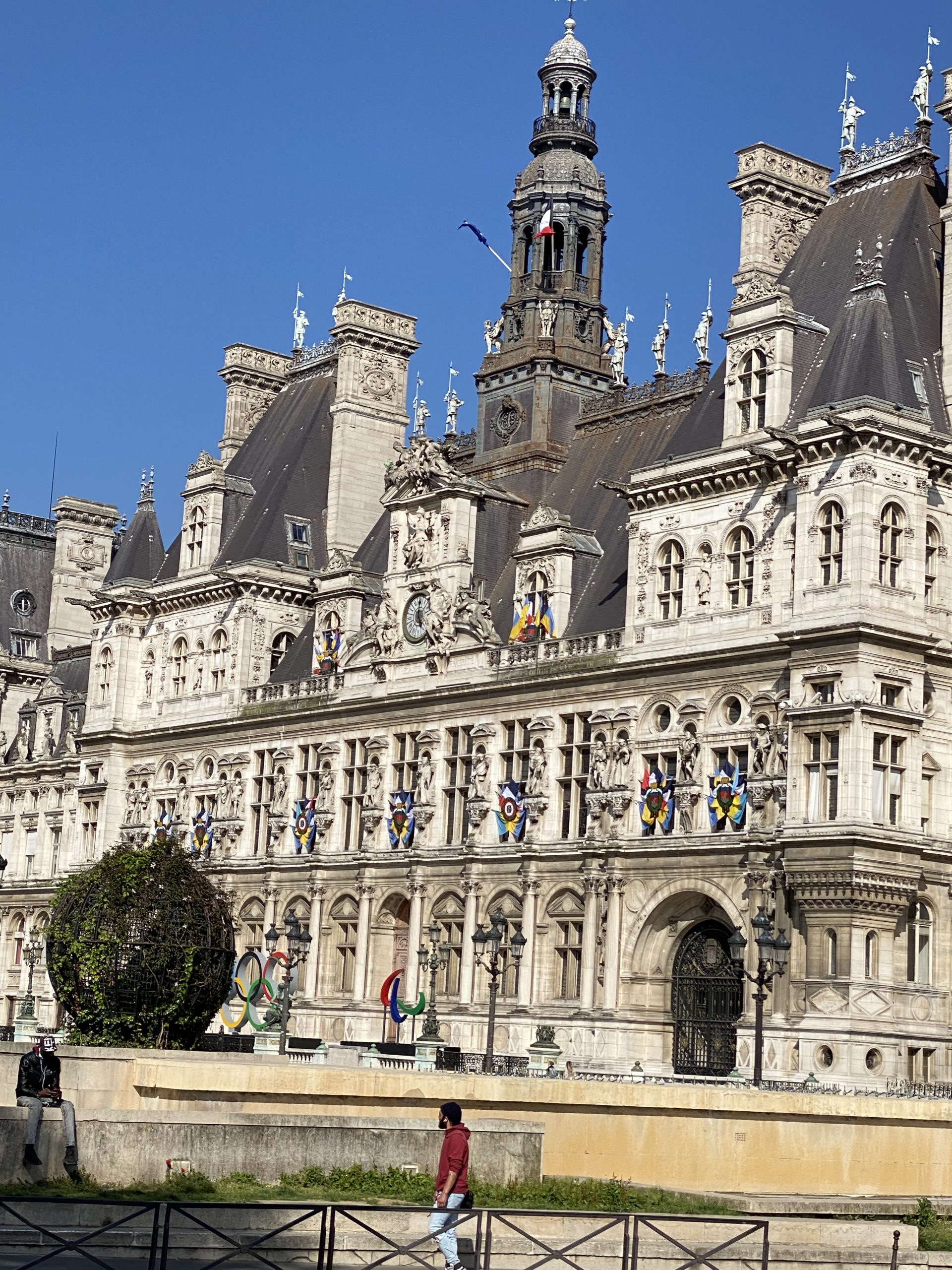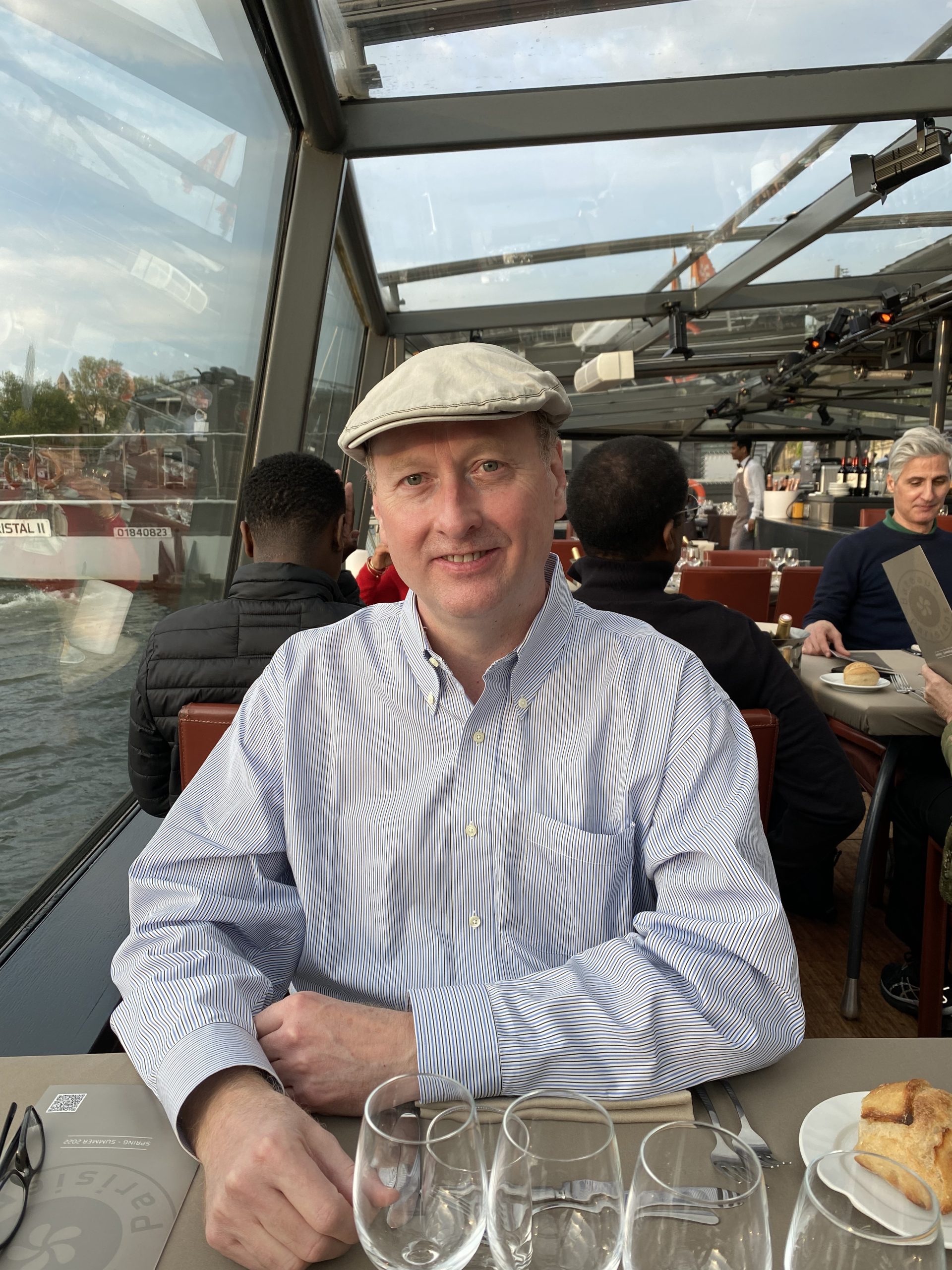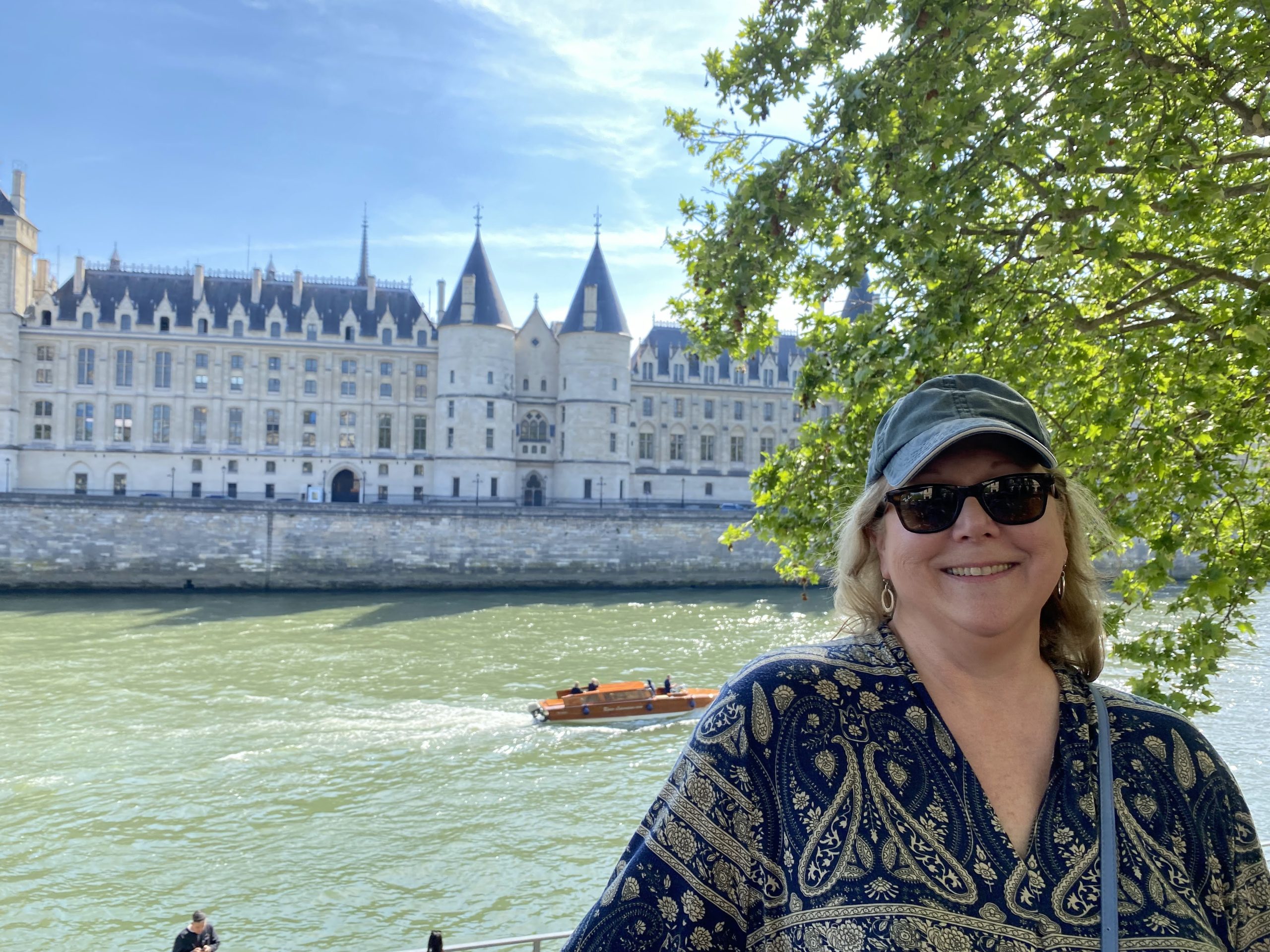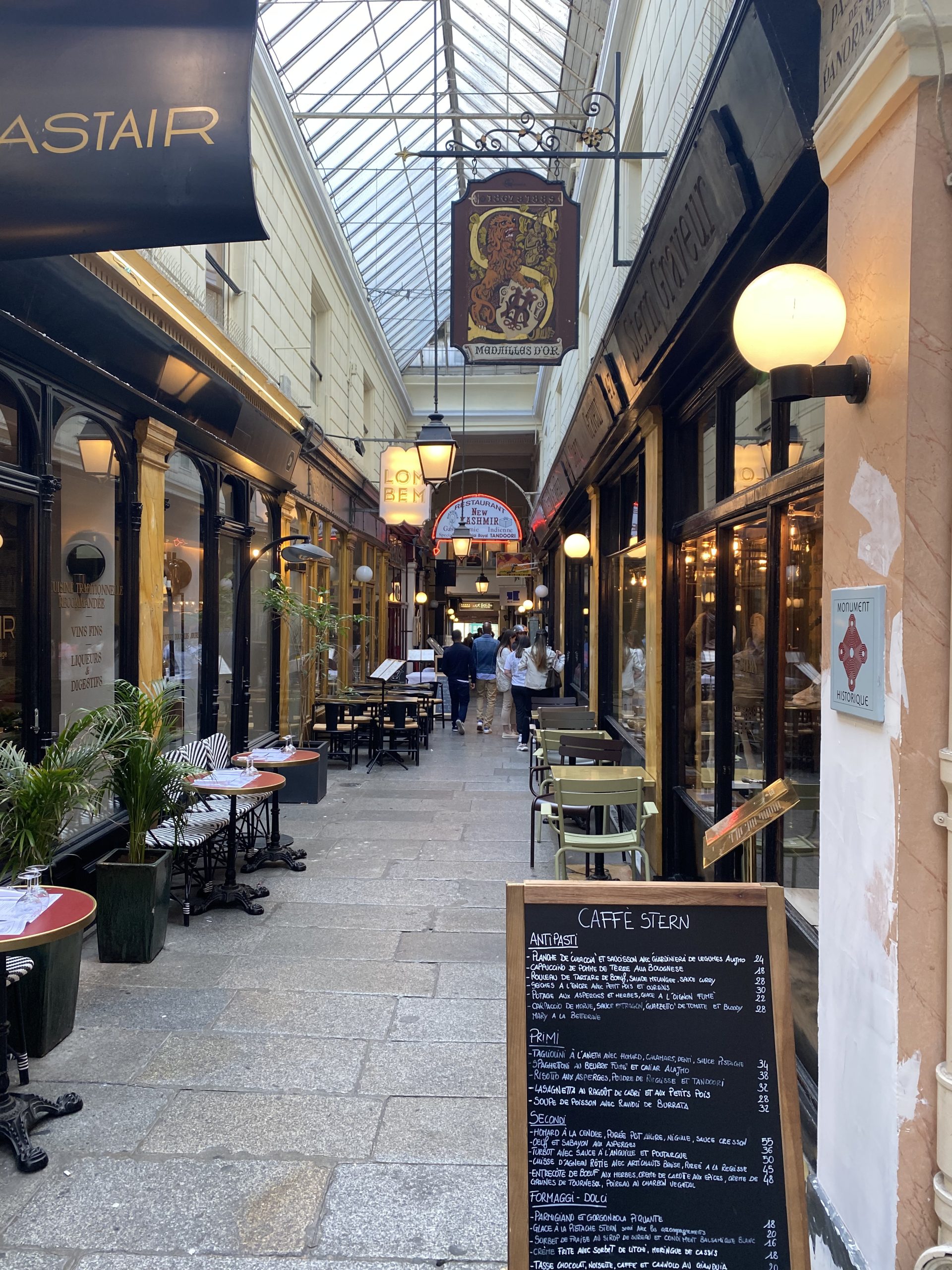 Flying Transatlantic with Cats
The first step in planning an airplane flight with pets is to learn which airlines will allow it, and which will not. We were only interested in flying with the pets in-cabin, so that was a key factor.
Paris is a good destination for pets. Not all European airports are. For example, no one is allowed to arrive in London with a pet in the cabin. That's a hard rule enforced by customs there. So if you want to get to London and you are unwilling to have your pet travel as a checked bag, you'll need to maybe fly to Paris instead and then head over by hired car.
Speaking of that, we arranged a car for our eventual entry into the UK. We reserved a ride with Folkestone Taxi, a company that specializes in transporting people and pets back and forth across the English Channel. It is expensive though, more than 500 GBP or $700 US. But, it gets us from Calais all the way to our Airbnb in London and greatly simplifies the process of entering the UK with the cats.
For our eventual flight home we found that you are allowed to depart London with a pet in-cabin, although only a couple of airlines allow it. We are using AirCanada from London for our return to the US, with a few days in Montreal to avoid making a connecting flight on the same day with the cats. We used Chase Ultimate Rewards points transferred to AirCanada for that flight, and American Airlines miles to get us home from Montreal. (Yes, American flies non-stop London to Dallas, but they don't allow pets on any transatlantic flights at the moment!)
Before you reserve a particular flight, you need to call the airline and make sure that they have space on that plane for pets. There are a limited number of pet spots in-cabin on each flight. So far, we've never had an issue.
Then you need to determine the paperwork required to enter your destination country. For France we needed a USDA-certified vet to provide a health certificate within 10 days of our flight. I found that many vets don't offer this service even if they are USDA certified. We worked with a company in Farmers Branch near Dallas who specializes in that. It wasn't cheap though, costing $243 for each pet. Add in $125 each charged by the airline, and you can see that the expenses are really adding up.
The good news is that we now have an EU Pet Passport, issued by a vet in Paris. As long as we keep the rabies vaccinations up to date and documented in the passport, we won't need the health certificates again for future travel in and out of the EU or UK.
A Very Long Travel Day
And then it was time to actually put this plan in motion…
We worried about the exceptionally long travel day to get from Dallas to Paris. The cats needed to be in the carrier from when we left the house until we got to a hotel in Paris. It ended up being nearly 13 hours with the cats in the carriers.
I'm thrilled to report that our cats did very well under the circumstances. One of the "puppy pads" in a carrier was damp upon arrival, but it did its job and contained the accident. We were well-equipped to deal with any more serious accidents by bringing extra puppy pads, wet wipes, etc. But I am glad that we didn't have to use them.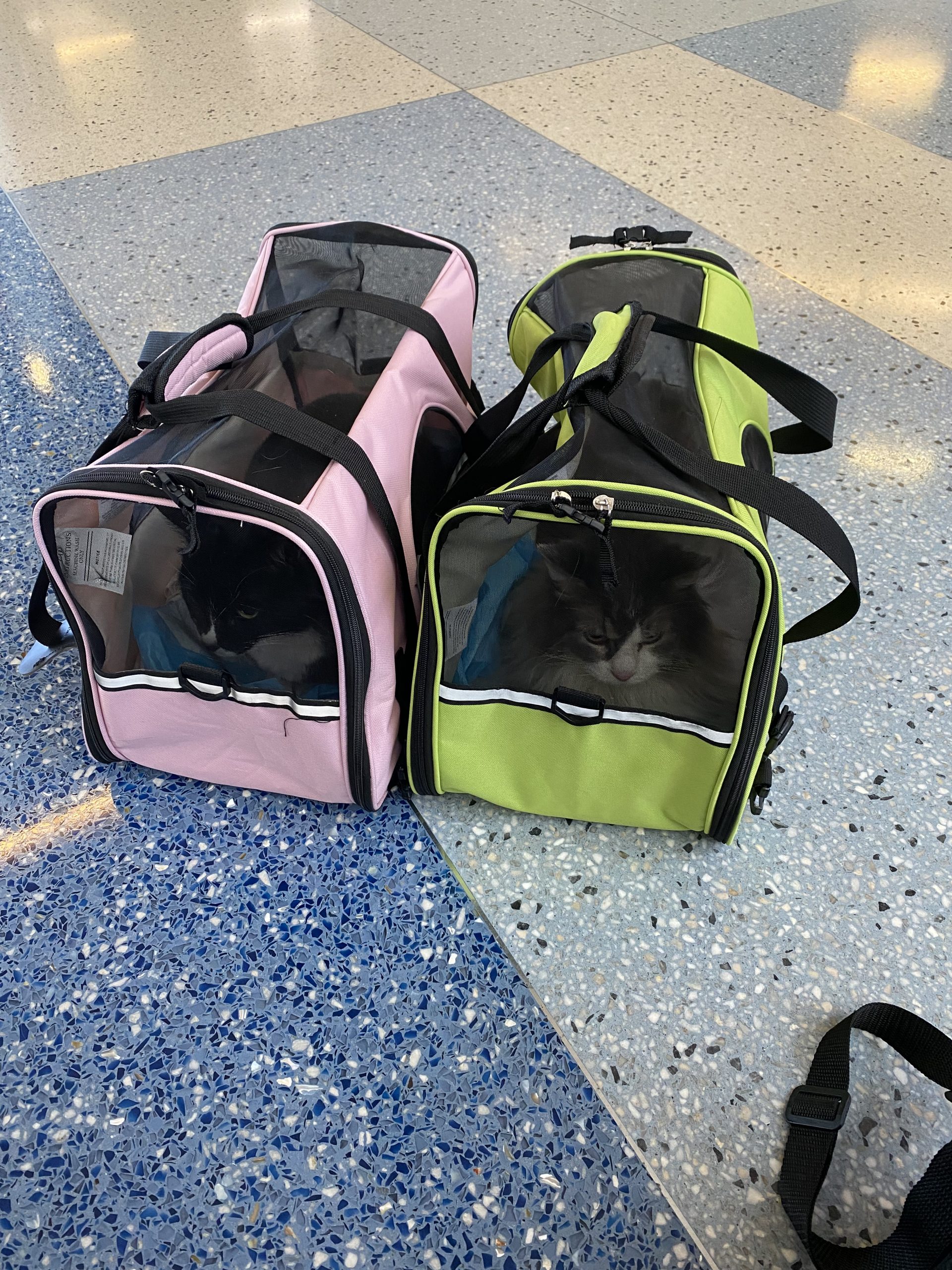 When we came through customs in Paris, one of the officials merely waved us on through despite the fact that we were carrying two pet carriers. After a very long travel day, I wasn't thinking clearly enough to insist that they examine our pet paperwork and apply their official stamp.
A day later, I realized that could be a serious issue so I spent some time on the phone with both customs officials and a local vet who assured me that it wouldn't be a problem. I was glad to learn that the local vet could issue us an EU Pet Passport without our health certificate having been stamped in France. Problem avoided.
But if you travel this way, be sure to stop at customs in the airport and let them do their thing. This could have been a disastrous mistake.
We had another issue to address. We landed in Paris around 8 am, but we couldn't check in to our apartment until 4 PM. We needed a place to crash for the day.
I located a hotel at Charles de Gaulle airport that allowed pets and also had a day-use rate. They didn't allow reservations for day use, so we needed to just show up there and hope they had space.
The hotel was in a different terminal than where we landed. I'll leave out a description of the difficulties we had moving ourselves, the cats, and our luggage for a six month stay from one terminal to another at the airport. I'll just say it wasn't easy.
Luckily, once we got there they had a spot for the day and we all crashed for a while recovering from the overnight flight.
Then a late afternoon Uber ride took us to our current home-for-a-while, in the 11th arrondissement of Paris.
What Traveling with Cats is Really About
You've seen that traveling with cats poses some unique challenges, and it is darned expensive. So, why do we do it?
Well…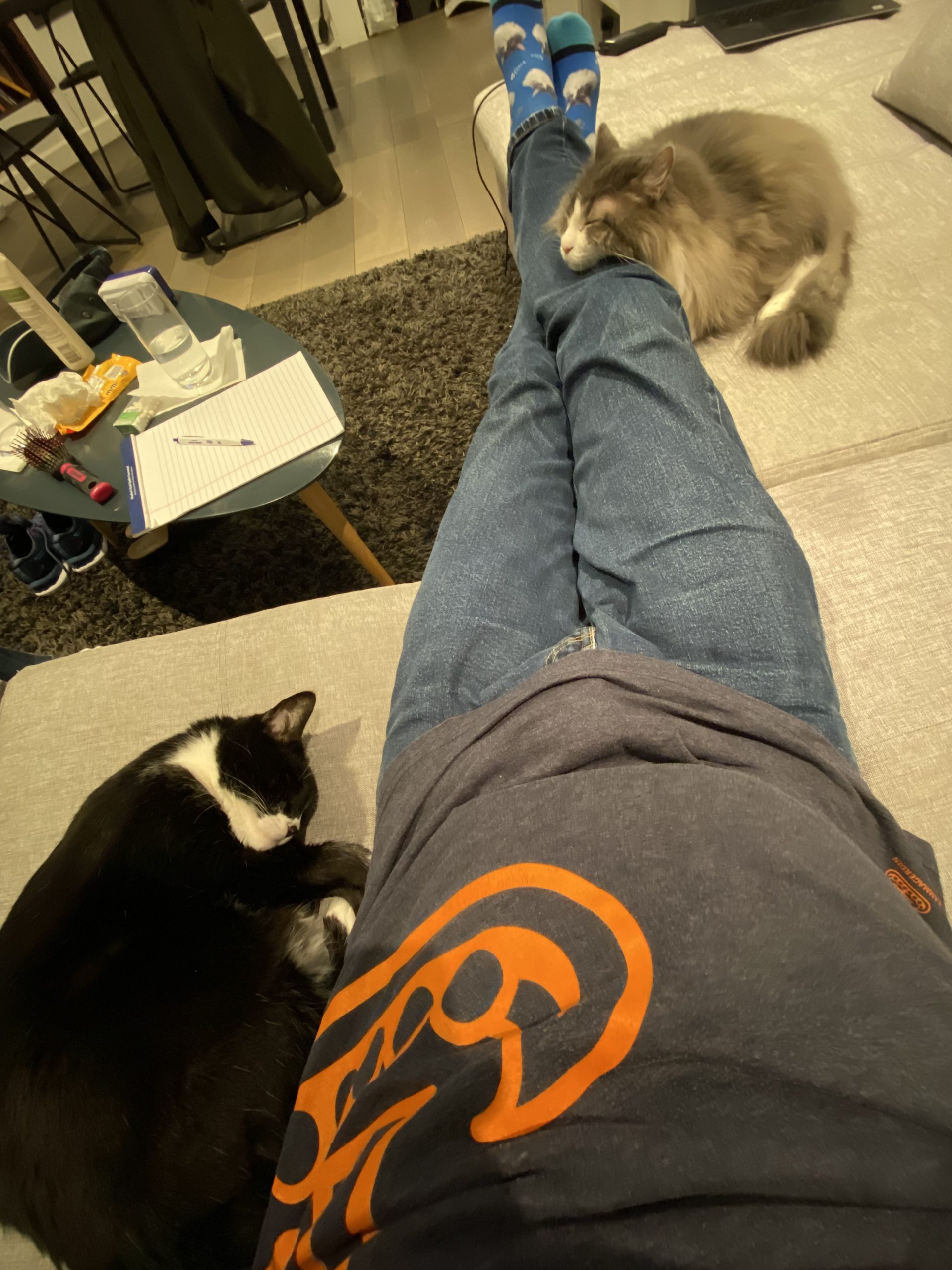 That's me on the couch in our Paris Airbnb, piled up with cats. That's all you need to know.
Tips and Advice for Traveling With Cats
Driving: Keep the time on the road short if possible, and don't bother with the litter box along the way.
Food: It's been easy to find dry food that our cats like, but wet food is a little trickier if your cat is picky. You may want to bring some if allowed.
Finding Hotels: Check BringFido.com for pet-friendly listings. Also Airbnb now lets you specify the number of pets when you are searching.
La Quinta: Inside the US, most La Quinta hotels allow pets with no fee.
Hotel Safety: Check for problematic hiding places and cubbyholes when you arrive.
Hotel Safety: Don't leave the pets unattended if possible. Maids won't be as vigilant as you about keeping the door closed.
Airlines: Confirm everything with the airline before you book. Are my pets allowed? In-cabin? Is there space on this flight? What paperwork do I need?
Furniture: If your cats might claw anything, use furniture covers. We got ours at Bed Bath & Beyond. Minor nicks can be repaired with a felting needle.
Relax! It's a challenge, but it has been so rewarding for us. You can do it!