Oaxaca (pronounced wa-HA-ka) is a state in southern Mexico with a capital city of the same name. In recent years, Oaxaca has become a popular tourist destination, well-known for its fantastic food scene.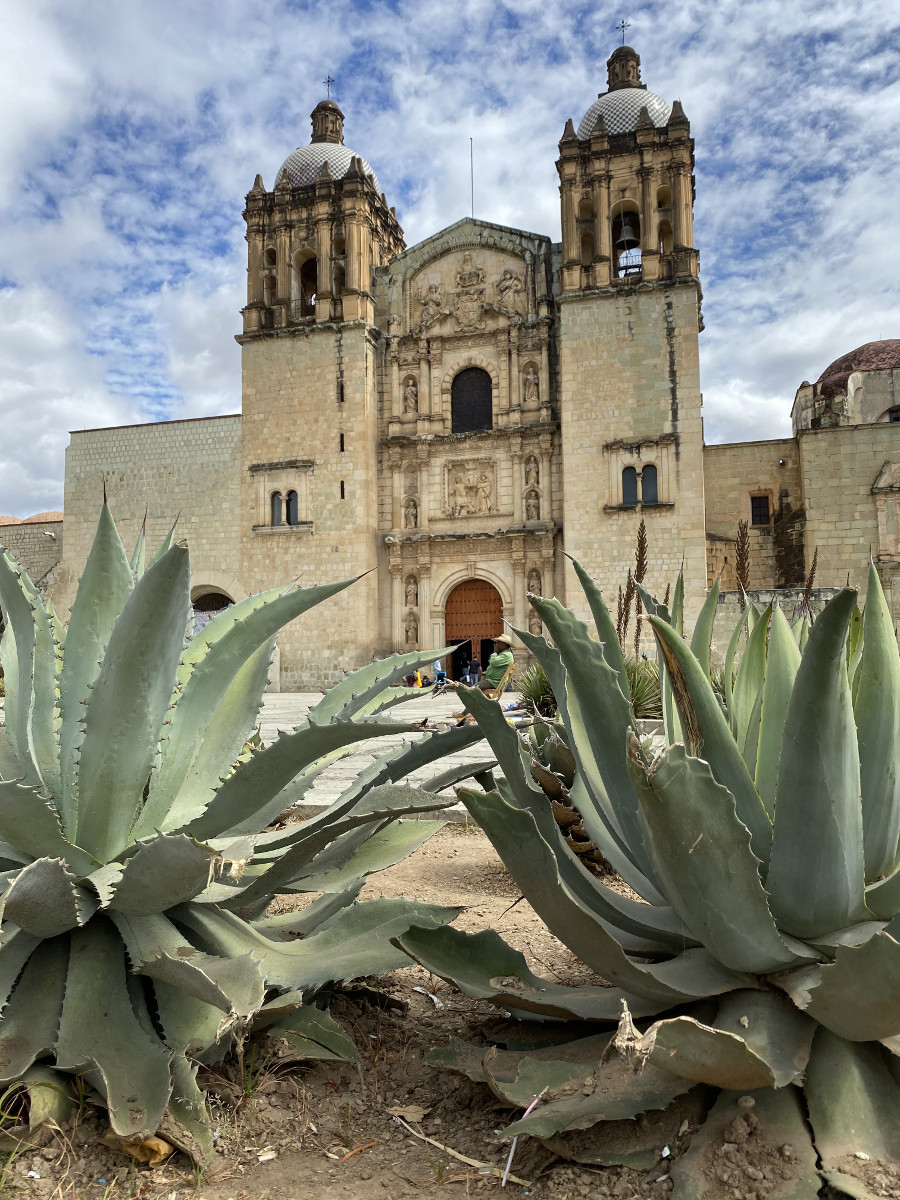 It's not surprising then that the highlights of our visit to Oaxaca were all about the food and drinks we had there.
The signature beverage of Oaxaca is mezcal, made from varieties of the agave plant. You're probably familiar with tequila, which is a similar beverage made from only the blue agave plant. Mezcals are more varied, being made from any of dozens of types of agave plant, and using a slightly different process.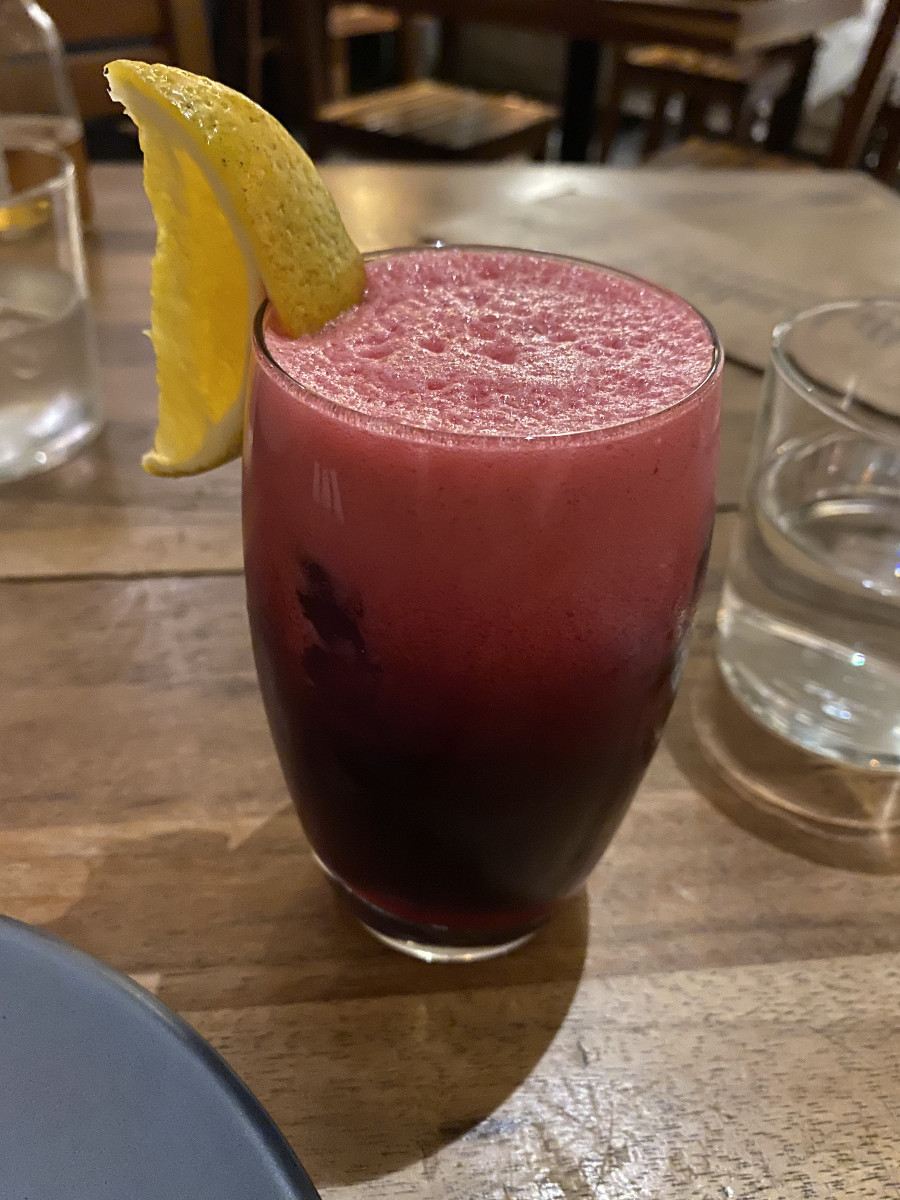 The manufacturing process for mezcal involves roasting the heart of the agave plant in an underground pit. This yields a smoky flavor that reminds me of the peat smoke flavor of scotch whisky. There are hundreds of small mezcal manufacturers in the state of Oaxaca. It's the very definition of a craft beverage, since many of the agave varieties are harvested in the wild, not farmed.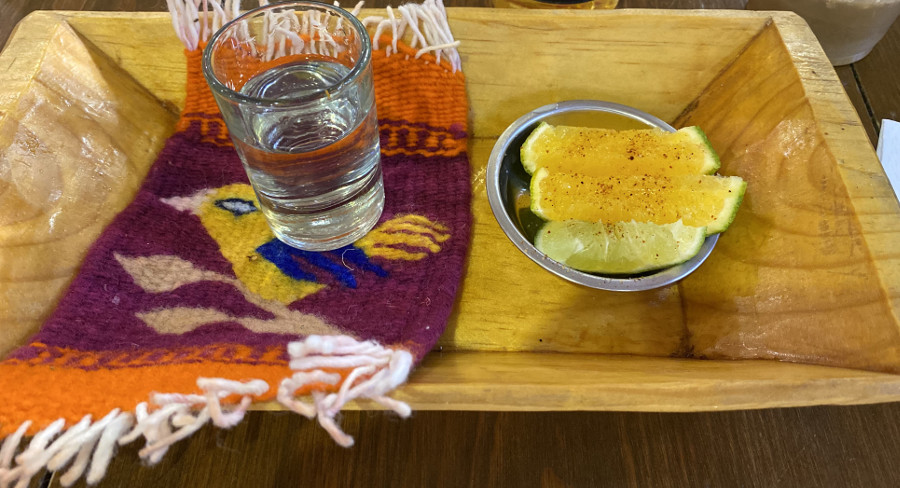 After trying it several ways, I found that I preferred it straight with just lime and salt on the side. The salt is actually "sal de gusano", a mixture of salt and ground agave worms. This is not intended to be a "shot", but instead should be slowly sipped. The locals say you should drink mezcal with "besitos", or little kisses.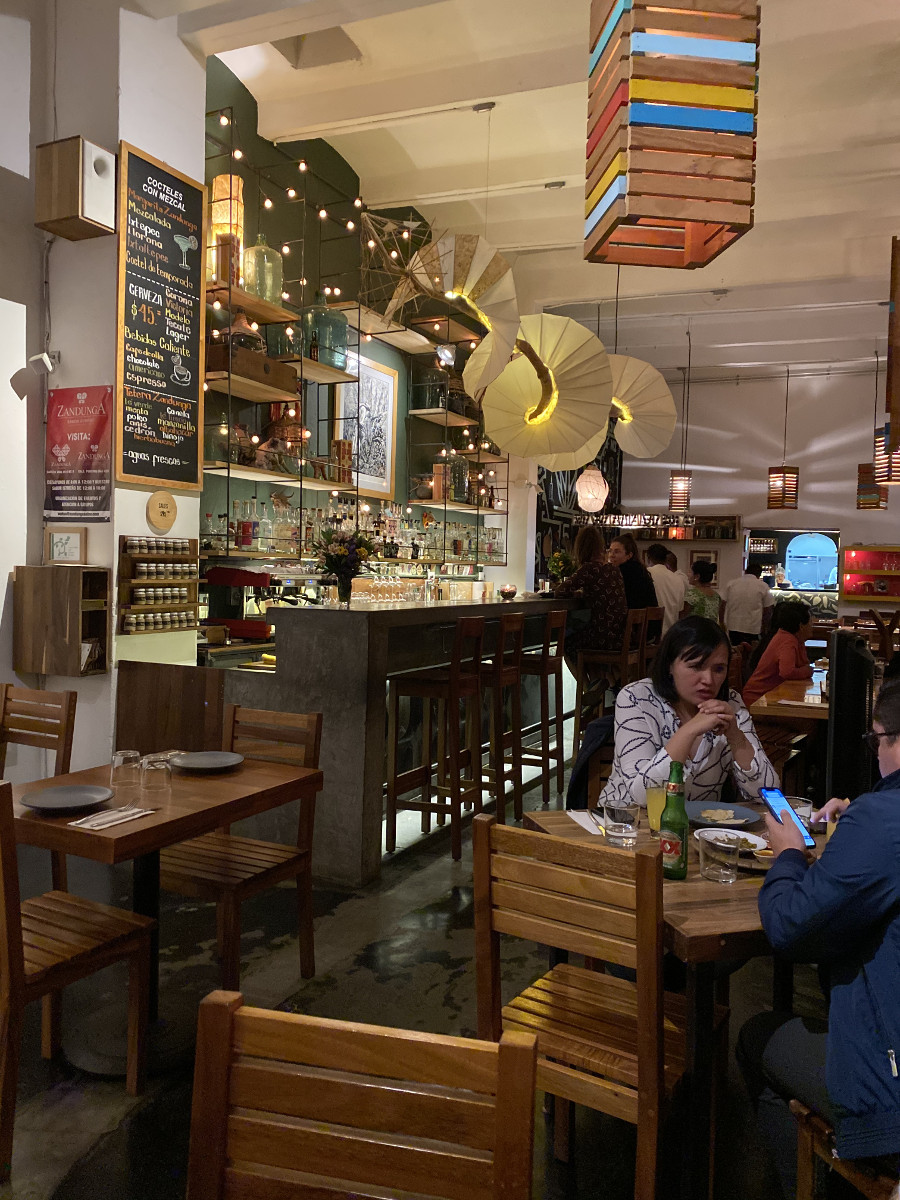 To get familiar with the city, we took a walking food tour from Oaxaca Eats Food Tours. We sampled a variety of local specialties, starting with a beverage that has been enjoyed here for centuries. Tejate is made from corn, chocolate, sugar and the fruit of the mamey tree. Served cold, it's a refreshing if odd-looking drink.
From tejate, we moved on through several restaurants enjoying four different kinds of mole, the rich sauces that have made Oaxaca famous as a food destination. The other local specialties are a dizzying array of dishes you've probably never heard of, from tlayudas to memelas. But it is easy to see how the city has become such a foodie destination.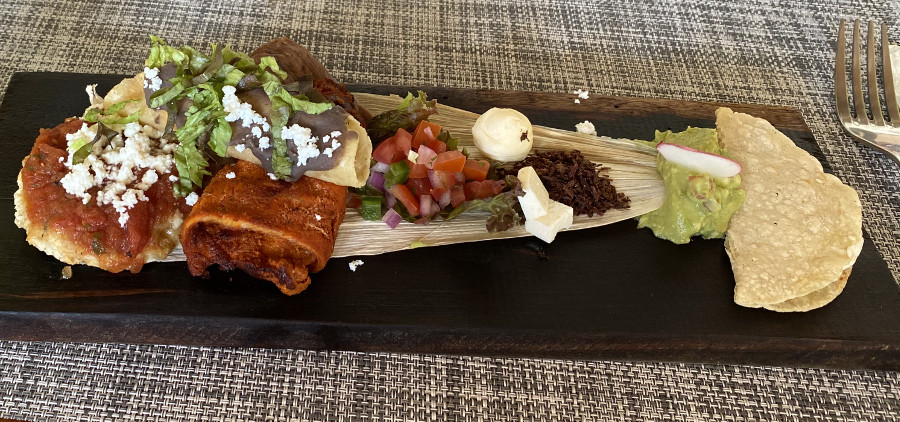 Tlayudas are huge tortillas, coated with a little pork lard and refried beans. They are then loaded up with lettuce and the excellent Oaxacan cheese called quesillo. Lean cuts of cured beef called tasajo are the most popular meat inside. It's all cooked on a wood-fired grill until the cheese is melty and the tortilla is deliciously crispy.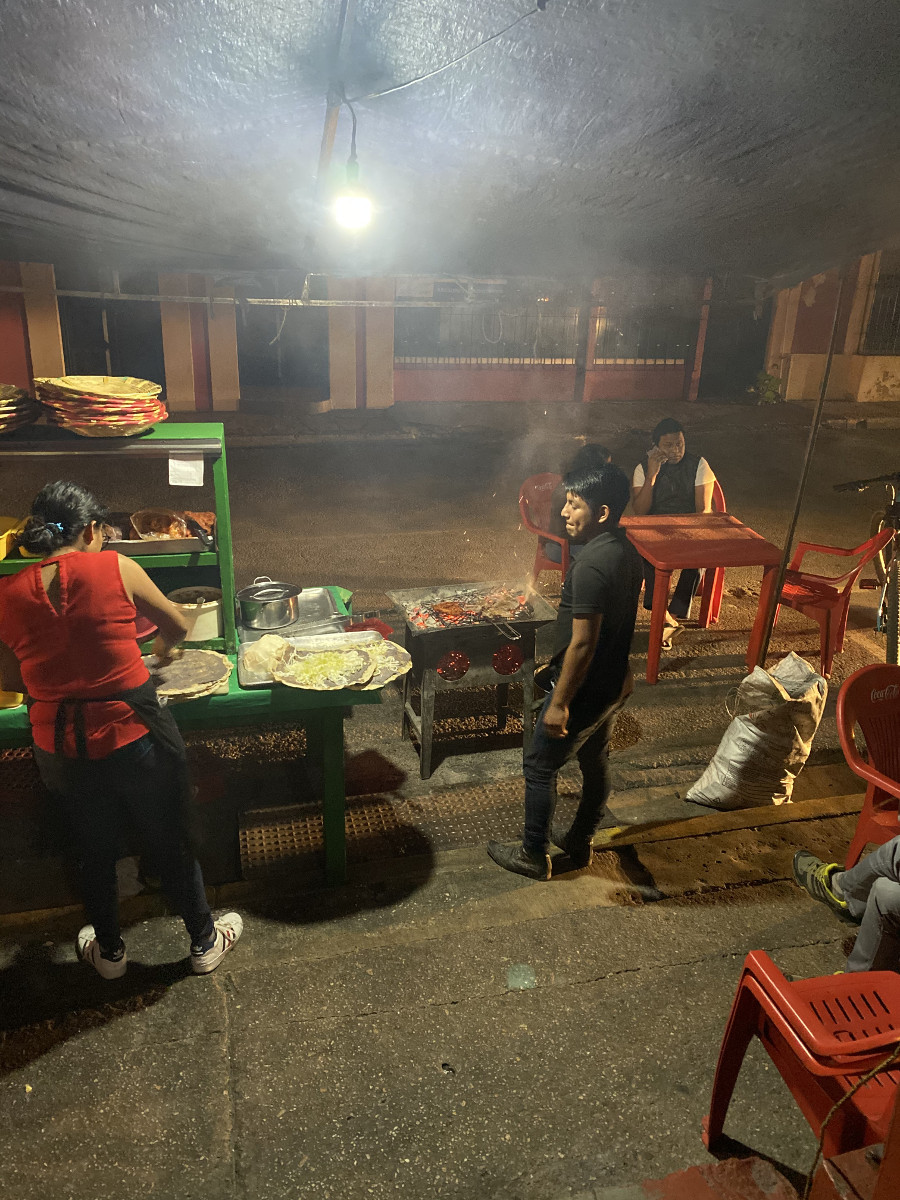 One of my favorite meals in Oaxaca was a tlayuda from this restaurant. All the cooking happened outside on the sidewalk in front, where the glowing charcoal was fanned to keep the fire as hot as possible.
The smoke boils under the eaves of their restaurant entrance, while those huge tortillas are being prepped for their turn on the grill. Yum!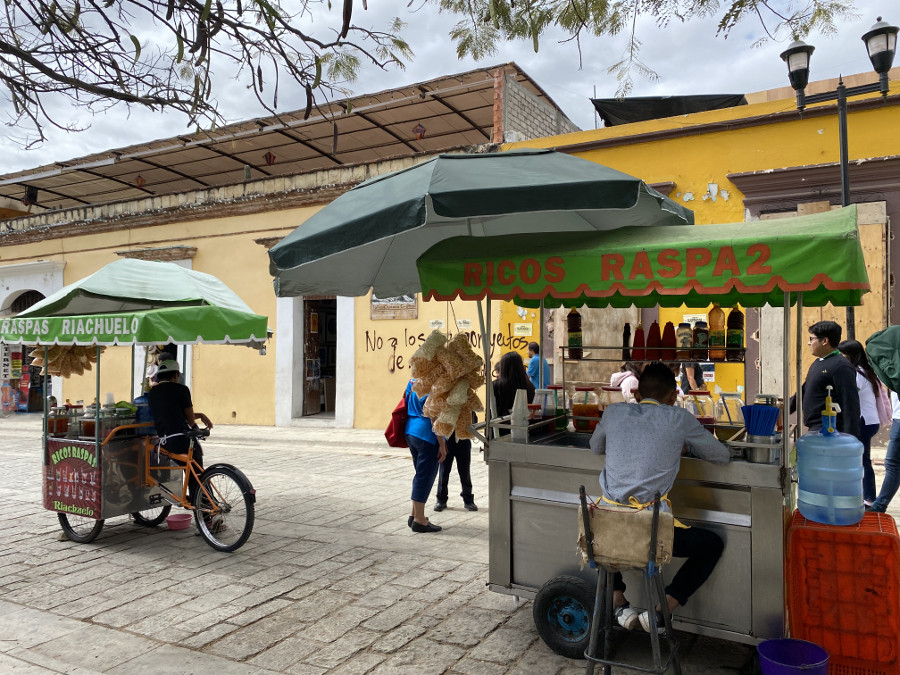 Another fun street treat: "raspas" or snowcones. The name comes from the Spanish verb "raspar" which means "to scrape". These bicycle carts are everywhere in downtown Oaxaca. Each carries a huge block of clear ice from which the vendor scrapes tiny shards into your cup before adding any of a wide variety of fruit flavors.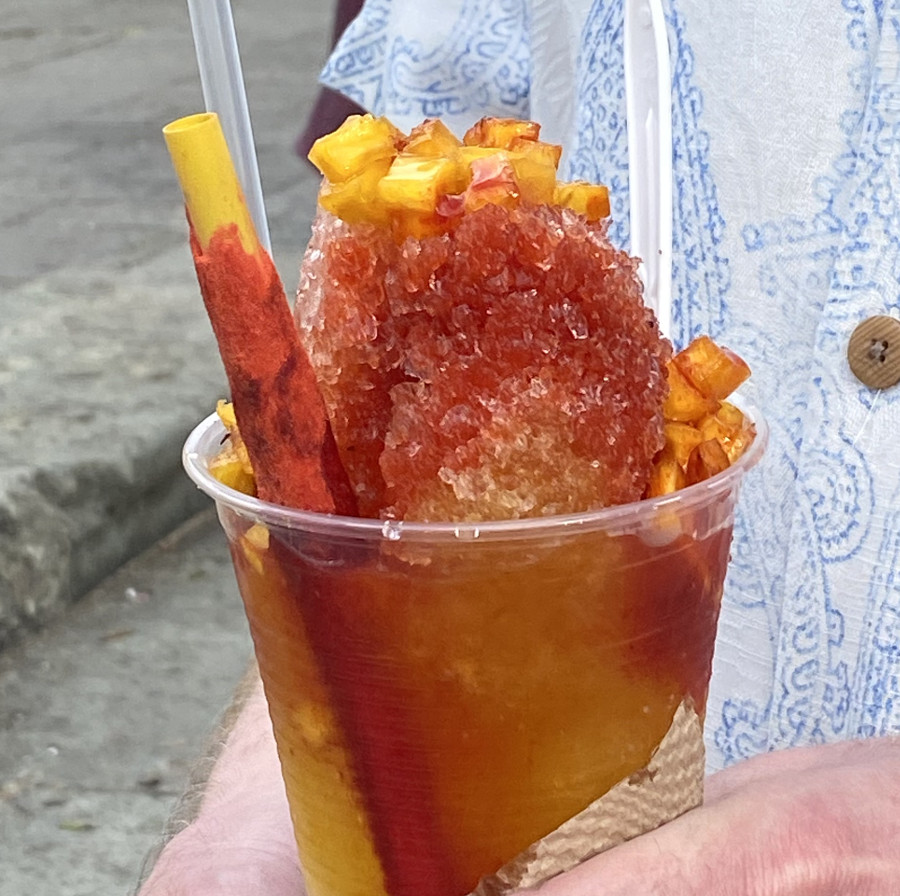 I ordered "piña con chamoy", pineapple syrup, a topping of fresh pineapple, and then chile peppers. First some "chamoy" spicy sauce, and then "polvo" or chile powder. Mixing sweet and spicy is very common here, and I'm a firm advocate.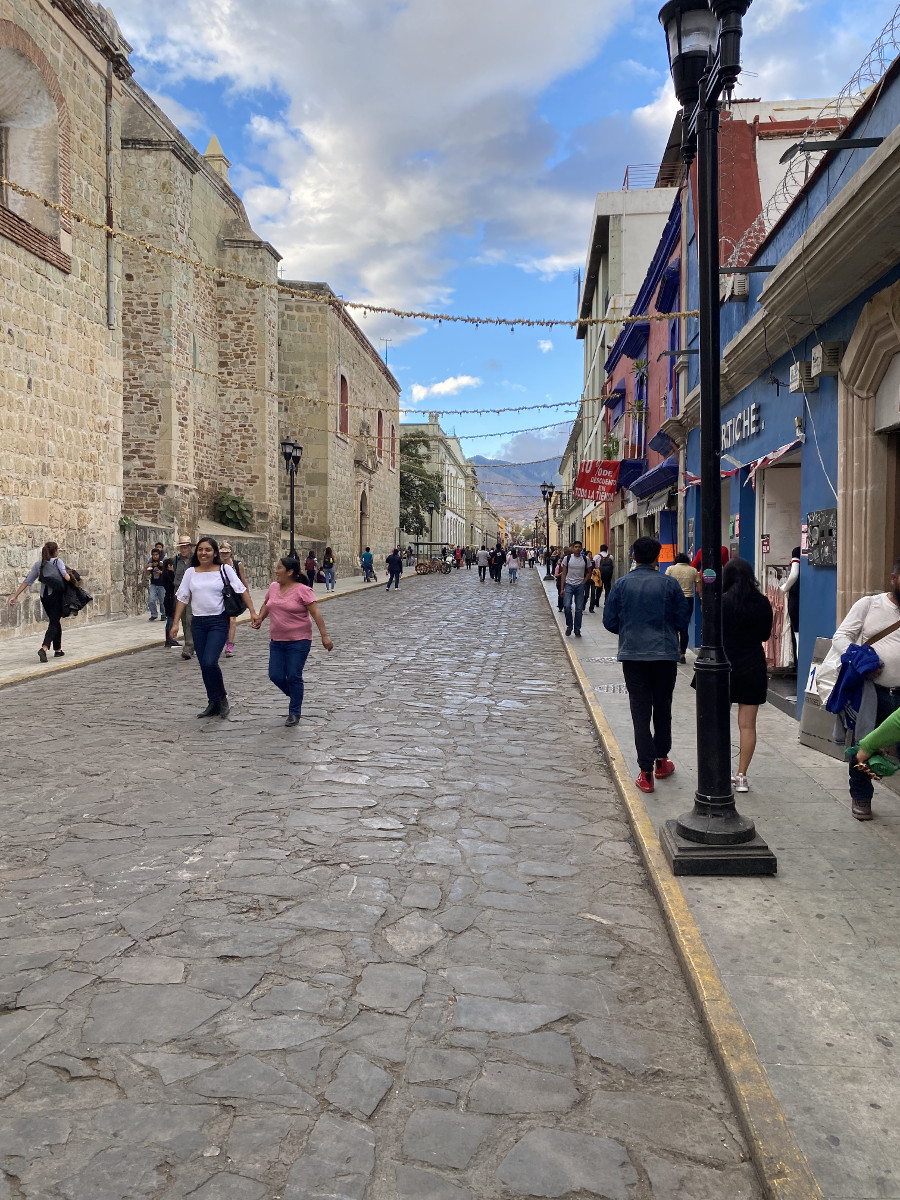 Cobblestone streets are common in many cities in Mexico. But Oaxaca's differ in a couple of interesting ways. First, they are wide here, with really nice sidewalks in most areas of downtown. And the city does a great job keeping them clean.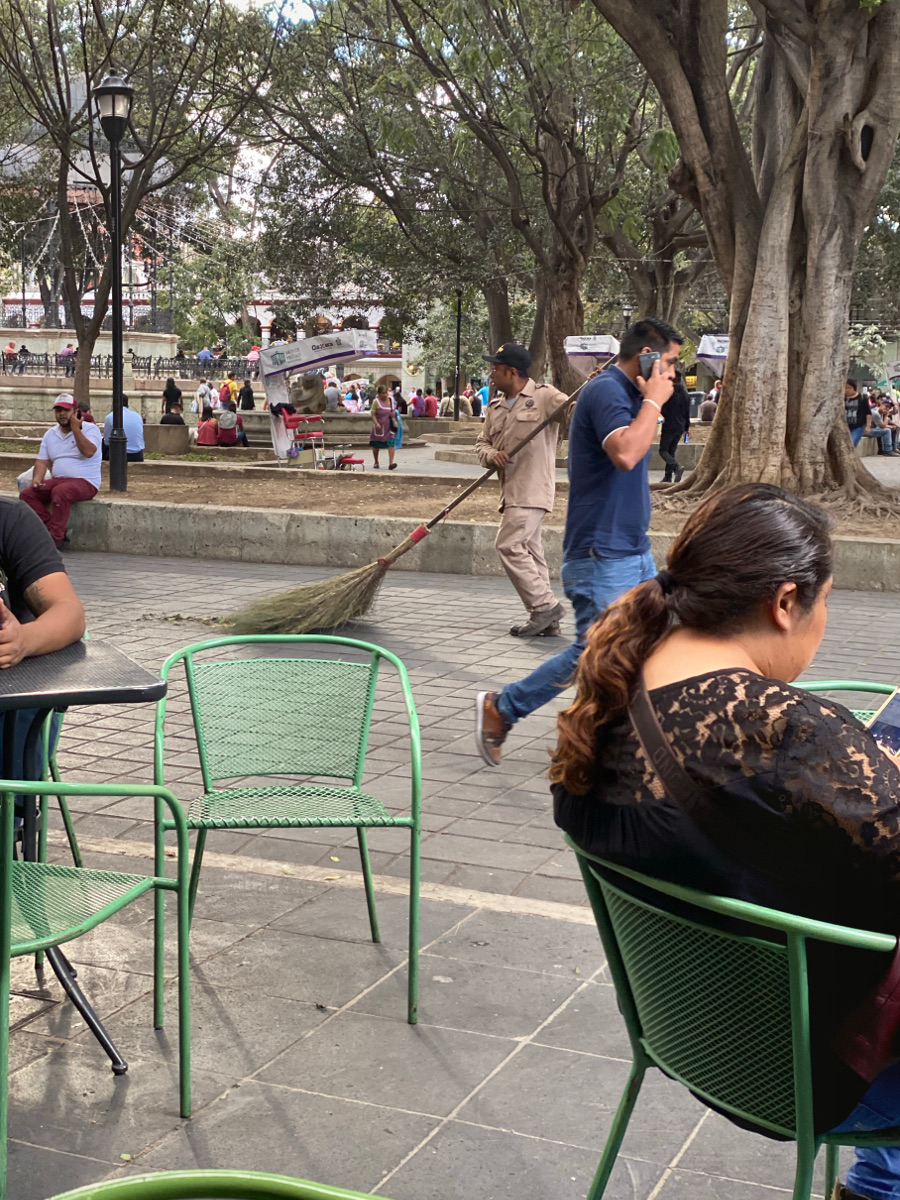 There were tons of city workers constantly keeping the city clean. Last of all, at night, all of these streets are extremely well-lit, with bright street lights all over downtown.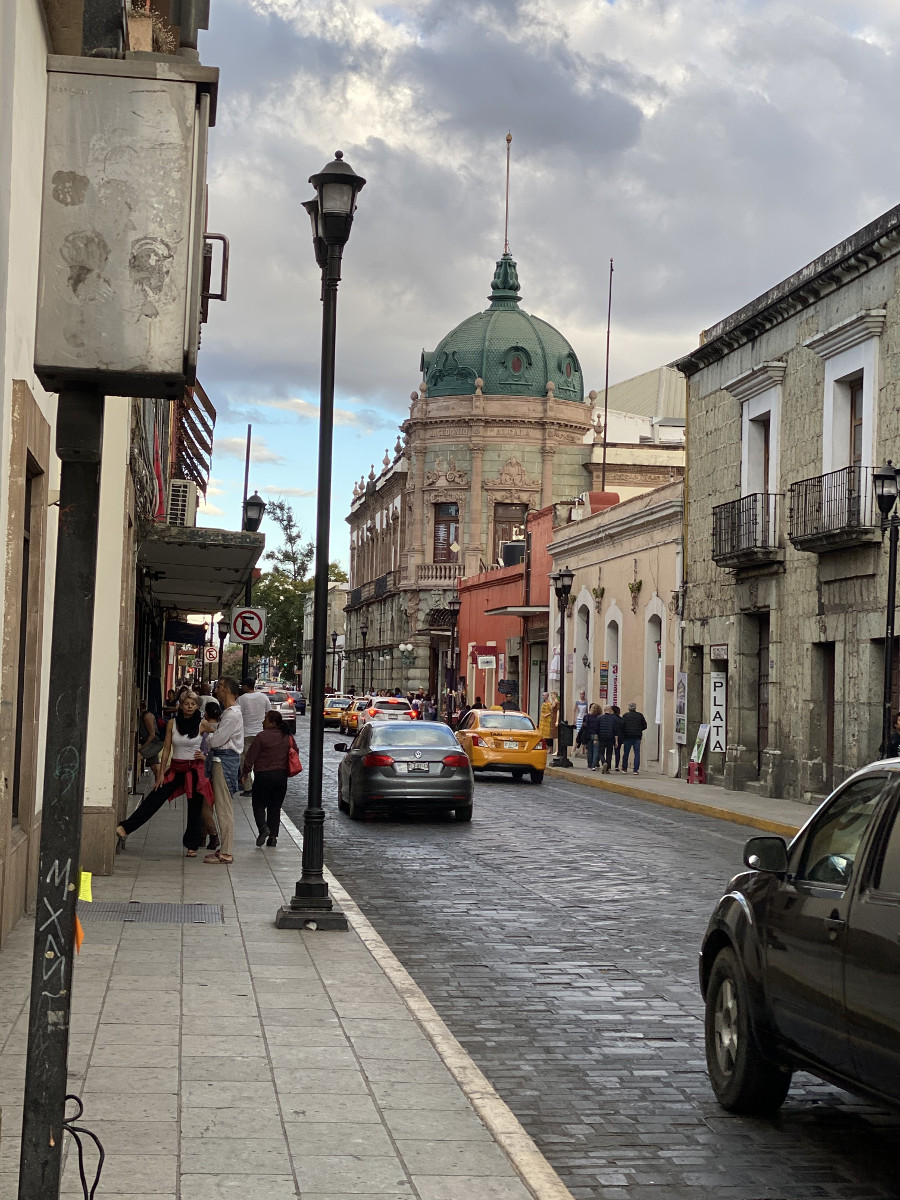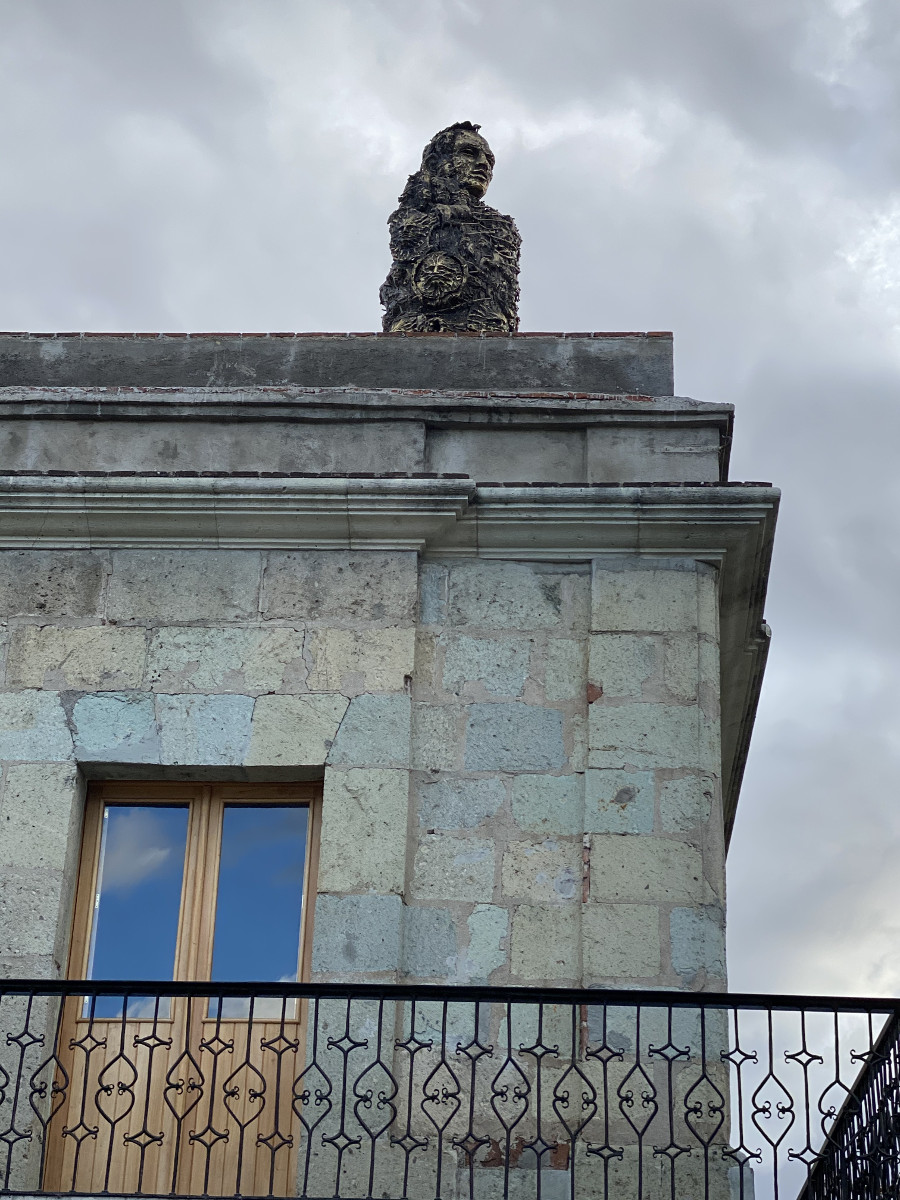 All of this combines to make Oaxaca a very walkable city. The city seemed to be especially full of American women, who obviously find the city to be a safe haven given the huge number of unaccompanied and often elderly women walking around day and night.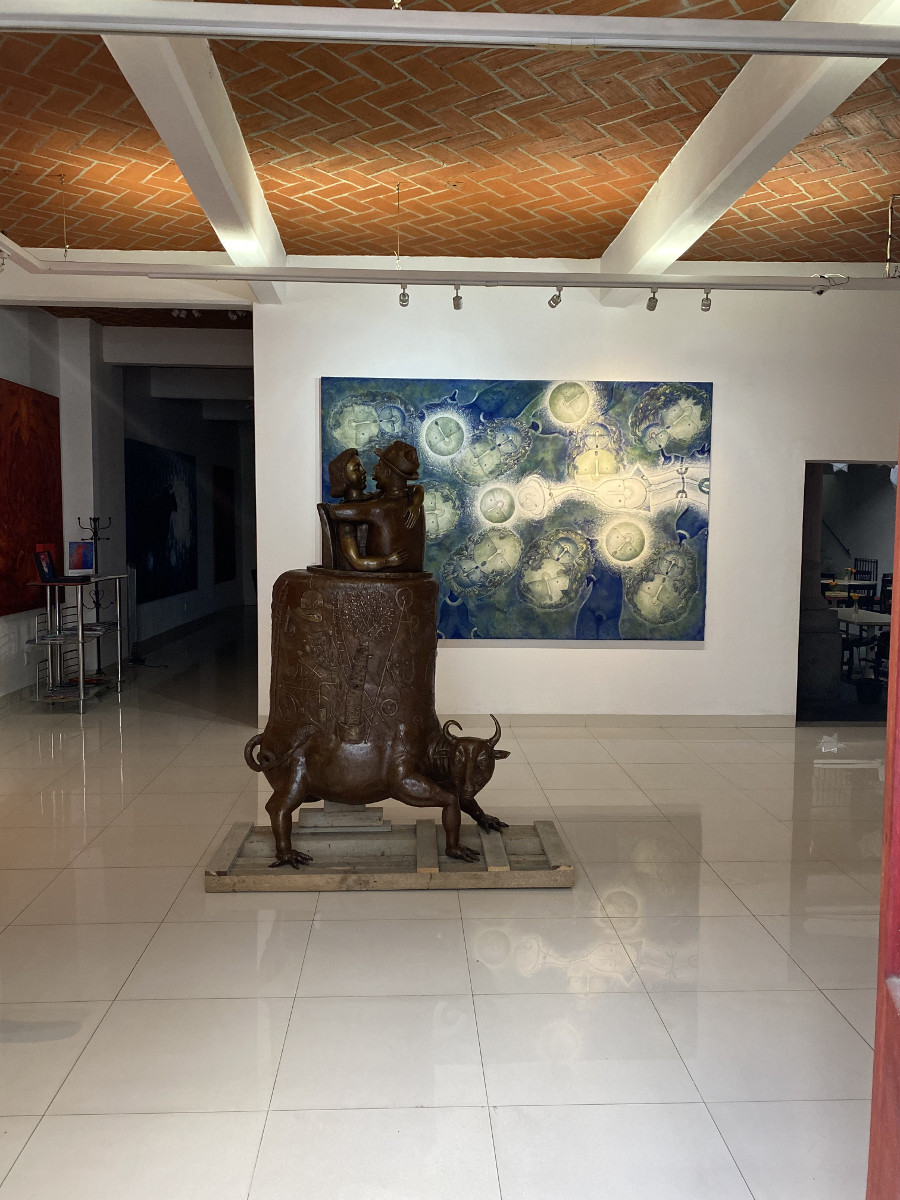 There are lots of small art galleries on these pedestrian streets.
While walking around, we happened across a wedding procession. What a way to celebrate!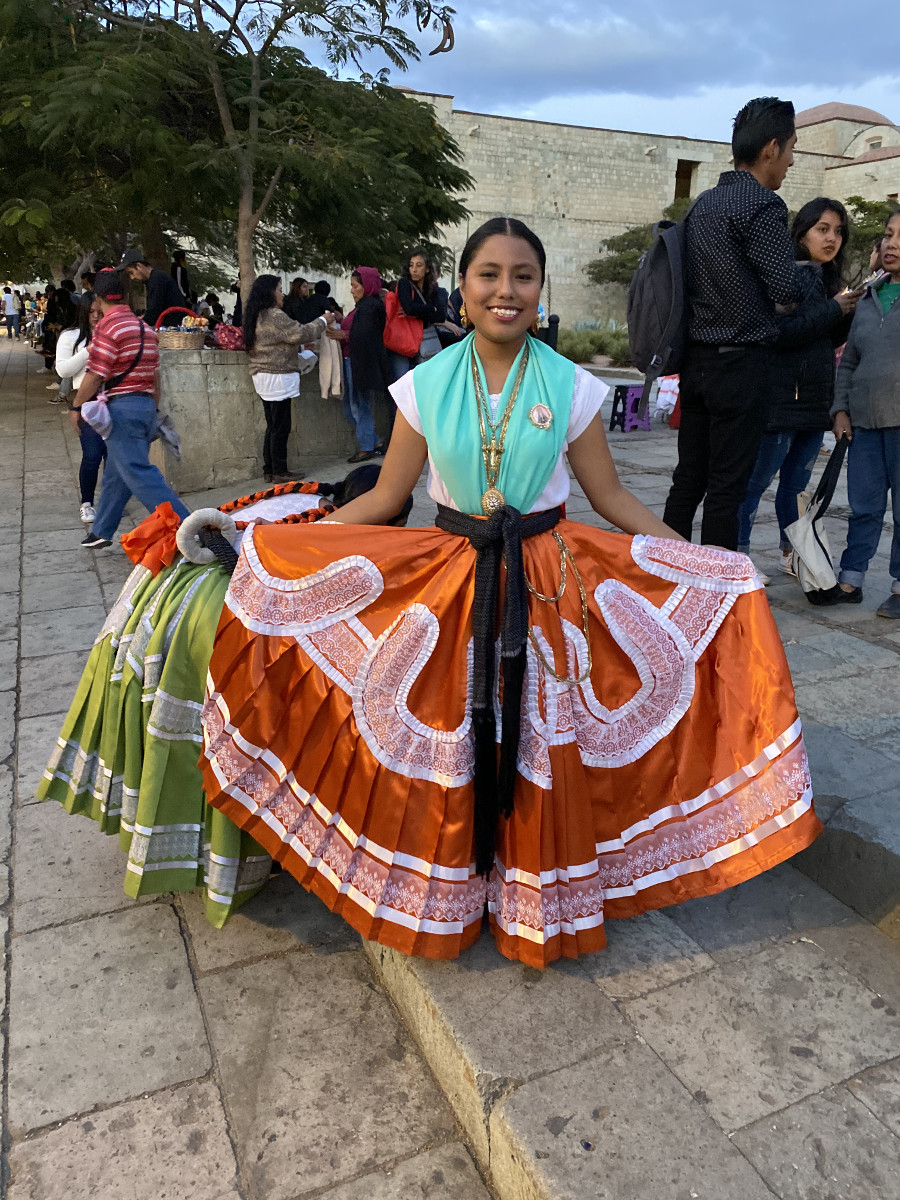 We always like to take the local tourist bus when we visit a new place, and Oaxaca was no exception.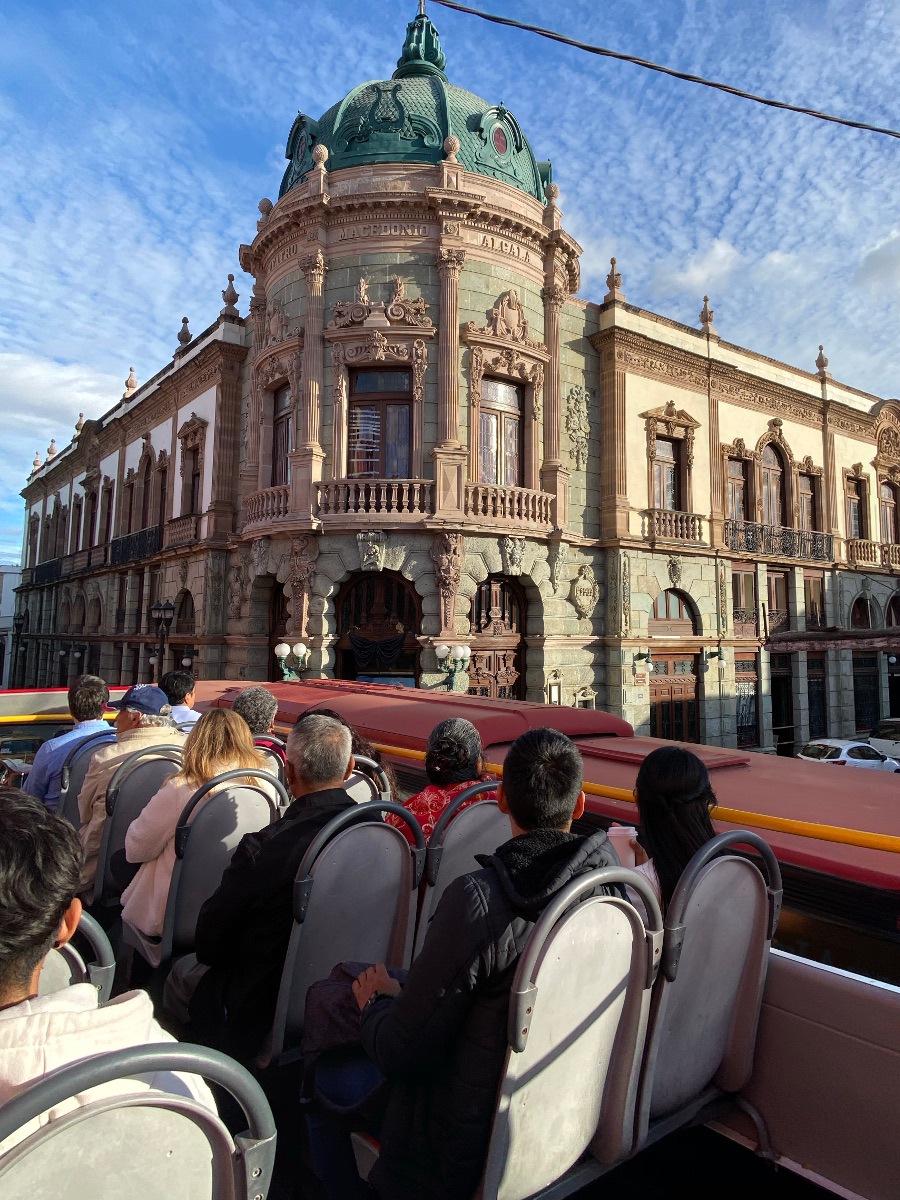 The bus seems huge when you're navigating down the smaller streets of Oaxaca. But look at that mountain view!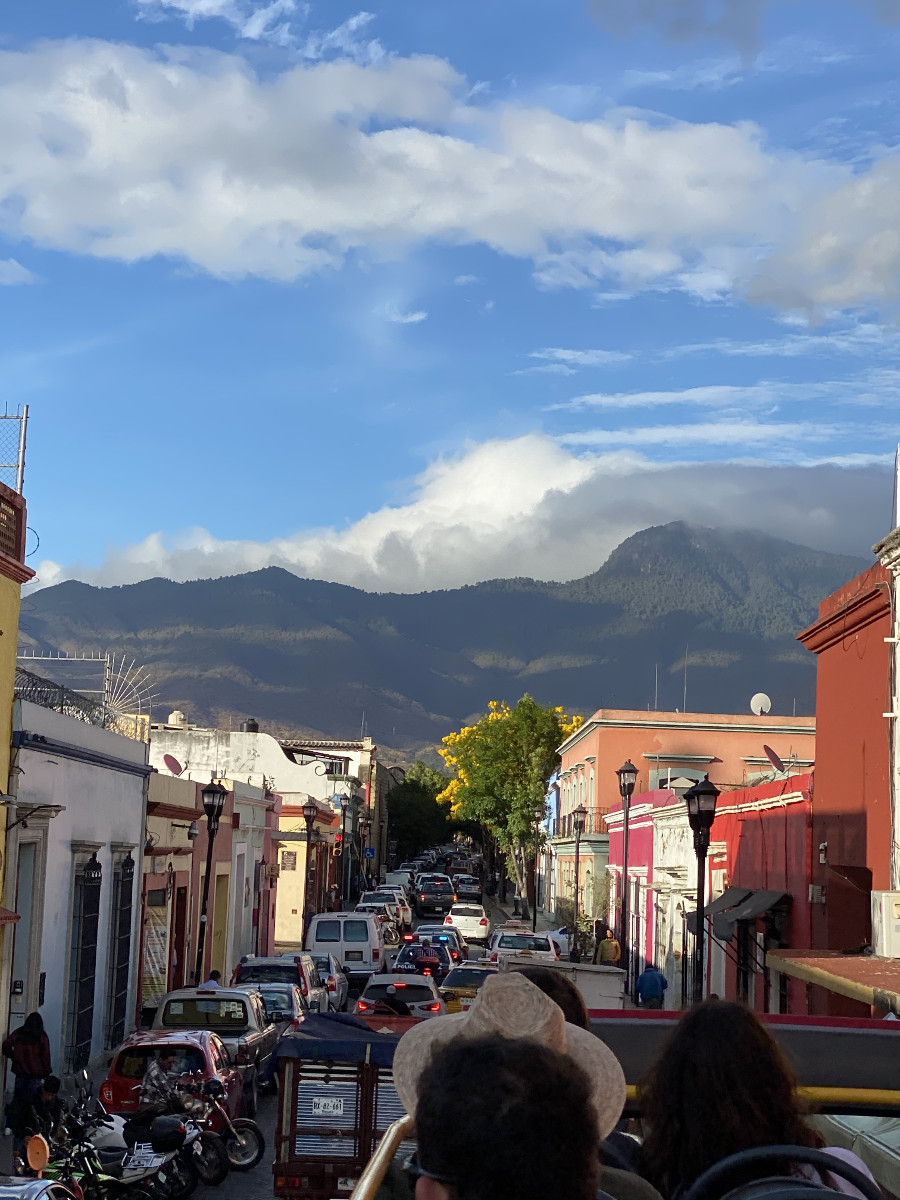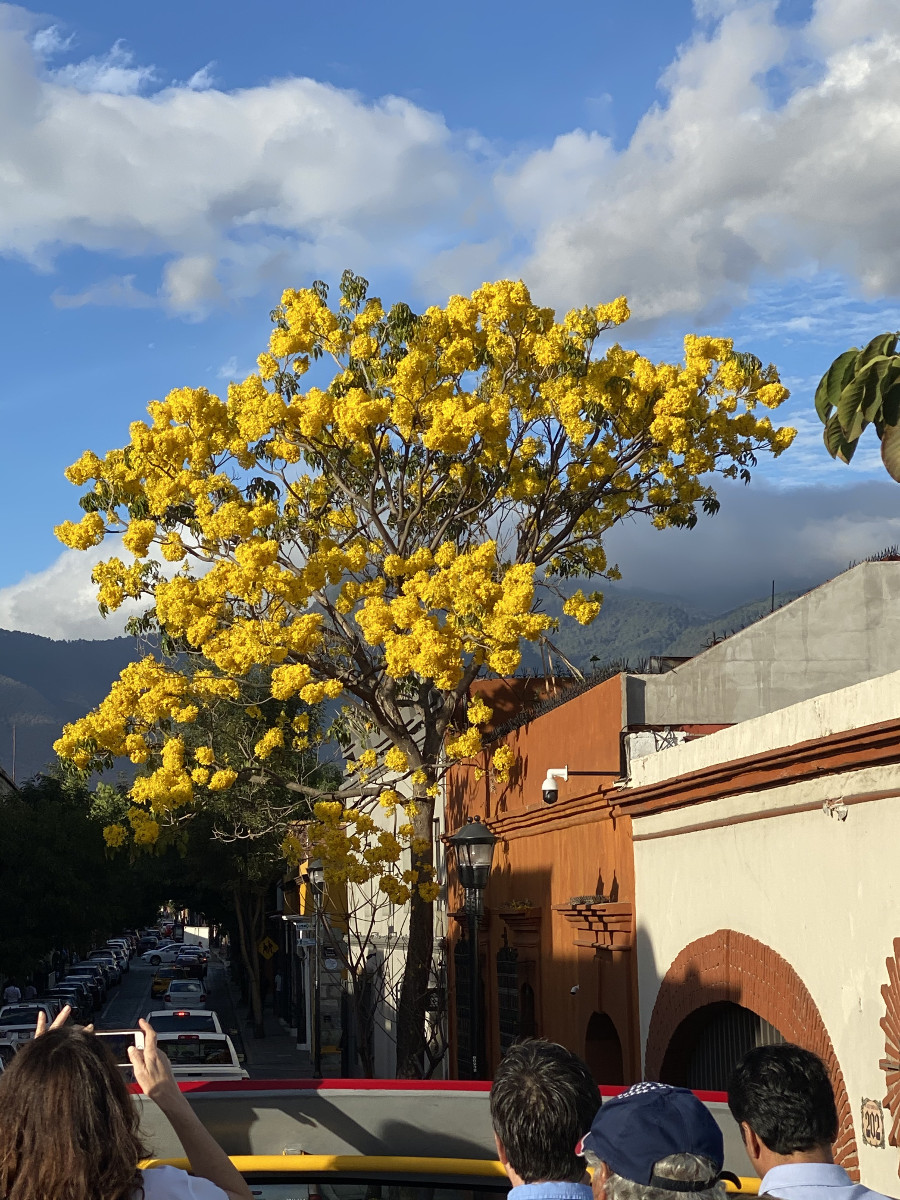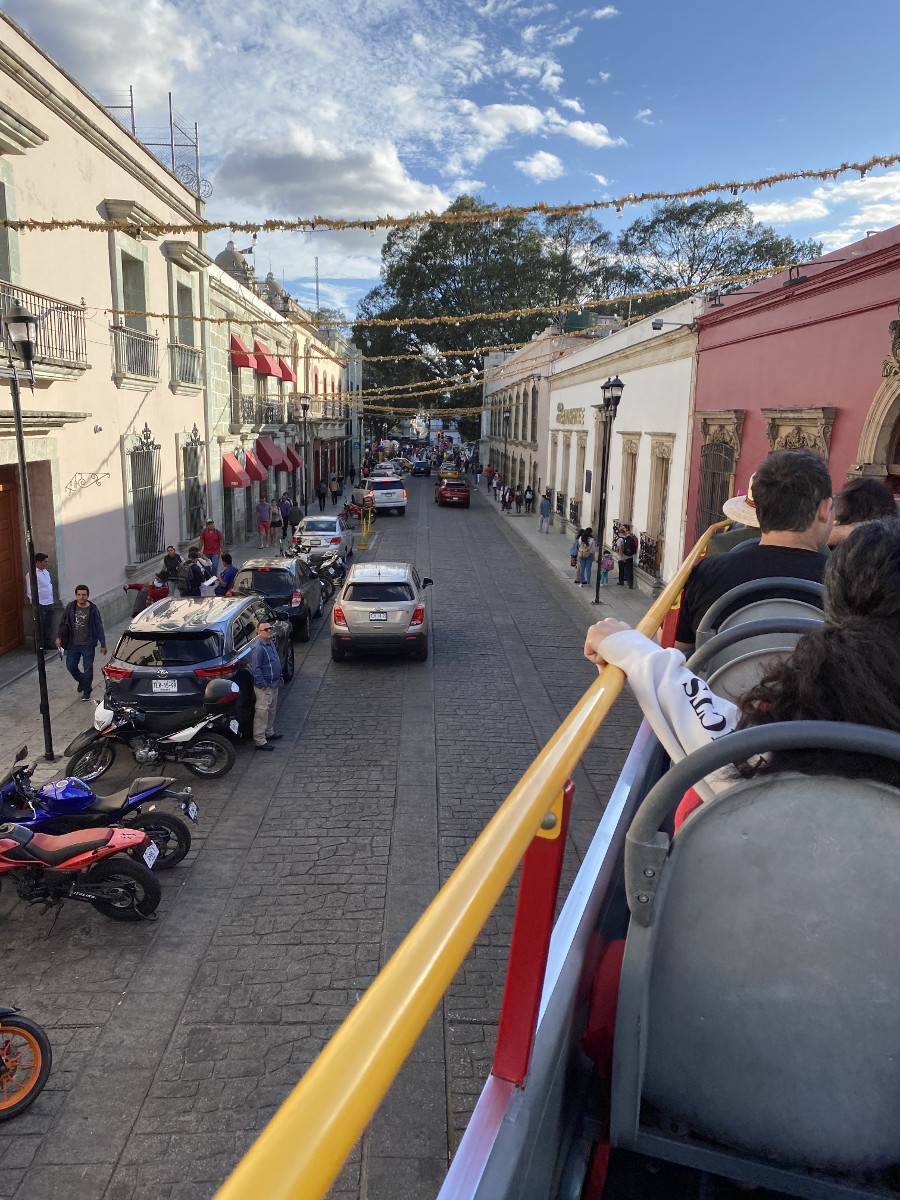 If you take this bus, pay attention! Those low-hanging wire warnings are no joke!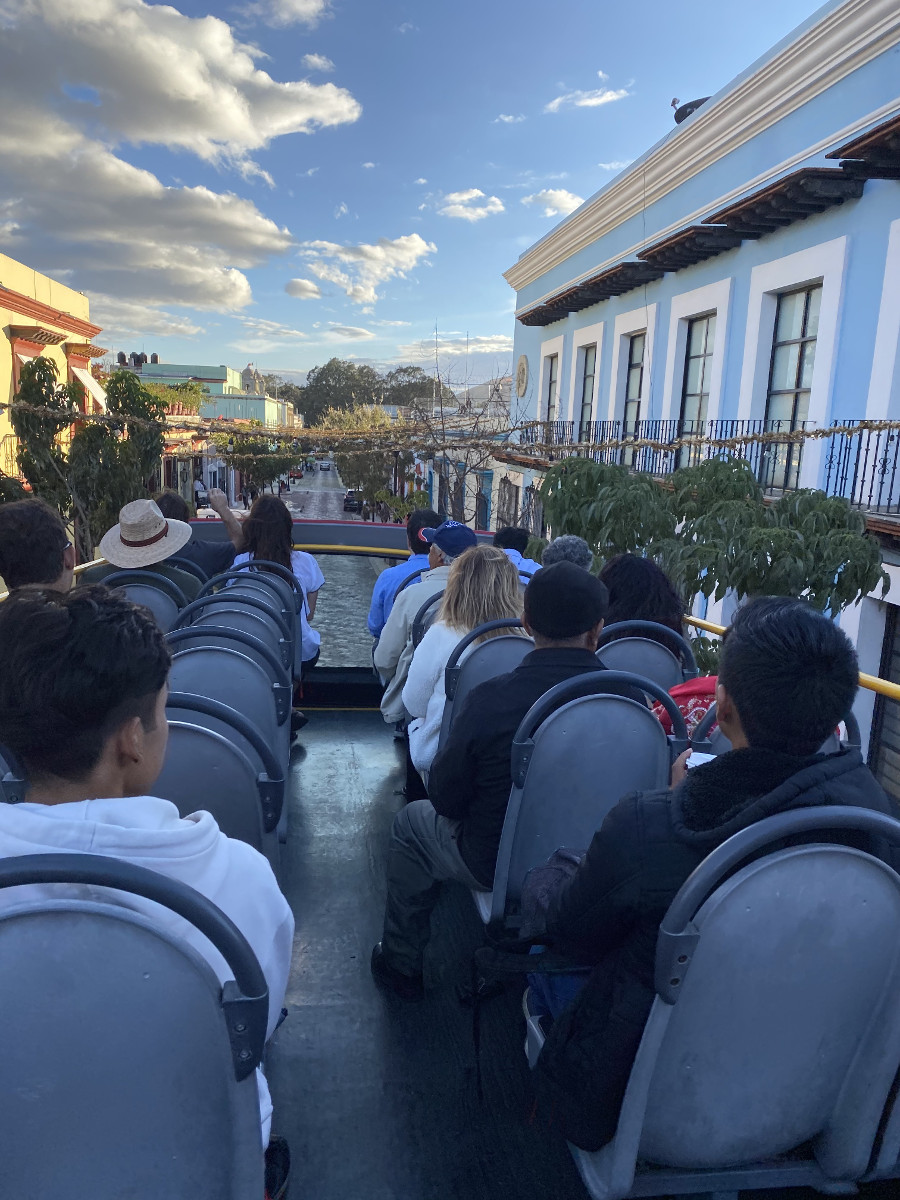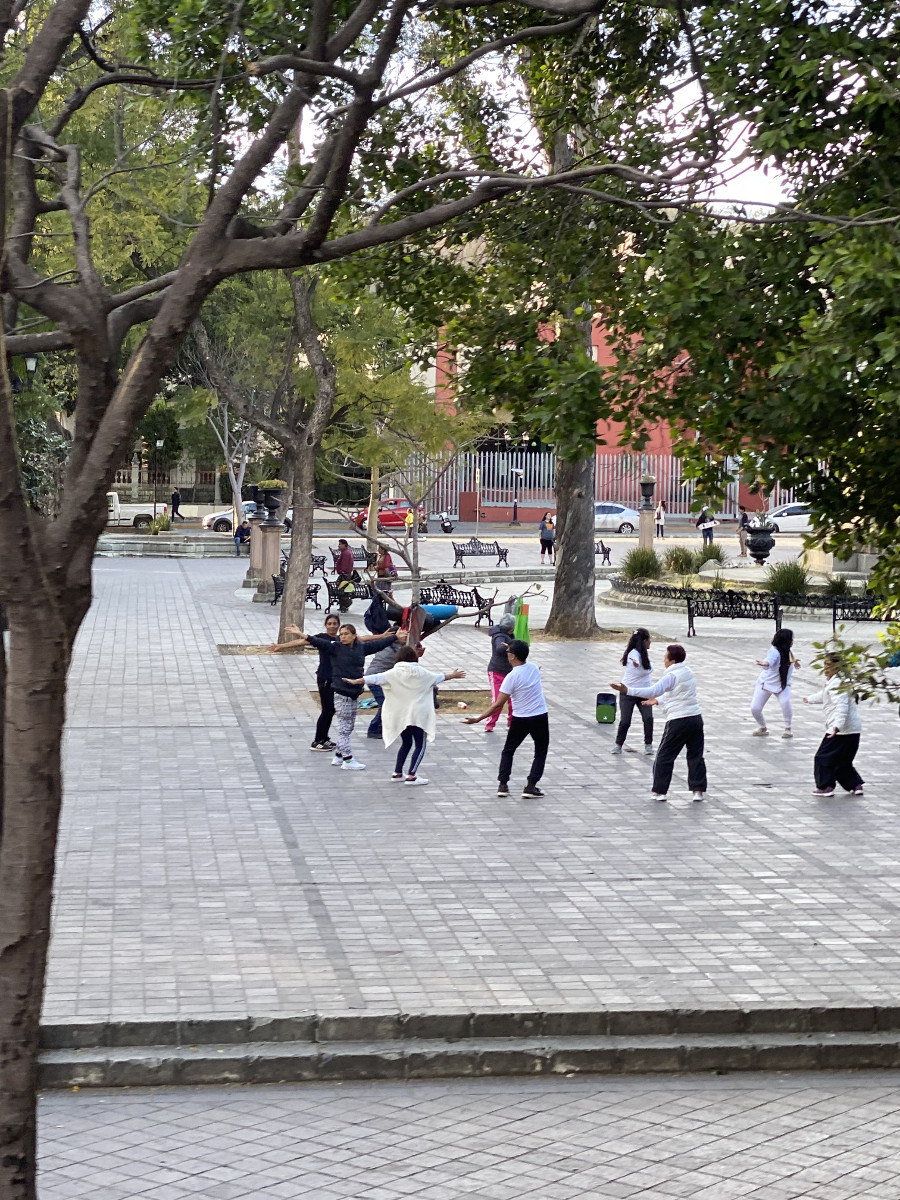 This building sure looks out of place here! It's part of a medical school.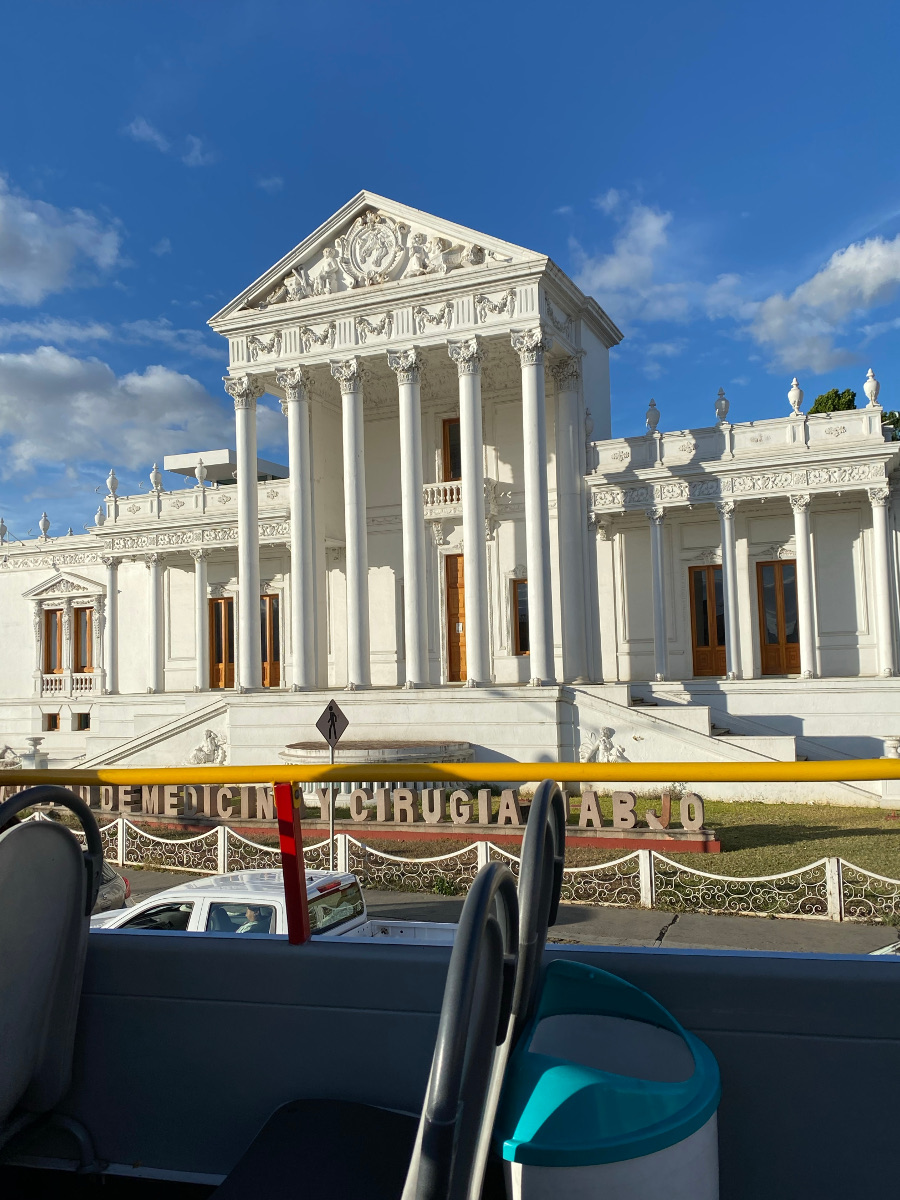 We had the most fun just people watching at the main plaza.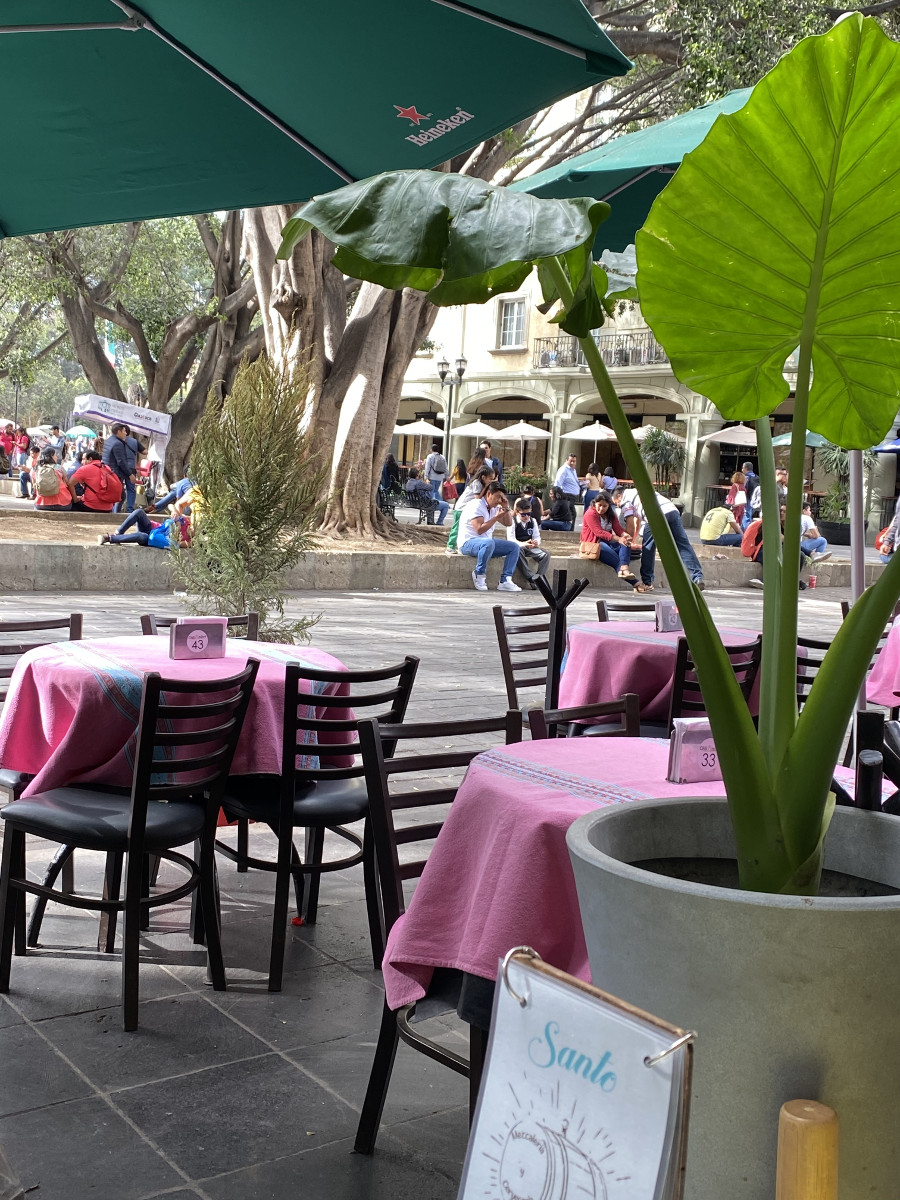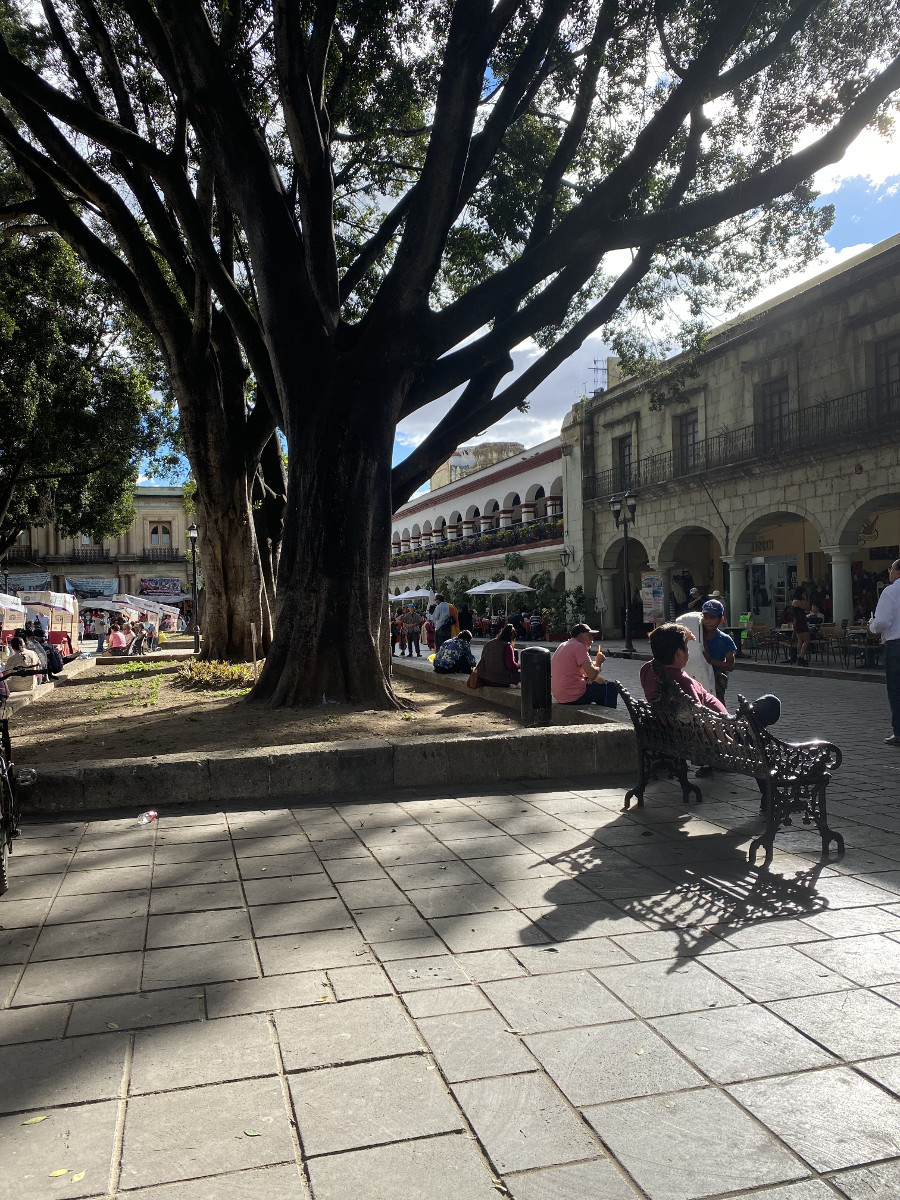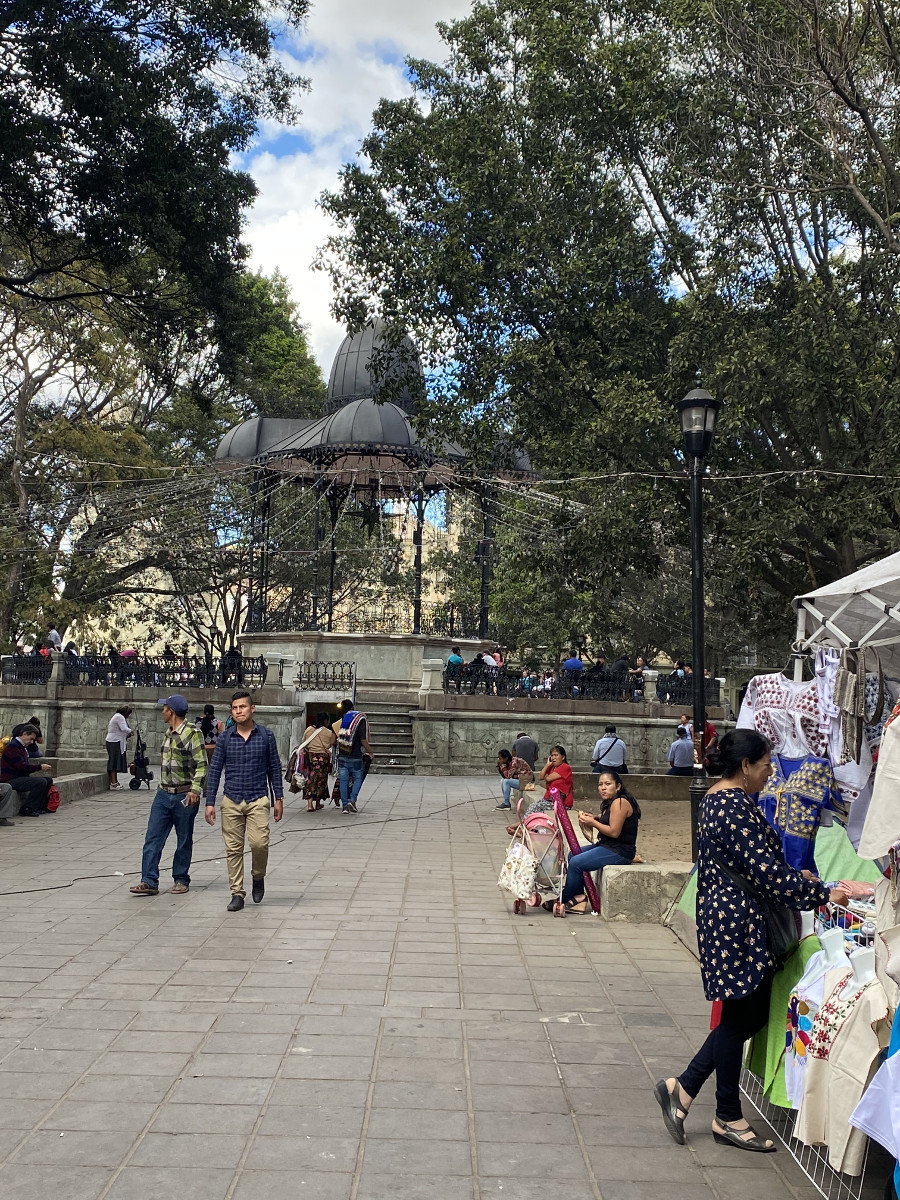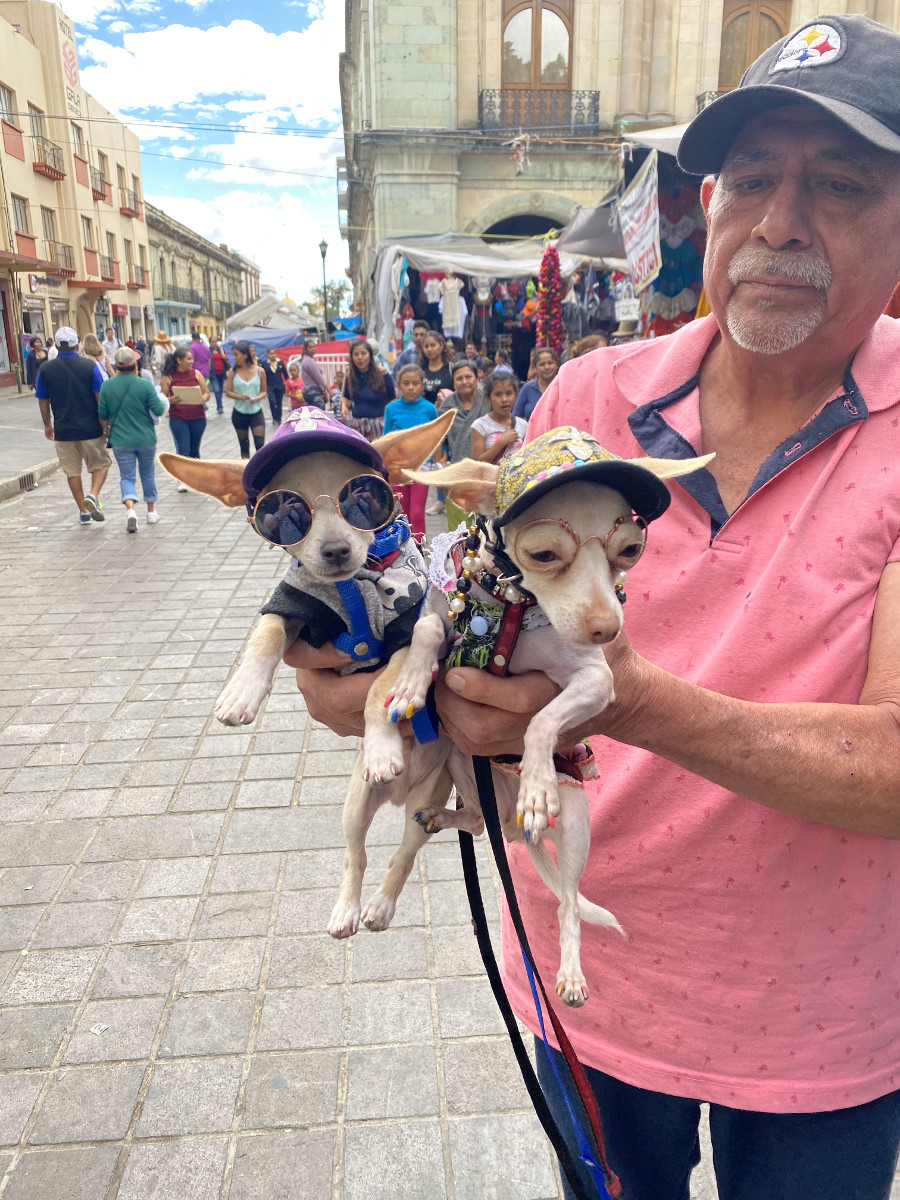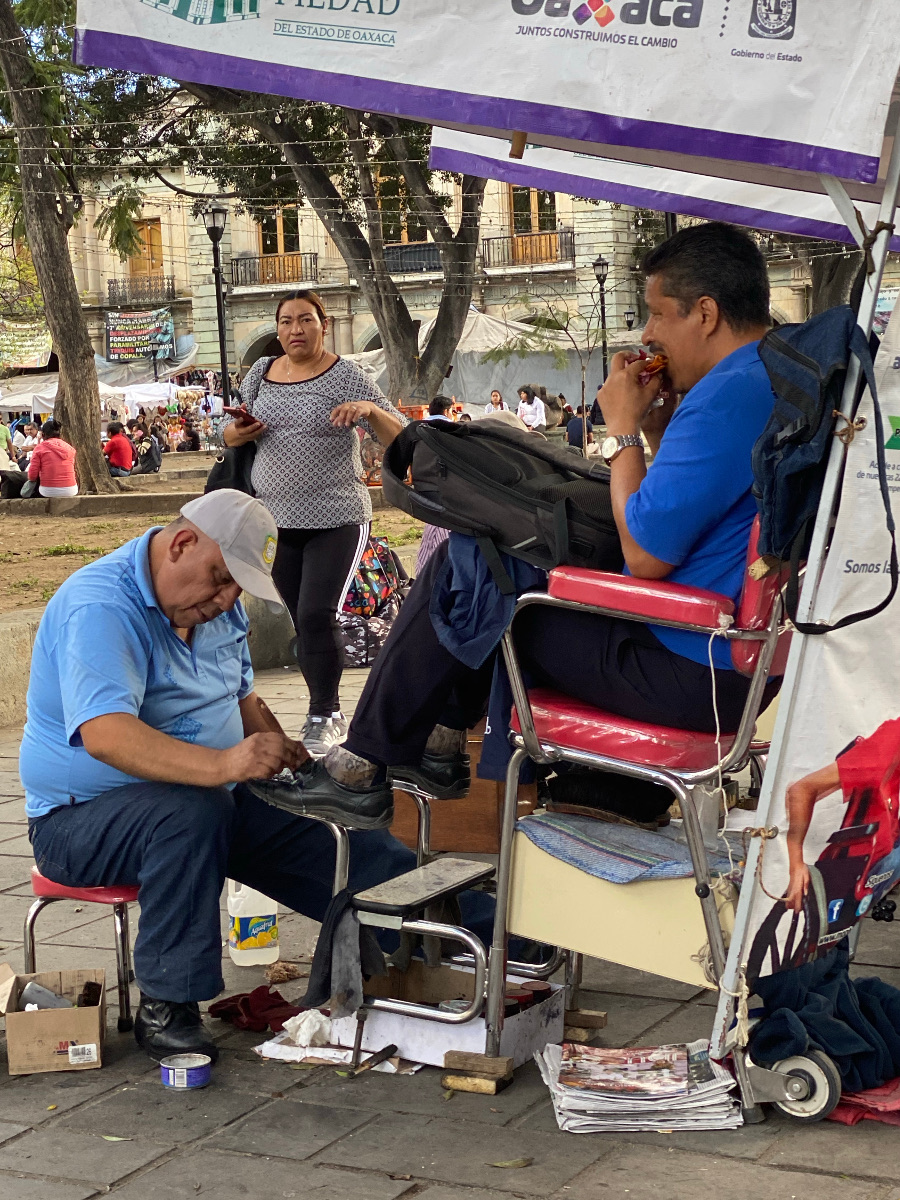 Mexicans love to have their shoes spotless, and there is no shortage of people on the plaza to help out. This shoeshine stand is one of a dozen or more just in the main plaza!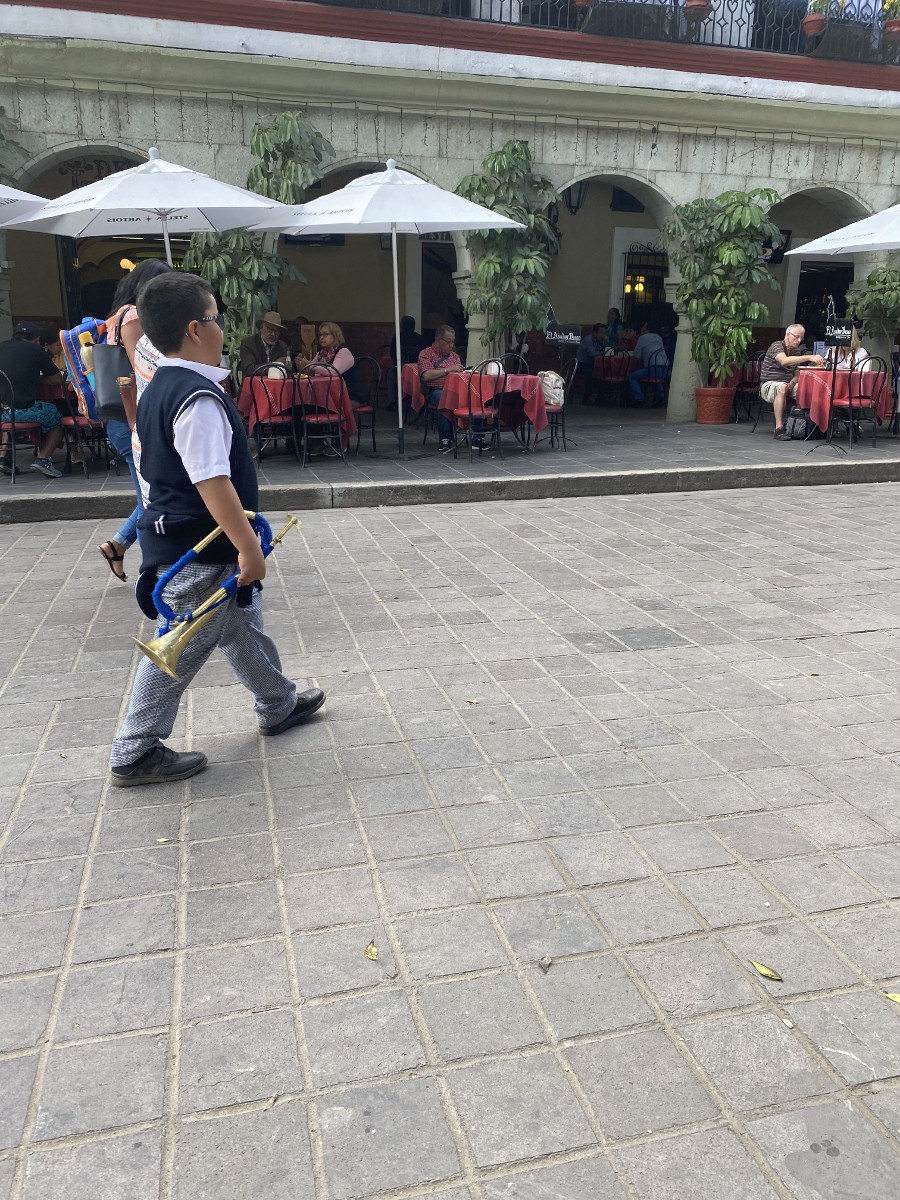 It wouldn't be Mexico without local people selling their crafts on the square. These women carried huge stacks of their woven goods around the plaza.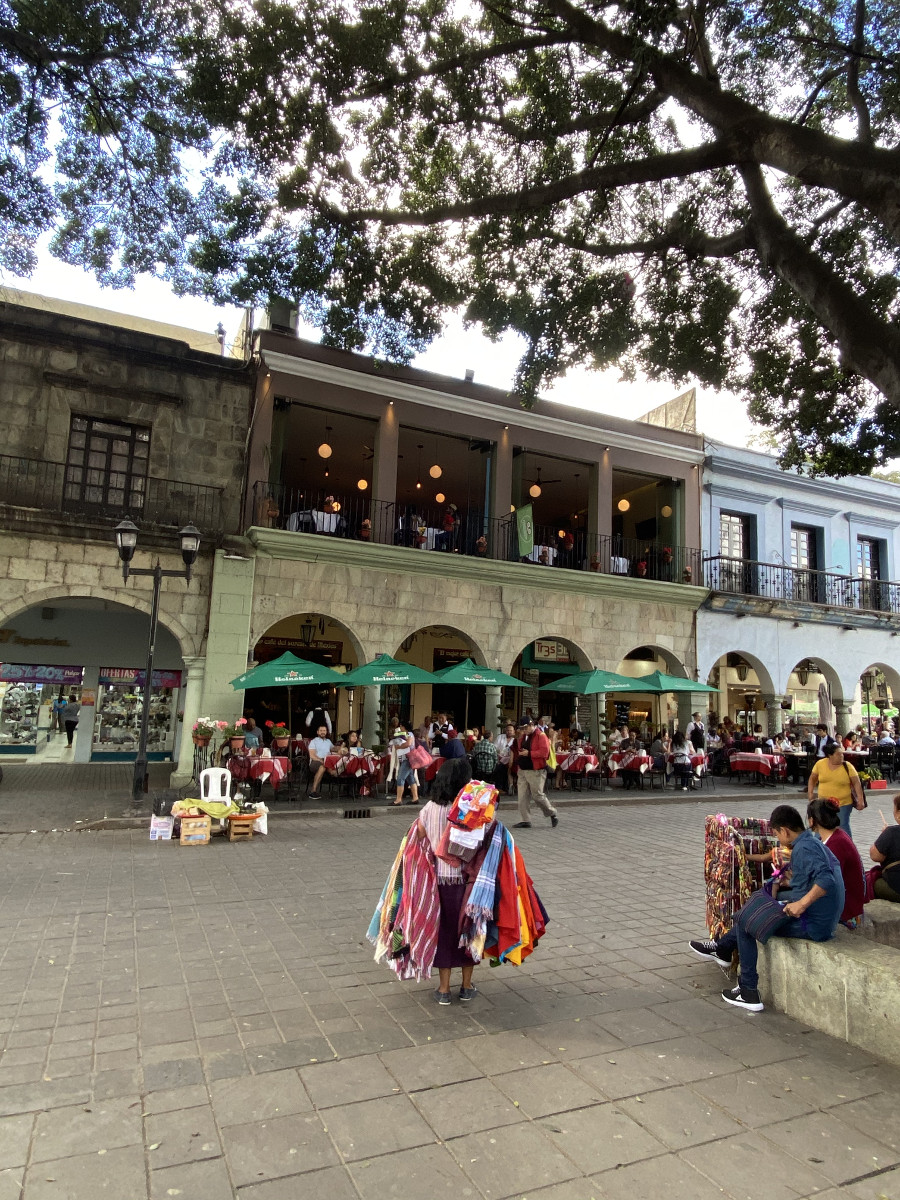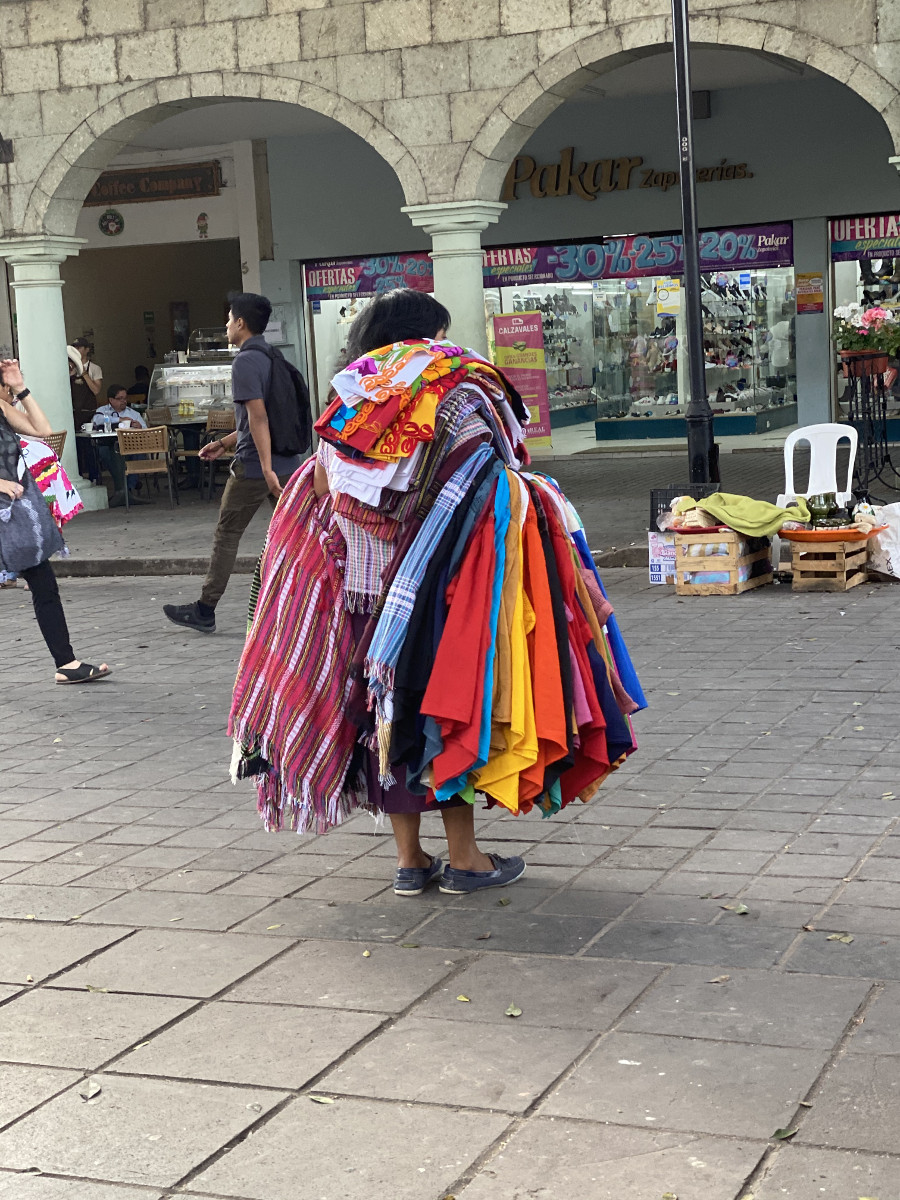 And of course, there's always a balloon man…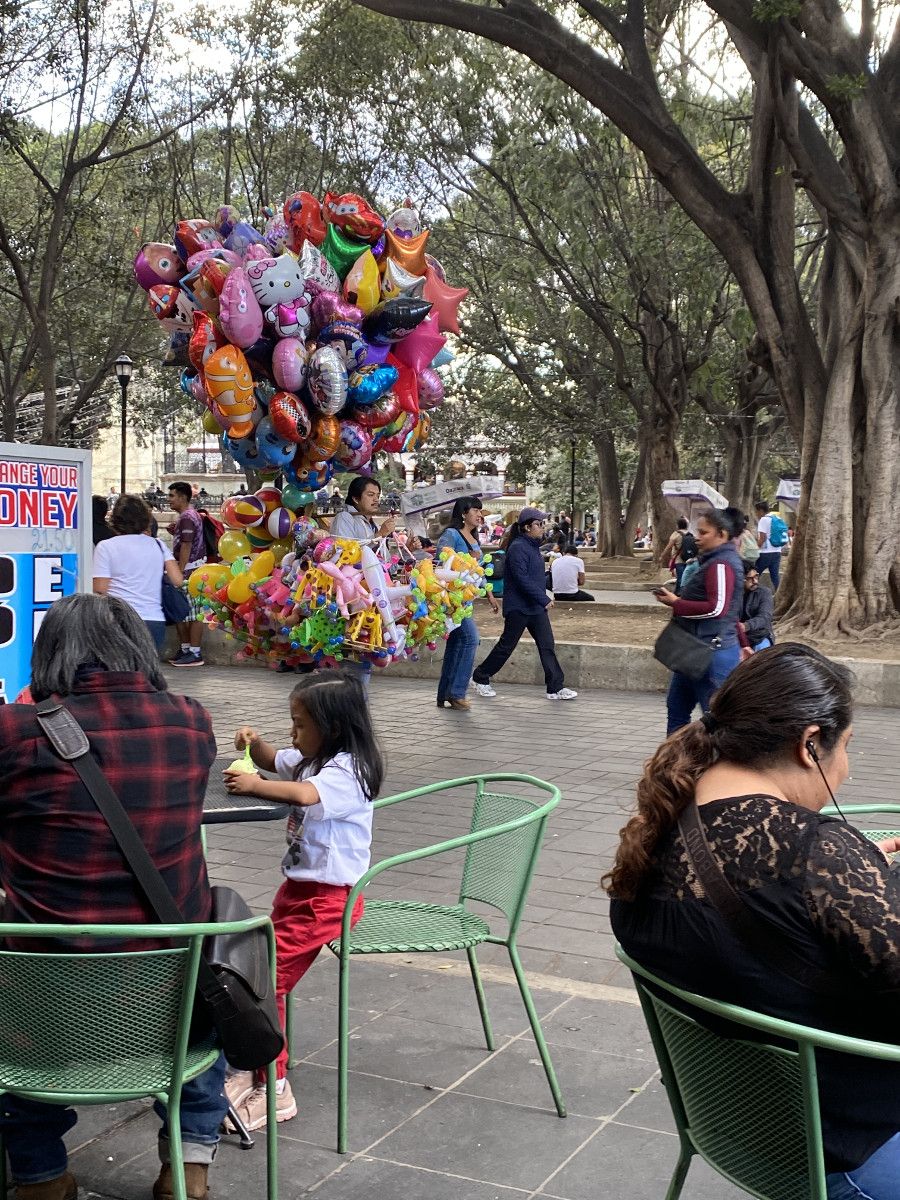 The Santo Domingo church also houses a nice museum, in buildings that were part of an old monastery. We spent several hours there.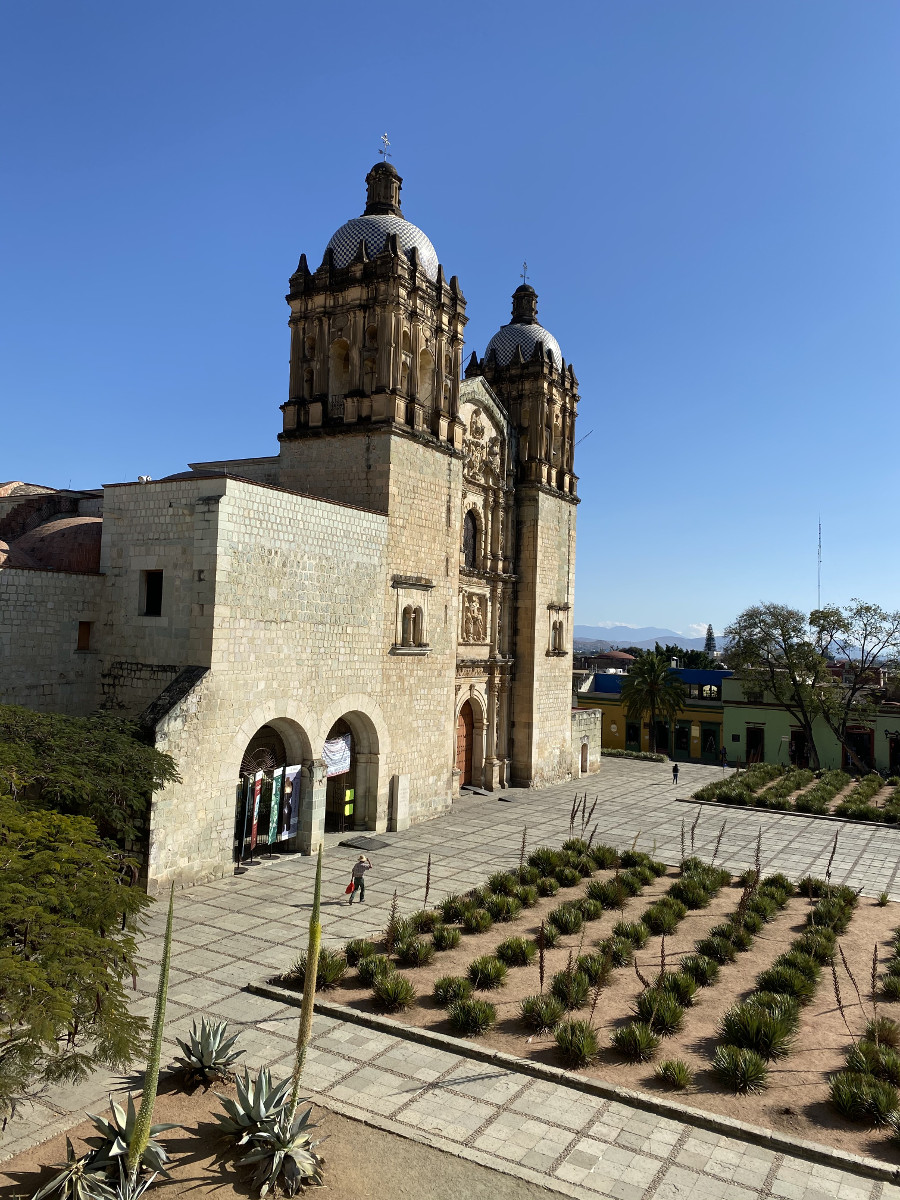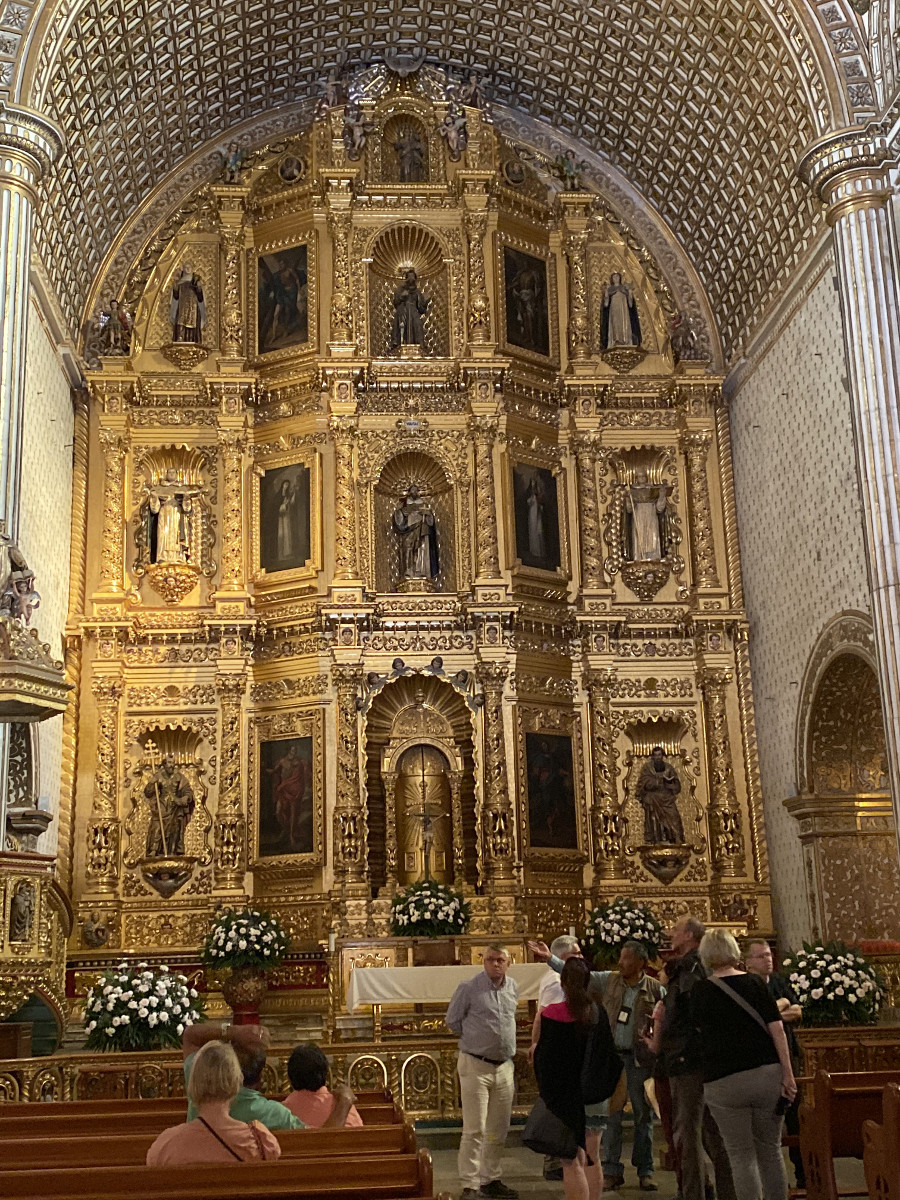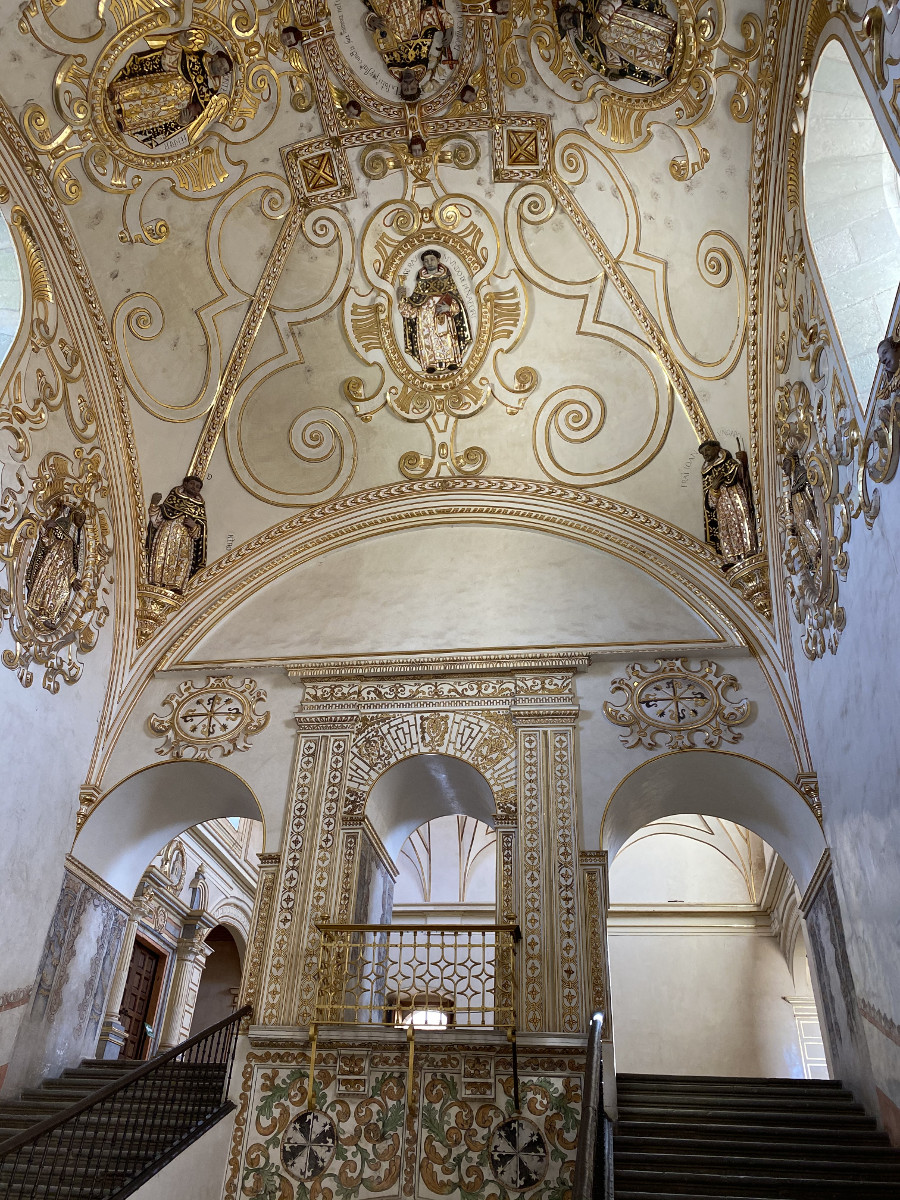 Among the items in the cultural museum at Santo Domingo are the treasures found in Tomb 7 at the nearby archaeological site of Monte Alban. This jade-covered skull is the most well-known artifact from the 1931 find.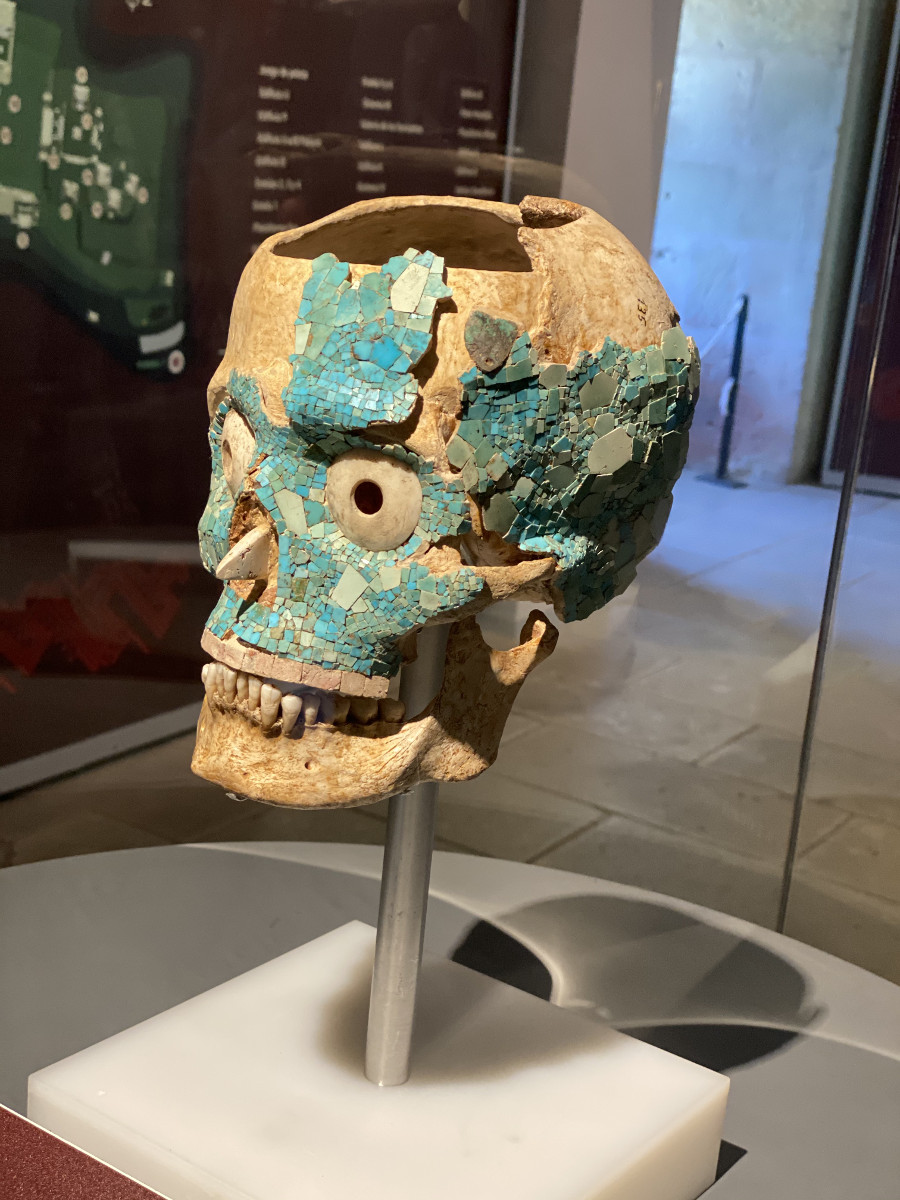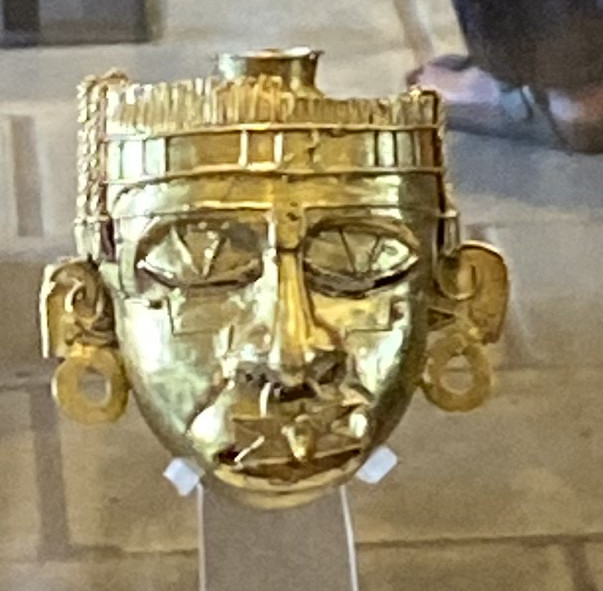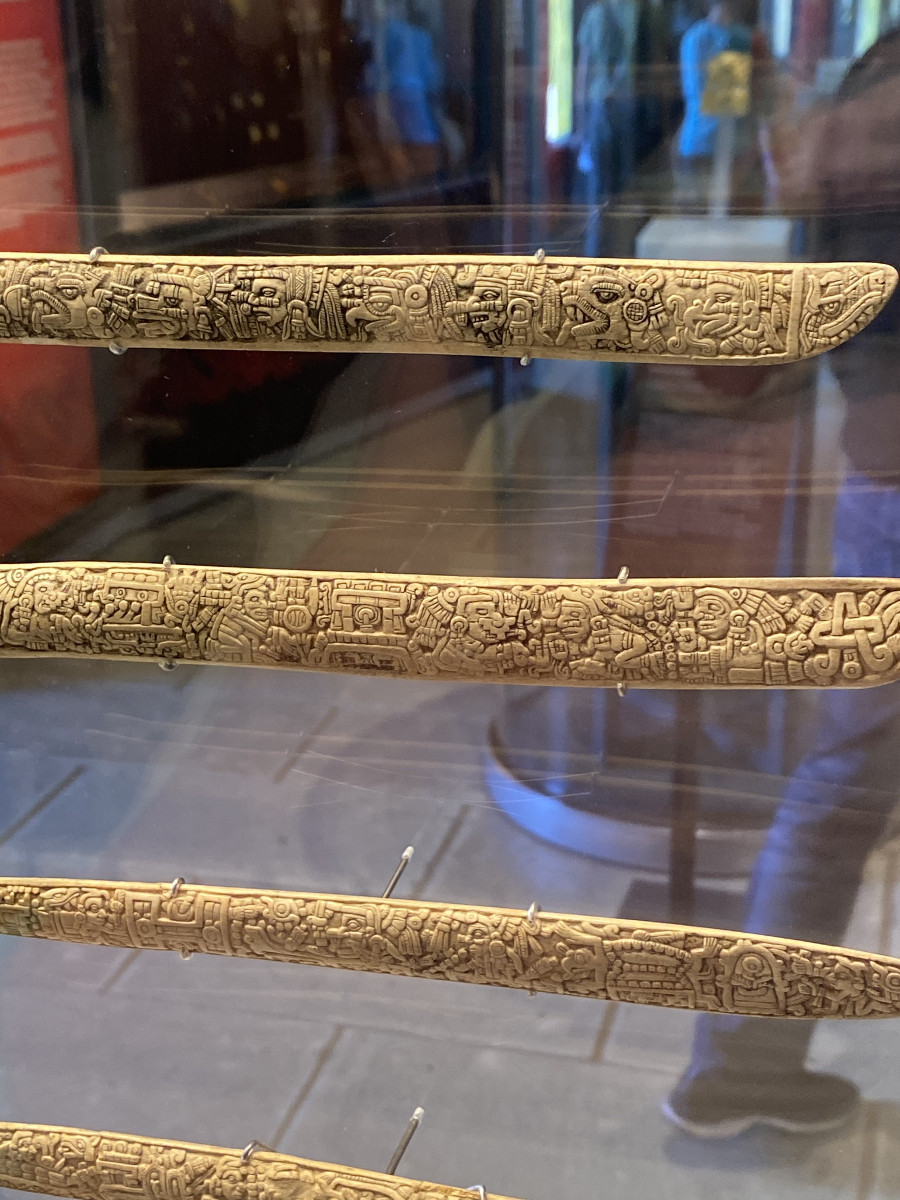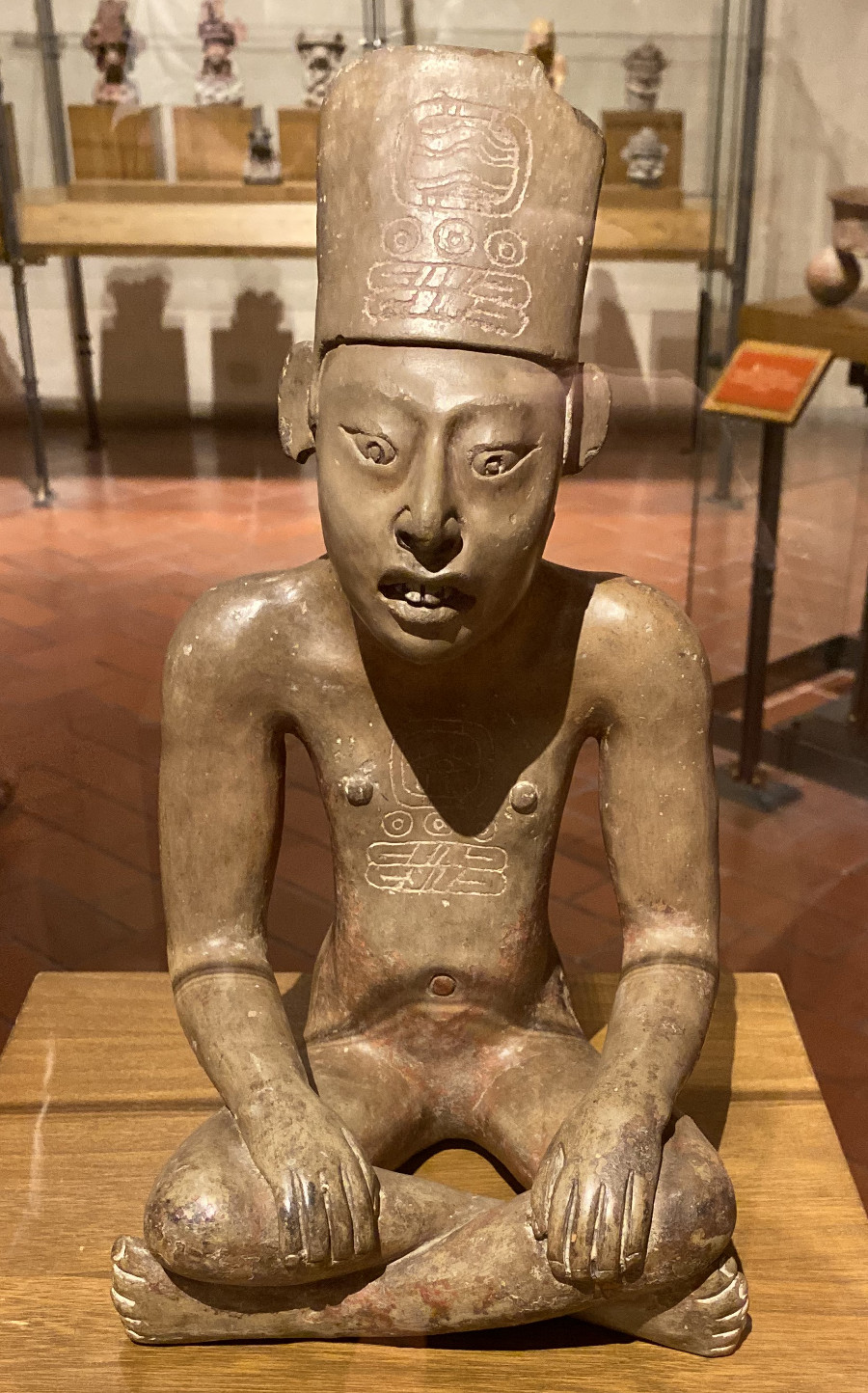 Oaxaca is most proud of one of their native sons who went on to become the 26th president of Mexico. Benito Juarez served as president of Mexico from 1858 to 1872, and was a fierce defender of the rights of the indigenous people of Mexico.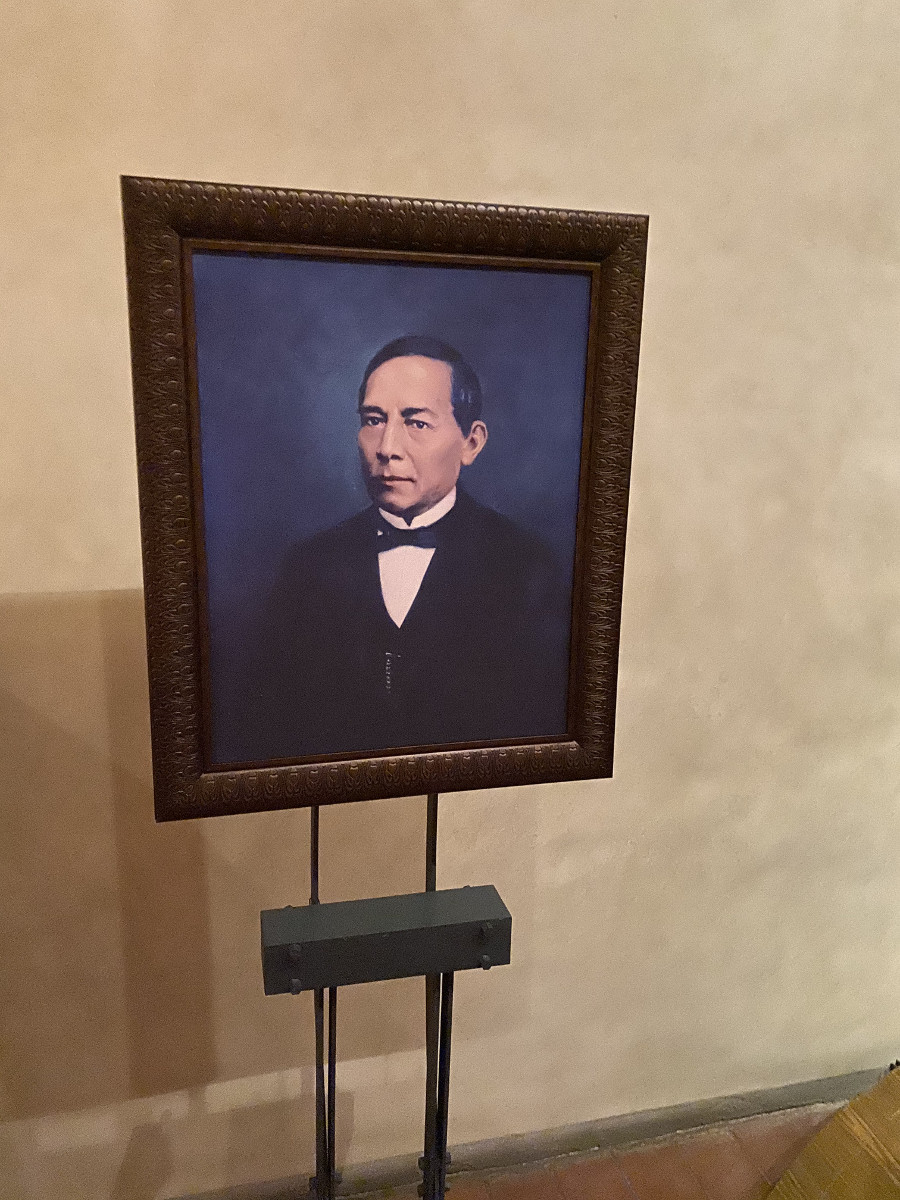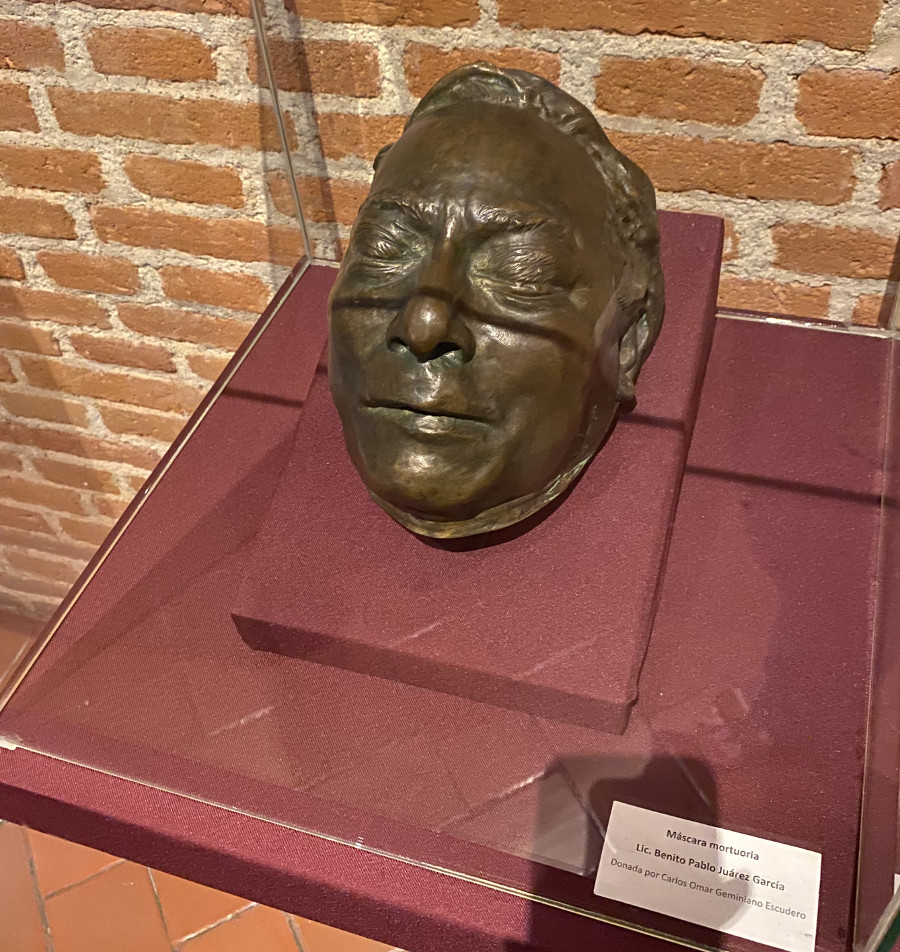 Monte Alban is an archaeological site atop a mountain overlooking the Oaxaca valley. Originally built by the Zapotec culture around 500 BC, it was abandoned around 1200 years later.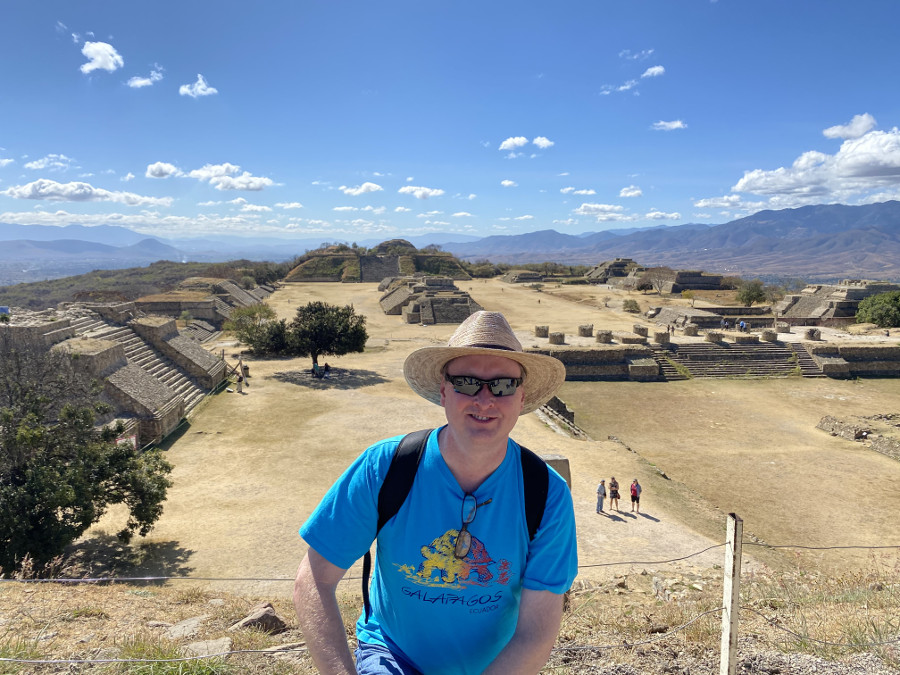 The site was later adopted by the Mixtec culture who buried some of their rulers at the site.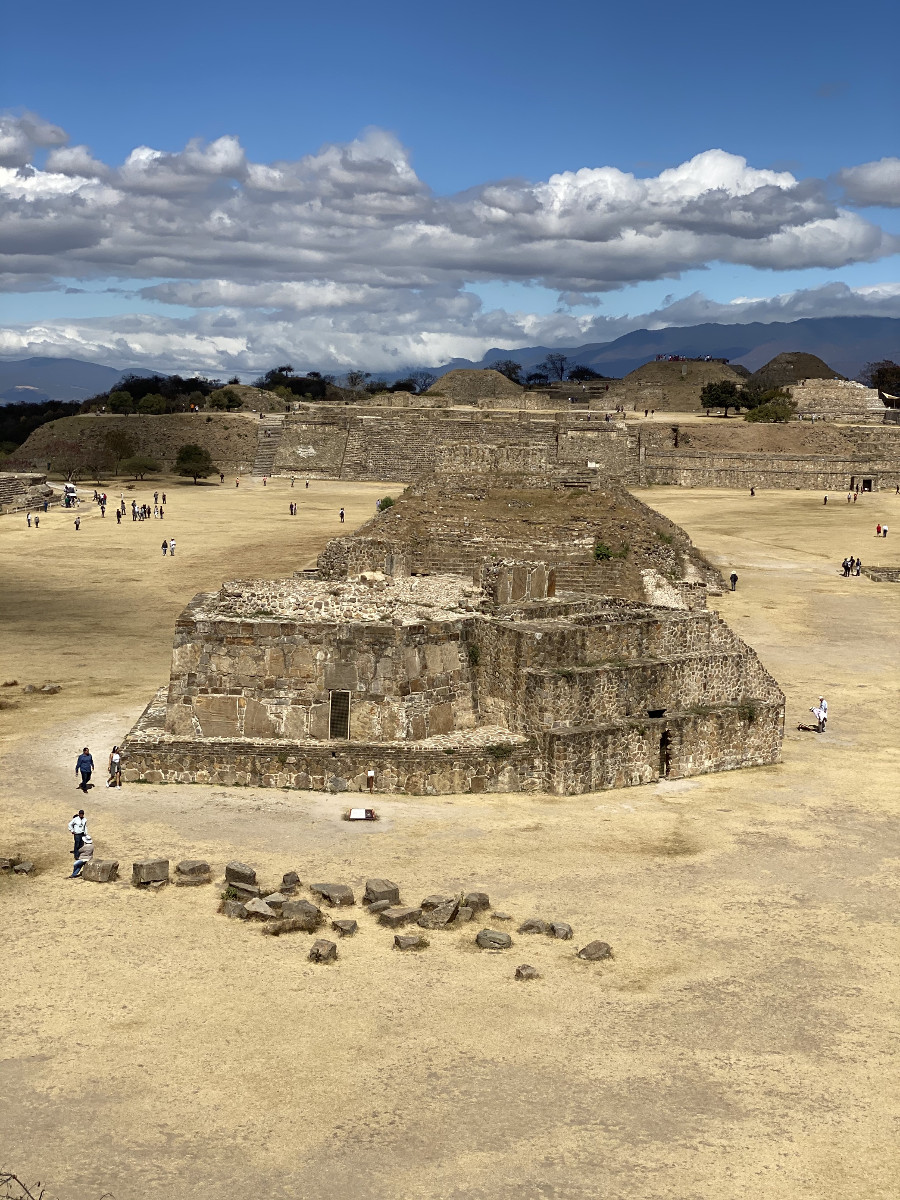 Although the site is impressive, as much as 80% of the structures you see now are reconstructions. For me, the Maya sites that I visited later in this trip were more interesting.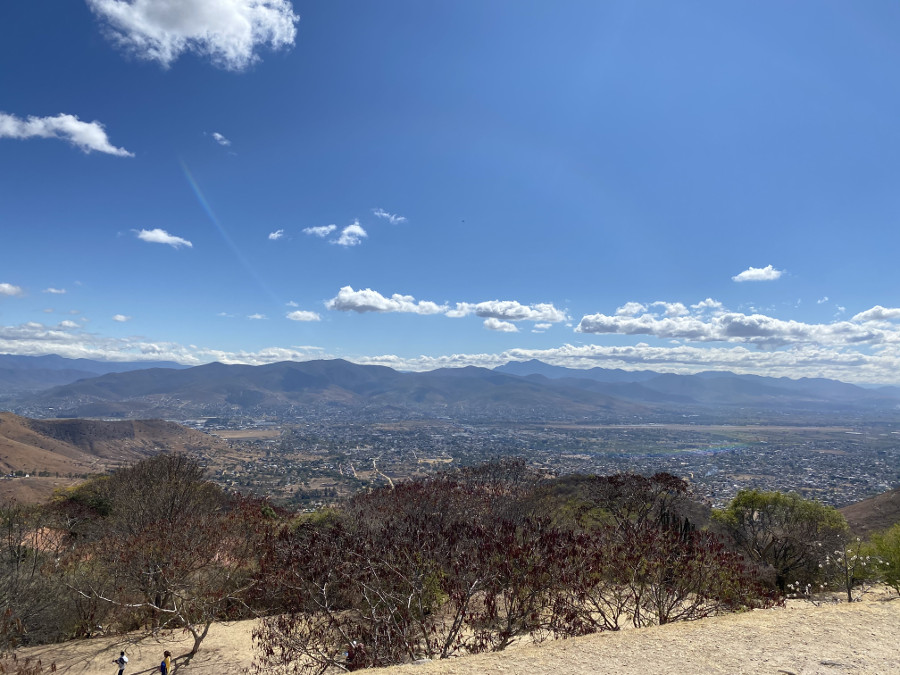 The view from Monte Alban down into the Oaxaca valley was pretty special though.
In the nearby village of San Bartolo Coyotepec, the specialty is black clay pottery.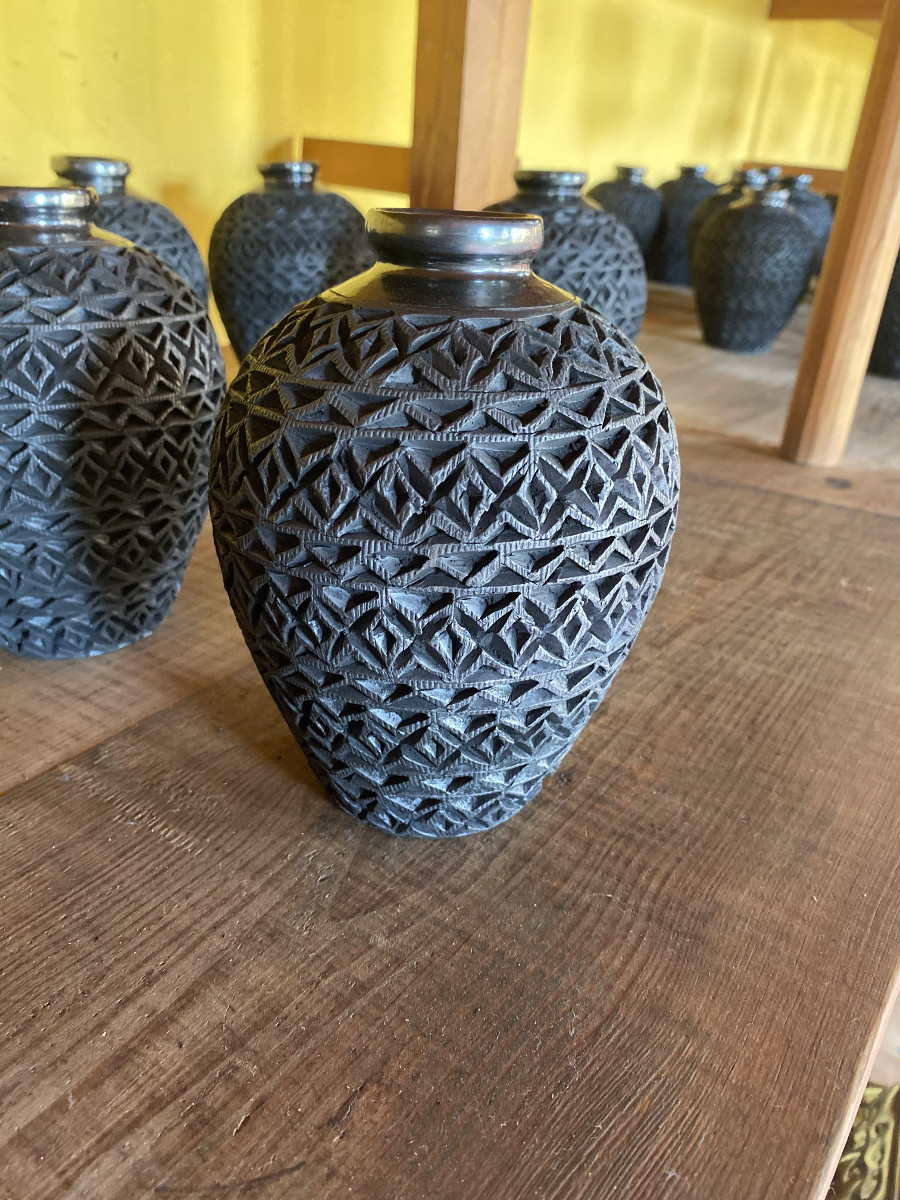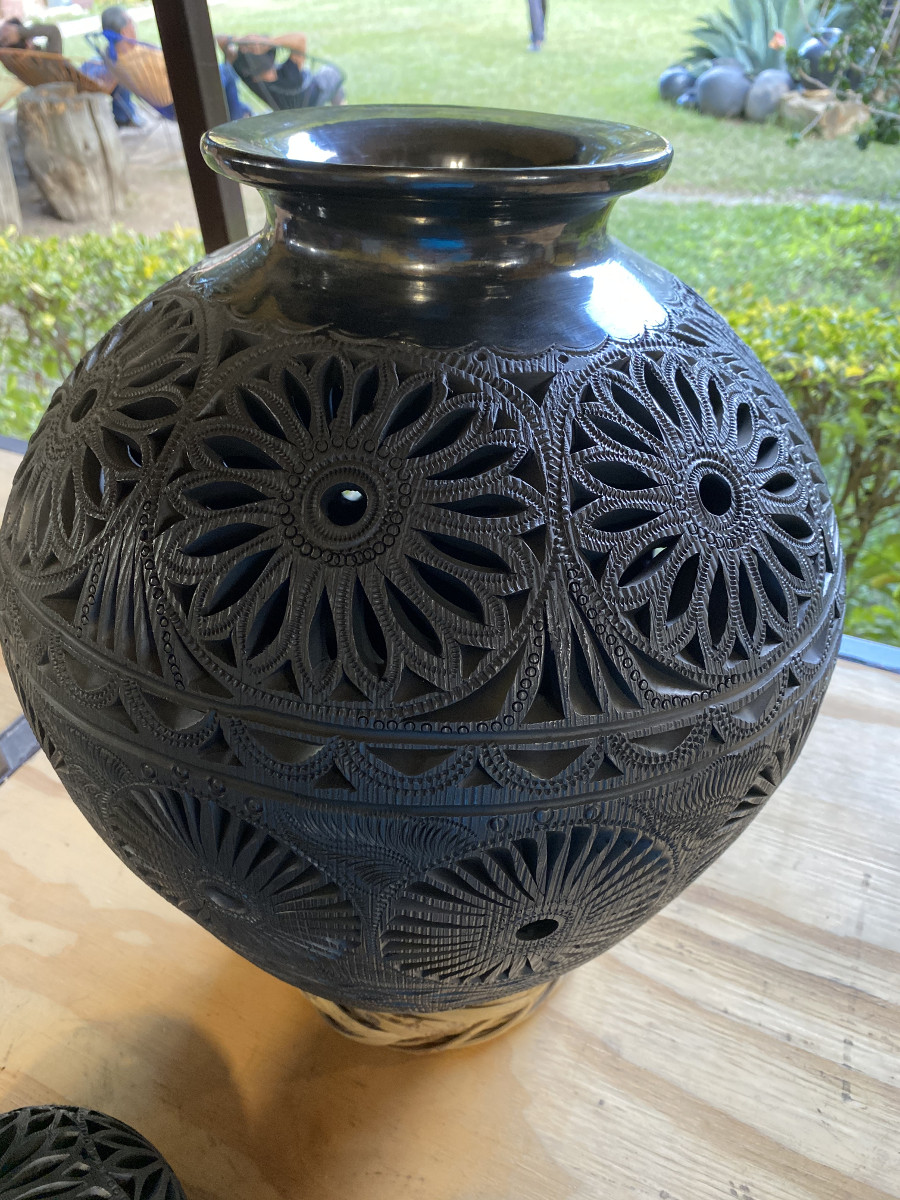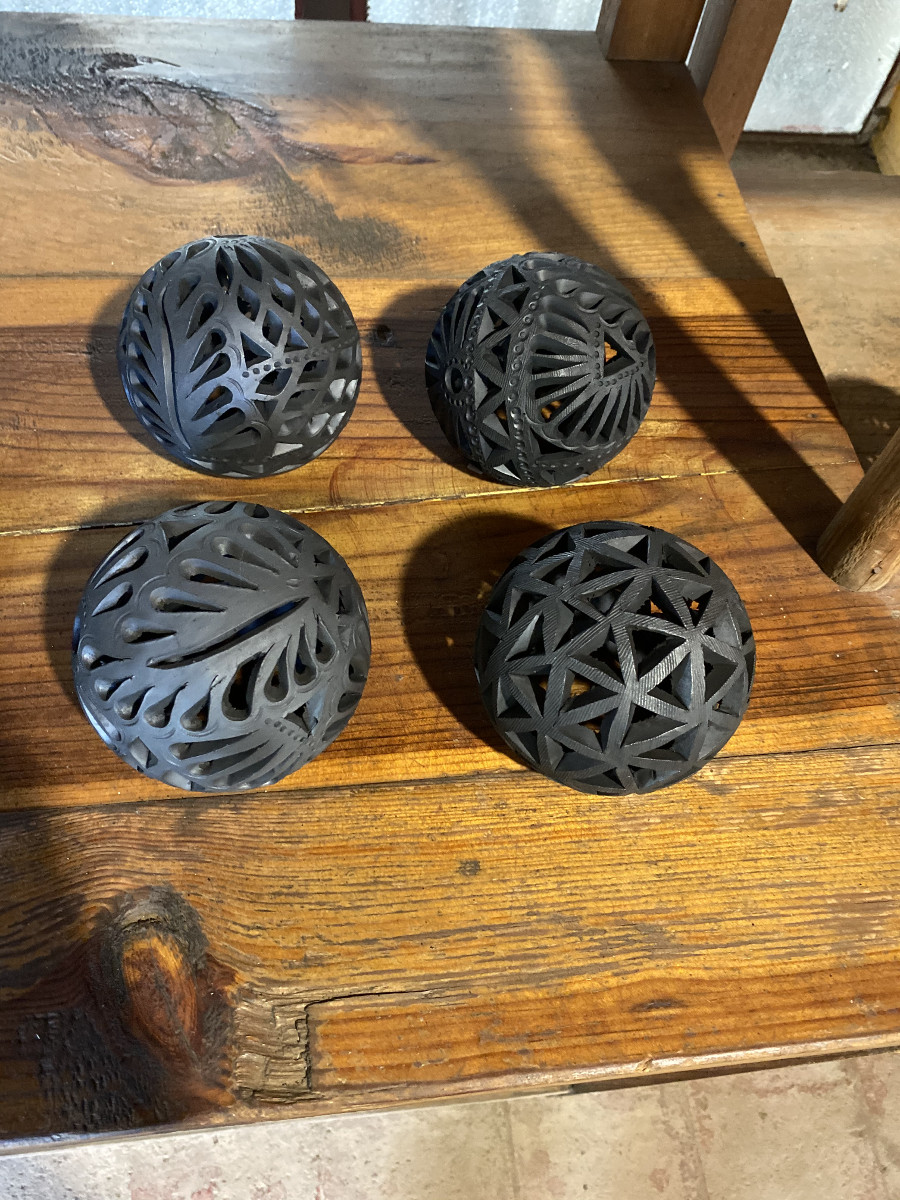 For the village San Martin Tilcajete, the focus is on alebrijes, the fanciful and colorful carvings of fantastical creatures. The origin of these handicrafts is unusual. For more, see Alebrijes at Wikipedia.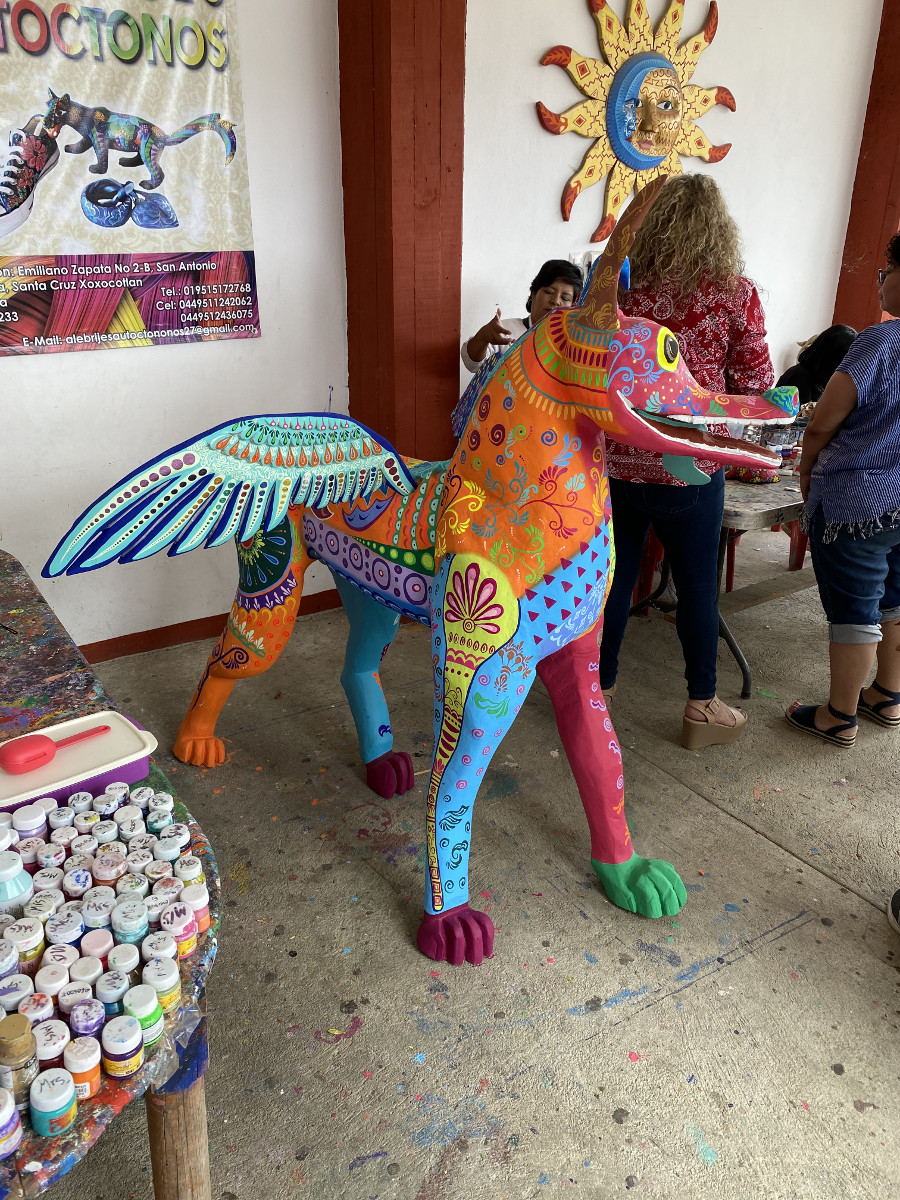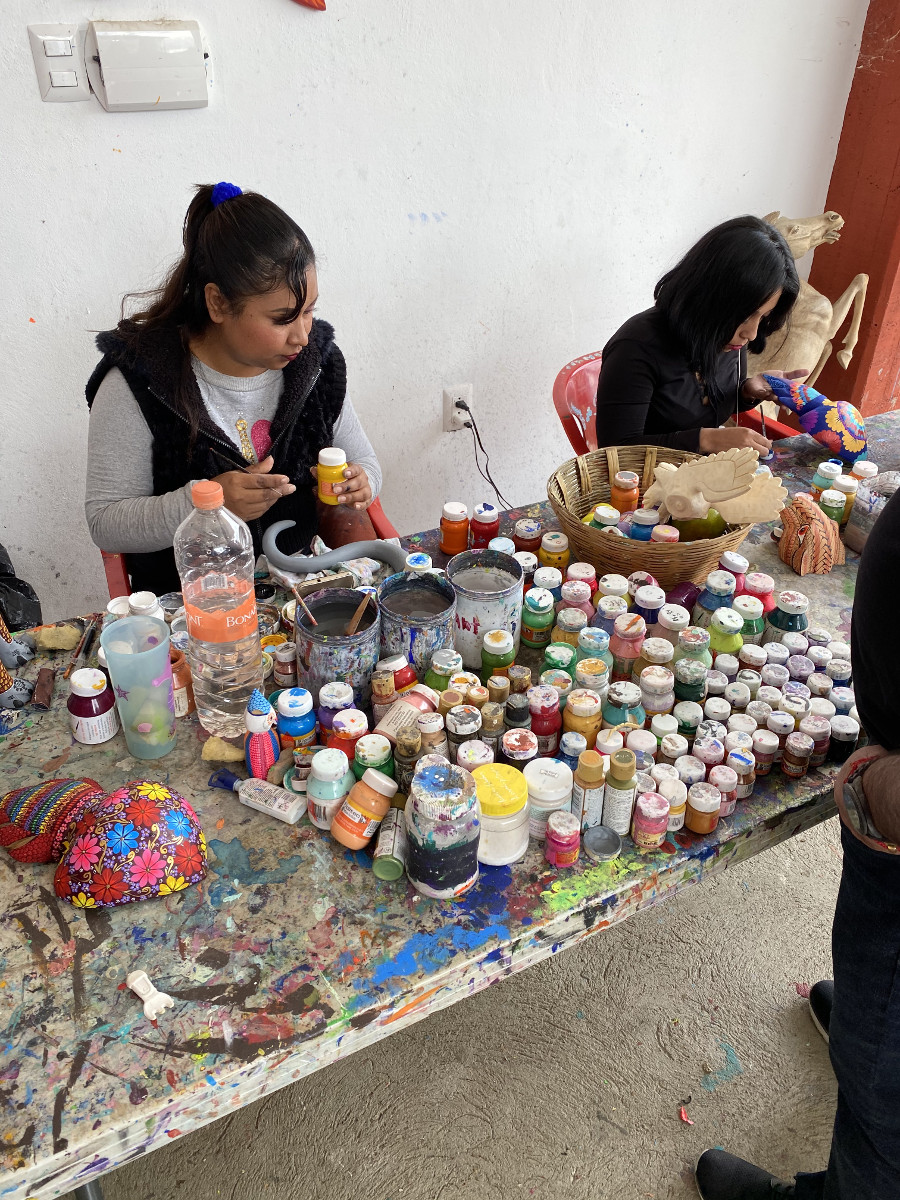 This workshop was full of amazing alebrijes, but unfortunately photos weren't allowed.
I may need to return to Oaxaca, just to visit this guy…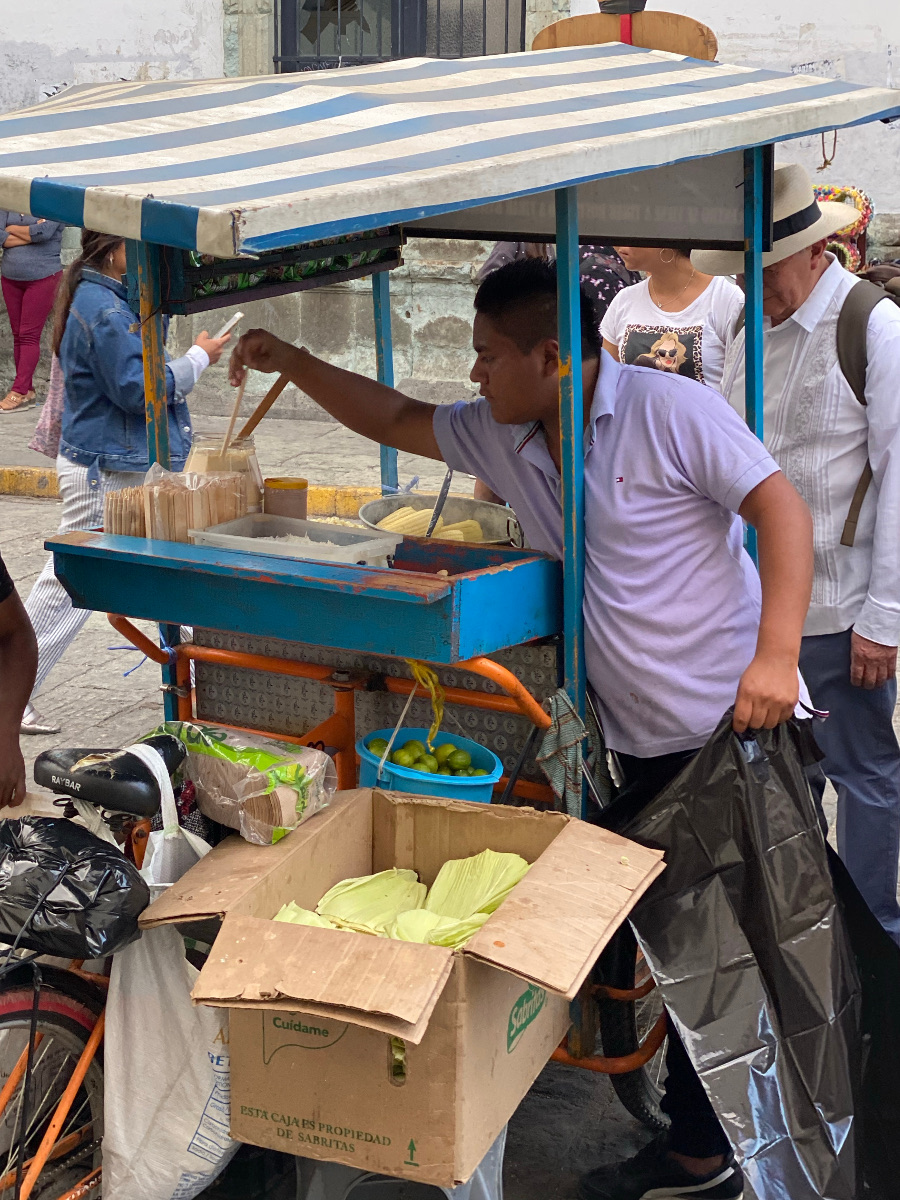 Every time we went by, there was a line of people waiting for his elotes and esquites. That's corn served on the cob or off the cob, of course with lots of Mexican additions. We never managed to try it, but I definitely will next time.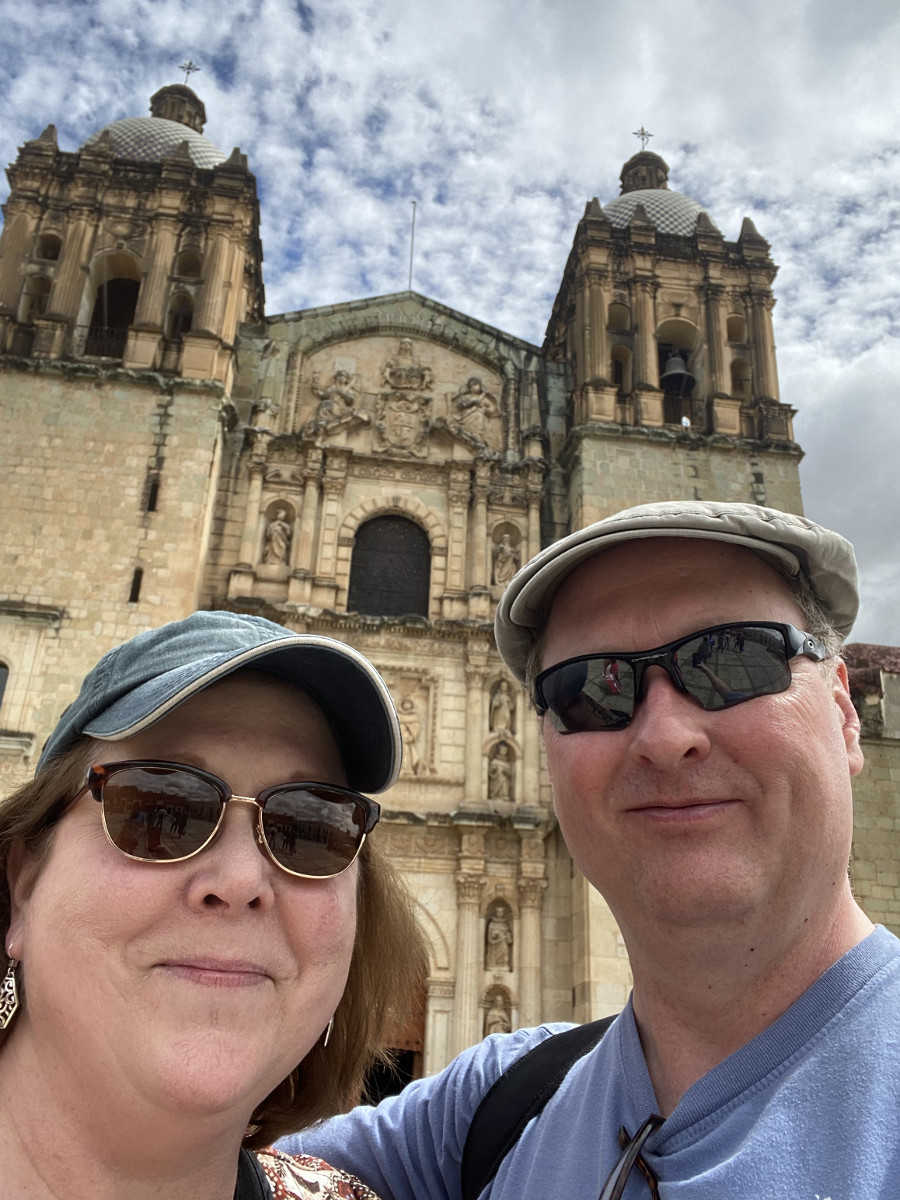 Oaxaca? We loved it. We think you will too. Great food, a beautiful city, friendly people. What more could you ask for?